This Week on Windows Central: Xbox, Windows 10, Mobile and more! (July 17th, 2016)
By Jez Corden last updated
Welcome to the first edition of Windows Central Weekly!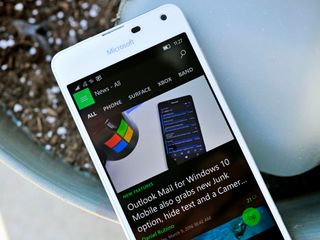 This is an experiment to try out an all-new consolidated ICYMI format for Windows 10, Windows 10 Mobile, Xbox One and Microsoft.
You can rely on this feature every weekend to catch up on all the latest apps, news, games, rumors, editorials and more from across the entire Windows Central team.
Without further delay, here's what's been happening in Microsoft land for the week ending July 17th.
Please let us know what you think of this new ICYMI format in the comments section below, and we'll try and refine it over the coming weeks to make sure we're catering to as many of you as possible!
1. Windows 10 Mobile
There hasn't been lots of news in the Windows 10 Mobile camp this week, but we did get some new Insider builds to polish off the imminent Anniversary Update further. The latest build was numbered 14390 and launched this past Friday with a few minor bug fixes and improvements. We also received an update to the Voice Recorder app, which should now appear consistently as an option for recording calls on Windows 10 Mobile.
Since we're nearing the end of the development for the Anniversary Update, these remaining builds will be focused on minor improvements, rather than major features. Expect a few more of them before launch.
While we're unlikely to see major new features in Windows 10 Mobile Insider builds, Microsoft is currently working on adding panoramic photo support to the OS according to Senior Program Manager Brandon LeBlanc.
@Stalsomething Nothing new to share about switching off auto enhancement but hope to have panorama out soon.@Stalsomething Nothing new to share about switching off auto enhancement but hope to have panorama out soon.— Brandon LeBlanc (@brandonleblanc) July 12, 2016July 12, 2016
LeBlanc conceded that there's no timeframe for the feature, as another user noted even the cheapest rival phones support panoramic photography. We'll just have to wait and see.
On the hardware side of things, the Acer Liquid Jade Primo appeared on the Microsoft Store for $649, complete with a Continuum-ready dock and various other bits of kit. The Jade Primo has been available in a few select markets as part of a soft launch, but now it's up for grabs at the Microsoft Store in the US. We've taken a look at the Jade Primo before, detailed in the video below.
The Jade Primo features a hexacore Snapdragon 808 processor, 3GB of RAM, 32GB expandable storage and a 5.5" 1080p AMOLED display, complete with a 21MP camera and 2870 mAh of battery life. Stay tuned to Windows Central to find out whether this kit is worth the price tag.
Lenovo also joined the Windows 10 Mobile party with the SoftBank 503LV, set for release in Japan. The device sports fairly modest specs, with a 5" 720p display, octa-core 1.5GHz Snapdragon 617, an 8MP camera and 2250 mAh battery life.
The SoftBank 503LV should become available in Japan by early 2017. We'll keep you posted if the company decides to bring it to other markets.
When it comes to Windows 10 Mobile apps, popular Twitter client Aeries picked up some fresh UI tweaks and our own Windows Central app received some bug fixes. The official American Express app returned to the Windows Store, and gorgeous podcasting app Acast went universal. Microsoft's Movies & TV app also picked up the ability to search the store from within the app and tweaks for navigating partially viewed content.
It has been pretty standard fare in the Windows 10 Mobile camp this week, with some positive signs for the Universal Windows Platform and the Windows 10 Anniversary Update. Stick with us throughout next week for all the latest and greatest news on Windows 10 Mobile.
Further Reading
2. Windows 10
Windows 10 PC Insiders have also been enjoying the quickened pace of updates recently, receiving the same 14390 build as Windows 10 Mobile. The update mostly contained bug fixes and polish, ahead of the planned August 2nd public roll out.
On the topic of updates, the Surface Pro 4 and Surface Book picked up a round of driver updates, improving various things. Some of the updates included improvements to the keyboard response when resuming from hibernation, improvements to touch and inking, enhancements to the Intel HD Graphics 520 driver, to audio and much more.
Speaking of hardware, a developer known as CapitolaVR has demonstrated what catching Pokemon might look like on HoloLens, Microsoft's Windows 10-powered AR headset.
While Surface and HoloLens both enjoy a lot of interest, it appears that Microsoft has relinquished its goal of getting Windows 10 onto 1 billion devices by 2018. The company blamed its smartphone restructuring for missing its target while citing Windows 10's record-breaking growth thus far.
Missing the 1 billion devices target is hardly apocalyptic for Windows 10, unlike this recent app release. The wildly popular Fallout Shelter just arrived on PC, jumping across from iOS and Android. In Fallout Shelter, you become the Overseer of your very own Vault, charged with managing a population of nuclear apocalypse survivors. You can find out how to install Fallout Shelter using this handy guide.
Speaking of applications, we featured a cool program called Win10 Widgets this week, which allows you to customize your desktop with some informational features. Win10 Widgets includes displays for HDD space, hardware performance, Spotify, date and time, and much more. And best of all, it's totally free.
In other app news, Microsoft published an article to explain why Edge is the best browser for watching videos:
Despite being on track to miss their 1 billion Windows 10 devices target, the future still looks bright for Windows 10. Stay tuned to Windows Central for all the latest and greatest!
Further Reading
3. Xbox
Similarly to Windows 10 and Windows 10 Mobile, we've been getting a lot of fresh builds on the Xbox Preview Program recently. Most notably, Microsoft allowed us to disable Cortana, and return to the legacy voice commands triggered by saying "Xbox." The company is committed to improving Cortana on the Xbox One, but given her internet-connected nature, the margin for error on basic commands is far broader than it was with the previous commands, although the newer builds have improved the situation markedly.
The Xbox Preview Program also brought the Movies & TV Universal Windows Platform app to the console, giving us a glimpse at the future of programs that run on Xbox One, Windows 10 PCs, Windows 10 Mobile devices and HoloLens. Preview Program members can also now manage the Movies & TV app directly from the Xbox app on Windows 10 devices, eliminating the need to control the app via your controller.
On the gaming front, Star Wars Battlefront picked up a trailer for its Death Star DLC and revealed that it will get a tie-in map pack for the upcoming Star Wars movie Rogue One. Overwatch unveiled its first free DLC, for a healing sniper named Ana, and we learned that Battlefield 1 will receive an open beta test shortly after Gamescom, some time after August 21st.
Killer Instinct also just revealed it's final reimagining of the series' classic characters, one for the two-headed demon Eyedol. Here on out, Killer Instinct will have to rely on either all-new or guest characters from other franchises, such as the recently included General RAAM, as the free-to-play fighter continues its quest for global domination.
Speaking of General RAAM, Gears of War is receiving a custom Xbox One S to commemorate the fourth game's launch on October 7th. This custom Xbox One S is coated in blood-crimson paint and sports all manner of gritty stains and laser-etched claw marks. We also now know that it features custom sounds for turning on and disc ejection, making it all the more unique. The Gears of War 4 Xbox One S bundle will ship in September, with pre-orders expected to live shortly.
Further Reading
4. Microsoft
There hasn't been lots of news in the corporate camp this week, but Satya Nadella broke cover to discuss AR and what it potentially means for businesses in the future. Nadella sees Pokémon Go as an opportunity for augmented reality, a proof of concept for killer apps that side-step the traditional paradigms.
Nadella notes that HoloLens would be an even better fit for Pokémon Go than phones because Microsoft's untethered headset would eliminate the need to stare at your phone while playing. While there's no information on whether or not we'll ever see Nintendo's latest craze on Windows 10, it's hard to ignore the potential AR has for gaming.
In a victory for Microsoft's legal team, the company successfully beat the U.S. government's attempts to obtain data held by Microsoft on an Irish server. Three judges on an appeals panel sided with Microsoft on the issue, initially brought against them by a U.S. federal judge.
Microsoft also launched a new professional degree program to help boost employment in high-tech industries.
Further Reading
Jez Corden is a Senior Editor for Windows Central, focusing primarily on all things Xbox and gaming. Jez is known for breaking exclusive news and analysis as relates to the Microsoft ecosystem while being powered by caffeine. Follow on Twitter @JezCorden and listen to his Xbox Two podcast, all about, you guessed it, Xbox!
New format seems great. Hope to see more of it.

Thanks for the new format. It's more informative and less messy :)

Any update on the double tap to wake rollout to 950/950XL ??

Comes out in waves. When we confirm wider distribution either on WDRT or OTA, we'll post and share it.

Whether call recording option available only for x50 series like 550,650,950/XL & what about other win10mob running devices ??

My wife's 550 got it recently,while my 640 xl running windows 10 has not. This is an essential feature we are all looking forward to having MS.

only devices that came preinstalled with Windows 10 Mobile will have the call recording option. I believe it has something to do with enabling it via firmware

Windows nation weekly :-)

Yeah the new format is nice well done windows central.

I like how the pc manufacturers are jumping onboard.

R you guys think the anniversary update with brings big change in wp?? Do you expect any transformation from existing one?

Nothing new just improvement

I like the format. This is a definite improvement over the previous implementation.

The new format is great, informative and better...

This is awesome! Love seeing all the news in one organized place

Chiming in with a "yay!" for the new format.

Very well organized report. Many thanks for your work on it and on this website.

I'm really liking this new format. It made me discover some missed news, which I was interested it. It's a great format for summary, that does not require much work on my part. That is, not just a small text and then "read the rest here". Great work, guys! I'm always appreciating the things you do with Windows Central :D

Thanks to everyone for your kind comments, brightened up my Monday morning. :)
Windows Central Newsletter
Get the best of Windows Central in in your inbox, every day!
Thank you for signing up to Windows Central. You will receive a verification email shortly.
There was a problem. Please refresh the page and try again.