Windows Mobile Weekly Digest: Alcatel OneTouch, WhatsApp, and Two Dots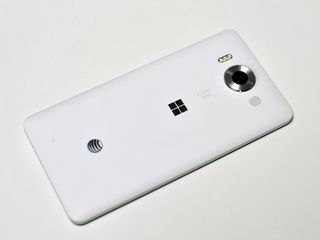 There's a lot going on in the world of Windows Phone. So much, in fact, that it is sometimes tough to catch every important story.
Device rumors come and go. New apps join the Windows Phone Store, and your favorite app can get a big update with a new look or new features.
Therefore, every week we will compile a list of the Windows Phone news that you just shouldn't miss. Welcome to the "Windows Mobile Weekly Digest."
Windows Phone
More and more Lumia 950 and 950 XL owners in the UK and Ireland are seeing the firmware update that began rolling out last week. That likely means that other locations should be receiving it soon as well.
It appears to be official that AT&T's Lumia 950 is set to get monthly updates directly from Microsoft in the first test of the Windows as a Service strategy. This is a shift from previous updates that needed to be approved by carriers before distribution.
T-Mobile's first Windows 10 offering, which should be coming in the next few weeks, will be the Alcatel OneTouch Fierce XL. Though the Fierce XL is an entry-level phone, T-Mobile employee training materials make mention of features available in higher-end devices, like Continuum, suggesting that more powerful Windows 10 will eventually be joining the lineup.
HP may be preparing to unveil their own Windows 10 Mobile phone at February's Mobile World Congress trade show in Barcelona. A phone called the HP Falcon, sporting a 5.4-inch 768x1024 display, was detected by AdDuplex in early December, and a new report claims that HP is set to make the reveal at the tech conference in Barcelona.
Lastly, we got our hands on the Microsoft Lumia 550 and gave you a close look, as well as our initial impressions. See how it stacks up to the Lumia 635 and Lumia 640:
Other notable items:
The best Windows Phones
Amazon offers AT&T Lumia 950 for free with AT&T Next
Carphone Warehouse lists Lumia 950 XL back as a pre-order as issues with phone reported
Cortana is currently crashing with text inputs for some Windows 10 Mobile users
Microsoft CEO says phone share is 'unsustainable', thinks developers will embrace Windows 10
Apps
It was a rough beginning to the new year for WhatsApp users. Possibly due to high usage, the service appeared to have issues delivering messages and may have even gone down completely for a short time as midnight struck in various locales.
Fenice, the third-party Twitter app for PC and Mobile got a huge update this week. The app, which was recently redesigned for Windows 10, picked up significant interface changes and a ton of improvements and fixes.
The official Ring Video Doorbell app, previously available only for computer and tablet, is now available for Windows 10 smartphones. It also got some new features like filtering, deleting, and sharing recordings, live call zooming, and "stealth mode" answering.
Flipkart's public beta is now available for Windows 10 computers and smartphones.
A SiriusXM streaming app may be heading to Windows 10 soon. In an email to a Reddit user, a company representative said that "the app will be available in 2016 for Windows 10 smartphones, tablets and computers."
The popular IFTTT Maker for Cortana returned to the Windows Store after being removed for copyright concerns. The app is back under the new moniker Cortana Triggers.
Other notable items:
Parrot hiring someone to help create a Windows 10 app for its drones
Brazil's Nubank mobile credit card service launches Windows Phone app
NBC's Breaking News app supports Windows 10 Mobile with latest update
Tweetium update for Windows 10 brings video uploads
Microsoft brings its Power BI business intelligence software to Windows 10 Mobile
Outlook Mail and Calendar update available for all Windows 10 Mobile users
The latest Readit for Windows 10 update adds a Markdown editor for revising posts
Runtastic Pro is currently free on the Windows Store
The Best Weather Apps for Windows 10 PC and Mobile
Games
Fallensouls: Fire War, a popular online multiplayer game on iOS and Android, has been released for Windows Phone and Windows 10 Mobile.
Another hit game from other platforms called Cooking Fever has made its way to Windows Phone. Cooking Fever is a time management game that has you slinging custom-made meals to hungry folks in your own virtual restaurant.
A new puzzle game called Two Dots also arrived on Windows 10 PCs and phones. The object is to complete goals by connect dots of the same color. Though simple in principle, Two Dots is harder than it looks, and very addictive.
Codeglue, the makers of the Rocket Riot, are working to bring the shooter to Windows 10 as a universal app. Rocket Riot was previous available on Windows Phone 7 and 8.1, and looks to evolve with the platform.
Other notable items:
Be sure to weigh in on this week's news in the comments section. See you next week!
Windows Central Newsletter
Get the best of Windows Central in your inbox, every day!
Once again another good week for windows phone. Loving slack commands atm because they are super fun to use.

I wonder what HP's Windows phone will be like if they actually release one.. Hm. I'm also kinda interested in the Alcatel OneTouch Fierce XL.

The only thing about the Fierce XL is the Snapdragon 210. You would think a 2G Ram phone would have something more powerful. Other than that, point me at one.
The HP? That one's going to be real interesting. If they intend to use it as one of Nadella's "Nodes" they might just be on to something. Matching Hardware and your OS for business is a win-win situation for anybody.

Makes sense for an entry level and budget media consumption tablet.

Same mistake repeated here. The flipkart universal app Is in private beta not in public beta

Do u no guys y I could see a green thin line vertically in my 640 display ?

Is the line present all the time? Have you tried restarting, removing the battery for a couple of minutes and then powering it back on? If that doesn't help then maybe you have defective pixels. I remember having a similar problem on a Nokia device long time ago, it needed to be repaired. I would contact the seller if your warranty still hasn't expired.

I haven't tried removing battery , will that works ?

If the problem is what I think it is, it won't help, but then you will at least know that it's something to do with the hardware. Btw, my Lumia 640 also had a problem with the display (although a different kind of problem) so I had to send it for repairs.

Thank you for your help :-)

Thank you developers, keep supporting Windows Mobile :) Former 1320 user. Posted from the Philippines.