Windows Phone Summary of the Week: December 26, 2011 - January 1, 2012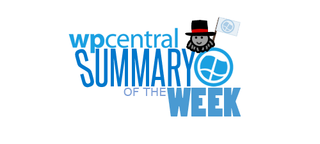 Welcome to the first weekly summary published in 2012 (happy new year everyone)! We've had a relatively busy week with Christmas and the New Year taking priority at WPCentral HQ, but we're back for a quick run through on this week's stories. While it's been pretty quiet in the land of Windows Phone, things are set to heat up as we draw closer to CES (which we'll be covering!).
Our forum Admin Dave Blake takes us through the most popular threads from our Windows Phone forum for 2011. Should you be tired of socialising, then perhaps a gift guide could be of interest? We've compiled a handy guide for anyone who's new to the platform and requires app/game suggestions. We're joined by the makers of Bug Village, Glu Mobile for a developer interview. Head on past the break for the full summary.
Microsoft's Windows Phone suggestion website has received an official offering on the Marketplace an app to compliment the feedback portal. We take a look at the available options for users to unlock their handset(s) with pros and cons listed for each choice. The "AWWWWWWWWWH YEAH!" crazy man is back with the 50,000 app milestone being passed, which still shows continued growth from the start.
We take an amusing look at why a 4chan app probably wont make it through to the Marketplace. Good news though for Canadians, as a free 12-month Gold Xbox LIVE subscription is being offered on Telus when an LG Optimus 7 is purchased. Be quick as only 1250 codes will be handed out. A mother managed to turn her son away from the iPhone, which was adopted by his friends, onto Windows Phone by simply leaving a Samsung Focus Flash on the kitchen worktop where he picked it up for a play.
We have published a shout out to WPCentral readers for you guys to take two seconds of your time and vote for the Nokia Lumia 800 in the Gizmodo's "Most Important Gadget of the Year" tournament. It's up against the Samsung Galaxy S II. According to ComScore, Microsoft's platform is still losing marketshare, but we should not take the data to heart as "Microsoft" includes not only Windows Phone, but Windows Mobile and Kin, which are both dying out.
Unfortunately, we have some bad news for Mehdoh (Twitter client) fans as the developer has announced the app will be permanently discontinued. This is a real shame as Mehdoh is (or was) one of the better lite clients available for Windows Phone. Keeping on the negative note for a little while longer, the ChevronWP7 Labs will be closing up shop due to selling 10,000 tokens - an agreed figure between the team and Microsoft. Should you be a concerned parent about what your child maybe able to access while on the go using the Xbox LIVE service, we take a look at the parental control options available at Xbox.com, which will ensure you maintain a strong barrier.
There are a number of games heading to the platform this year (some have already been previously covered): Bullet Asylum, geoDefense Swarm, Tamagotchi & Age of Zombies. Microsoft has listed the titles on the Xbox LIVE for Windows Phone page, nice! Pro Evolution Soccer (PES) 2012 is set to feature Xbox LIVE avatar awards, which will include shirts and a football prop to please fans of the sport. Should you be more into gun fights, we have some bad news for you with regards to props for your avatars. Epic Games has announced two props will no longer be available starting January 1st, due to a policy alteration by Microsoft. Seems strange how Halo, CoD, Battlefield (to name but a few) titles contain violence, yet you're no longer able to wield a plastic gun on your avatar. Odd.
Buzzwords is now available for purchase from the Marketplace, bringing a sting to your handset. Sonic the Hedgehog 4: Episode II has been announced, which will bring more known-faces, more accurate physics (to the originals), and a new graphics engine. Finally, Xbox LIVE's Z0MB1ES!!1 (on teh ph0ne) is coming to the platform on January 4th, so prepare your zombie hunger.
NAVIGON, the popular (and expensive) GPS app, is currently on special offer for U.S. and European Windows Phone owners. Should you have some spare pennies to burn before January 5th, check out the reduced price tag. We take a look at Tweet it!, a Twitter client for Windows Phone, that comes with a lot of personality. A new job posting was published that reveals plans to introduce managed back-up and restore functionality in the next version of Windows Phone. For the time being the only time you have your phone saved is when updating.
A handful of notable apps have been released to the Marketplace, including a SoundCloud app and a mobile solution for the UK Metro newspaper. An unofficial Klout app is heading to the platform, which looks pretty awesome, and the Reddit app Baconit has been made available internationally. The unofficial Pandora radio app MetroRadio has received a visual makeover with the latest update. Closing off the software section is WhatsApp being bumped to version 1.5, now sporting group chat.
We've received reports from a number of owners surrounding AT&T's Microcell, which is apparently draining Windows Phone batteries at a faster rate. The Lumia 710 has appeared on T-Mobile's (U.S.) website, but is not yet available for pre-order (although it did appear on eBay). The handset is also heading to Verizon, but will not be LTE and it looks as though the carrier has no near-future plans for an LTE Windows Phone.
Pocketnow had received a Christmas card from Microsoft and it featured a device with AT&T branding, which we could assume to be the Lumia 900. We should be looking forward to some 4G LTE handsets from HTC and Samsung this year, with some handsets being announced at CES. The Jil Sander LG E906 handset has been reduced in price yet again.
If you thought Windows Phone marketing couldn't get any more extreme than blocks of ice housing Lumia 800s, then think again. A German event spooked viewers with a haunted house and some ghost hunting. If you're feeling the chill this winter then it's probably because you don't have your own Windows Phone scarf? It looks awesome, right? Greece, a country plagued with problems as of late, has not failed to keep up the festive spirit with a new advert from Vodafone. We've also seen a full page advert for the Samsung Focus Flash in the LA Times.
Not much love for developers over the festive holidays unfortunately. Though we do have the Blame Canada promotion from Microsoft Canada that will see toys being handed out to developers who push through high-quality apps onto the Marketplace. Developers who reside in the UK are also receiving some attention from the software giant with free gadgets being awarded in exchange for points (that are accumulated through submitting apps etc.).
Highlights
Microsoft's Suggestion Box Windows Phone app
Why a 4chan app probably won't appear in the Marketplace
Xbox Live Online Safety Controls [How-to]
Windows Phone unlocking tool being discontinued...for now
Gaming
Pro Evolution Soccer 2012 to feature Xbox Live avatar awards
Buzzwords now available, doesn't sting the wallet
NCIS and two other Game House games will no longer be Xbox Live titles
Orb is free to download...for now
Sonic the Hedgehog 4: Episode II officially announced
Xbox LIVE's Z0MB1ES!!1 (on teh ph0ne) coming January 4th
Software
Deal Alert: Sale continues on NAVIGON
Tweet it! A Windows Phone Twitter app with a lot of personality -->
Phone backups coming to next version of Windows Phone
Unofficial Klout app coming to Windows Phone. We're impressed. -->
Supreme Shortcuts goes to v2.0 with new features [Homebrew]
moTweets gets ready for v3.0 and we get an early look
Pandora player MetroRadio gets a new look with latest update
Trine's Hangman back in business, extends sale
Surfcube 3D browser 50% off till New Year's Day
Torchbear bumped to version 1.3
WhatsApp bumps to v1.5, gets group chat
Update for Radio Controlled Pandora app right around the corner with new features
Hardware
4G phones HTC Radiant and Samsung Mandel landing early 2012?
Hack enables any size file for alert sounds on 1st Gen Samsungs
Fun
German "Windows Phone 7.5 Hotel" event looks to scare up some curiosity
Developers
Blame Canada, for an awesome competition [Developers]
Free gadgets for UK dev's [Developers]
Rich Edmonds is a word conjurer at Windows Central, covering everything related to Windows, gaming, and hardware. He's been involved in technology for more than a decade and knows a thing or two about the magic inside a device chassis. You can follow him over on Twitter at @RichEdmonds.
A vida curto e agil,torna ela a sr 1oo& eficais
Windows Central Newsletter
Get the best of Windows Central in in your inbox, every day!
Thank you for signing up to Windows Central. You will receive a verification email shortly.
There was a problem. Please refresh the page and try again.