Windows Phone Summary of the Week: May 28 - June 3, 2012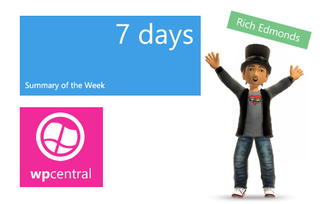 Welcome to this week's Windows Phone Summary of the Week, which is a special edition should you reside in the UK as this weekend is dedicated to celebrating the Queen's Diamond Jubilee. But alas, Windows Phone. Before we crack into the summary itself, we've been taking a look at the best independent games for your smartphone. Speaking of software, our official app celebrated its first Birthday by being offered for nothing at all for a 24-hour period.
Our community forum has witnessed activity with threads regarding the Lumia 900 and its battery life. Should you be experiencing any issues, or would like to engage with other Windows Phone enthusiasts, we recommend you check out our growing community. Lastly E3 is taking place through the next number of days, and Windows Phone Central will be at the front of the action to bring you the latest news about gaming on Windows Phone as well as the Xbox and Windows 8 platforms. Now, let's crack on with the summary after the short break.
StatCounter has released some interesting data showing some high gains in Finland for Windows Phone regarding Internet usage. Of course, this could show strong adoption from the Finnish population, or high amounts of testing on Nokia's end. Amazon has released its instant video on-demand service (US only it seems) for the Xbox console, which sports a wide variety of titles and event Kinect integration.
We cover the announcement from the official Windows Phone team blog that the platform marketplace is picking up steam with the number of big brand apps that are now available to consumers. Looking to the future, Marios Karagiannis, developer of MonsterUp, has found a number of alleged Windows 8 builds and we've also noticed some new screen resolutions from our website analytics which could point to new "Apollo" resolutions.
We popped along to the Windows Phone Into live music event on Wednesday with Rob from the Glance and Go podcast. While we enjoyed live music from the likes of the Noisettes, teams for Xbox, Bing, Windows Phone and Skype were also there to run attendees through what's so awesome about Microsoft's products. And if you haven't heard already, the Windows 8 Release Preview is now available for download. To close up our highlights, does the colour of your Windows Phone say anything about you?
E3 is set to possibly be a massive event for us regarding new titles arriving for the Xbox and Windows Phone. To build up the hype and excitement, we've got some of the trailers ready for your viewing. Back to mobile gaming, we've got two deals that are sure to attract some attention. The RPG title Dragon's Blade has gone on sale for just $.99, as well as Super Monkey Ball. Chickens Can't Fly has dropped in price to $1.99 as this week's Xbox Live Deal of the Week.
The console and PC versions of Sonic the Hedgehog 4: Episode II have already arrived, but while we wait for the Windows Phone version, our Paul Acevedo takes a look at the ones available and gives his first impressions of the second installment. While Electronic Arts' Battleship is set to arrive on June 6th for all Windows Phones, Paul the resident gaming guru has also taken a look at Break MORE Aliens!, which proved to be right up his street following the same path as the classic Space Invaders.
MonstaFish is a new Xbox Live title from the developers of IonBallEX, that puts the player in charge of clearing the ocean of toxic fish. Speaking of monsters, we've got a sneak peek at the upcoming title MonsterUp Adventures, from the developers of... you guessed it... MonsterUp. The second title is set to feature more gameplay elements to separate it from Doodle Jump, etc. Lastly, wrapping up our gaming coverage, is news of Spider Jack being updated with 25 new levels among other features applied.
Moving swiftly onto the software section of this weekly summary, we've got word that the Marketplace now alerts users on Tango compatibility issues due to hardware requirements not being met by Windows Phones. Before E3 is all guns blazing, we've been able to have a sneak peek at Xbox Smart Glass, which will be optimised for Windows-based tablets and phones for users to be able to control their Xbox controls and stream media over WiFi. More information is set to be available at E3 itself.
Nokia has added yet another app to their OEM collection on Lumia Windows Phones, a movie trailers solution for film fanatics. Following on from the release of the official The Dark Knight Rises app, Nokia Trailers will allow users to keep up-to-date with the latest and greatest teasers from Hollywood and beyond.
The developer of "I'm a WP7!" has celebrated being nominated for the 'Best App of the Year' award over at WP7 App List by offering full-unlock for free to anyone who can't pay (or doesn't wish to pay) for the app itself. Microsoft has finally released the highly anticipated Photosynth app for Windows Phone, enabling 360 degree panoramas to be stitched together for impressive results.
The Amazon app has been updated, which now includes support for both the UK and Germany. Contrary to a Nokia representative, the BBC has sent out a number of template-based replies to the media denying any plans for a Windows Phone version of their iPlayer on-demand service. We'd still like to believe the team are working on it.
Birdsong, the highly rated Twitter client for Windows Phone has been relatively dormant for the past number of months. Now the team has finally released 1.7 to the Marketplace, which fixes a number of bugs that left the app unusable, while introducing a couple of features. Are you into cricket when not tweeting away on your smartphone? ESPNcricinfo is a new app that will help cricket fans keep up-to-date with world news and results of the sport.
Do you find yourself purchasing a number of rail tickets on UK lines? We've taken a look at both RedSpottedHankey and thetrainline.com Windows Phone apps that boast useful functionality to help make train travel both less stressful and more convenient while on the move. Skype has come under fire from Windows Phone users due to the lack of notifications or background tasks for their app, which was released late and was subsequently criticised by the community. We've caught word of the team working hard on adding said missing features in an upcoming version.
TalkBox, the popular messaging service, is set to update their recently released Windows Phone app with more functionality and improvements. Not only that, but we've published screenshots of a Windows 8 client. Lastly, SkyManager gets updated to version 1.2.
Moving onto hardware, Facebook has humorously been at it again, and is set to be taking the "FacePhone" seriously. Could we be seeing a Palm-based Facebook phone? The FacePalm, perhaps? Or will it be Android or Windows Phone? Who knows! This news is also backed by a mobile market expert who states the company needs to get more involved with mobile. The HTC TITAN and Radar have received unlocked love from the Dark Forces Team (DFT) who have released a bootloader and custom ROMs.
If you're interested in the limited edition The Dark Knight Rises Lumia 900, you can now pre-order the Windows Phone from Phones 4u. If the whole Batman scene isn't your style, you can get the normal unlocked Lumia 900 from Unlocked Mobiles for £445. But if you simply do not possess the funds to be able to purchase the high-end Lumia 900, fear not as the Lumia 710 can be picked up for as little as £100 from the Carphone Warehouse. Nokia has officially announced the Lumia 610 in the UK, which will be available on most carriers and from both the Carphone Warehouse and Phones 4u.
Speaking of the Lumia 610, should you be worried that Angry Birds doesn't work on handsets with 256MB RAM, developer Rovio is planning to correct this issue in the near future. TELUS is set to launch the Lumia 610 in the summer, and Mobile Syrup speculates that it could also sport NFC, which is rumoured to be an odd feature for some 610s. Closing up shop is a video of the Sony Ericsson (now Sony Mobile) prototype "Julie" Windows Phone in action.
LeVar Burton, also known as Lieutenant Commander Geordi La Forge on Star Trek: The Next Generation, is using a Lumia Windows Phone and is loving every second of it. Speaking of product placement, Nokia has signed a deal with UK television soap opera Hollyoaks that will see characters using Lumia handsets, as well as Windows Phone advertisements being placed at the village bus stop. The manufacturer has also released a new TV advert in Germany showing off some of the features found on the Lumia 900.
If Hollyoaks wasn't enough, the Lumia 800 made a cameo in French Act M83's latest video, and shows up on Fox's "Touch" sporting a version of AT&T's concept app AirGraffiti. When not on the big screen, Nokia and Windows Phone have been turning heads on the streets of the UK. We have taken an exclusive look at the latest win / loss figures of the Dare to Live campaign.
For developers, not much happened during the week part from the Buddy cloud platform launching, which brings a number of features to the table including support for the Aviary image filters. To close this summary off, MVP David Rook, better known as SecurityNinja, gave a lengthy talk about Windows Phone at the recent Bsides London 2012.
Highlights
Gaming
Software
Hardware
Media
Developers
Rich Edmonds is a word conjurer at Windows Central, covering everything related to Windows, gaming, and hardware. He's been involved in technology for more than a decade and knows a thing or two about the magic inside a device chassis. You can follow him over on Twitter at @RichEdmonds.
Wer tango comes in india anybody tell me plzzz...

I shouldn't have sold my Xbox 360.

When is tango coming to Nokia lumia 800's in the UK??

It seems like the news has been getting more exciting every day and that's great lol cuz at one point the news was soo dry hahaha
Windows Central Newsletter
Get the best of Windows Central in in your inbox, every day!
Thank you for signing up to Windows Central. You will receive a verification email shortly.
There was a problem. Please refresh the page and try again.