Windows Phone Weekly Digest: December 13, 2015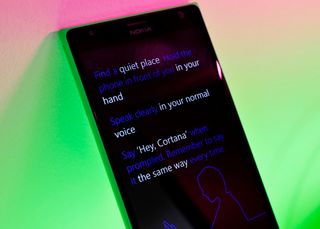 There's a lot going on in the world of Windows Phone. So much, in fact, that it is sometimes tough to catch every important story. Device rumors come and go. New apps join the Windows Phone Store, and your favorite app can get a big update with a new look or new features.
Therefore, every week we will compile a list of the Windows Phone news that you just shouldn't miss. Welcome to the "Windows Phone Weekly Digest."
Apps
The native Phone app for Windows 10 and Windows 10 Mobile was updated with Call Duration, a handy addition.
The ever-popular Reddit client Baconit picked up the ability submit posts to any subreddit, as well as a host of improvements to its UI, markdown parsing, and comments, and more.
Aeries, the third-party Twitter app, went universal on Windows 10. Not only was it completely redesigned for the new OS, but Aeries added a ton of cool bells and whistles.
Hike Messenger has also been redesigned for Windows Phone. The devs are currently looking for guinea pigs to beta test the new version.
Uber's Windows 10 Mobile app got a makeover with its latest update, too.
Microsoft's Wallet app can now help you store all of your retail loyalty cards.
And Groove Music for Windows 10 Mobile got a huge tune-up. Some of the more noticeable tweaks help you sort, re-sort, and navigate your music with one hand. Other under the hood adjustments make the overall experience better.
Other notable items:
Facebook Beta updated with contact sync improvements, bug fixes
Windows Camera gets a small update for Windows 10 Mobile
WhatsApp picks up a minor update with bug fixes
Microsoft Photos app also picks up small update for Windows 10 Mobile and PC
Xbox app and Outlook Mail and Calendar snag minor updates
Facebook picks up an update to absorb some features from the beta channel
Lumia Touch update for Windows 10 Mobile fixes some sensitivity issues
Sygic GPS Navigation adds direct support for Parkopedia in latest update
Fenice goes universal, lands on Windows 10 Mobile
iHeartRadio app launched for Windows 10 Mobile with Windows Hello support
Slack Windows Phone beta update adds in-app downloads and 'experimental' animated GIFs
Device Hub on Windows 10 Mobile morphs into new Gadgets app with latest update
Photos in Windows 10 Mobile may add instant album and auto-enhance in future update
Outlook Mail and Calendar update brings linked inboxes back for everyone
Cricket Australia Live will keep you updated on the latest matches
Games
Game Troopers released another new game called Elements: Epic Heroes for Windows Phone and Windows 10 Mobile. First announced in October, Elements is a fantasy-based hack-and-slash game, complete with Xbox Live achievements.
Game Troopers also teamed up with myAppFree for the weekend to bring you many of their older titles for free. Crossy Road got a bunch of new characters in its latest update.
Age of Empires: Castle Siege got an update that now lets you request troops from your alliance. And although the new Age of Empires: World Domination was released this week for iOS and Android, there's no sign of the promised Windows Phone version. We'll just keep our fingers crossed for that one.
Age of Empires wasn't the only one dissing Windows Phone users this week. Valve laid out their new Steam Guard trading policies, which rely heavily on smartphones. Sadly, that makes things difficult for Windows Phone owners, who still don't have a Steam app.
Other notable items:
Lara Croft GO Windows 10 'Cave of Fire' impressions and contest winners
Baseball Riot hits a grand slam on Windows 10, Windows Phone and Xbox One
Be sure to weigh in on this week's news in the comments section. See you next week!
Tomorrow is the big day for Windows Phone since would be the release of Windows Mobile 10

Are you sure? Bcoz I don't see any official news about it.

Also, it's Microsoft's policy to not release software on Mondays and Fridays. I hope you're right, though.

:( I want it to hit on my Lumia 640XL

Cool d​ude, from when you are using Windows phone?. Be patient for some time. Don't expect anything very soon. I understand your excited about this. I'm using windows from the W7.

How can they release a bug ridden OS. Lumia 920 won't toggle WiFi or allow mobile hotspot to work, and 635 stopped logging motion. And they say it's ready.

Still the W10 is not the completed version and there're lots of bugs which is yet to fix. I don't think in near future we're going to get the official update on W10.

Well anyone else facing the problem when start screen just died n nothing works not even the keys and u hav to take out the battery?? Anyone?

Having all kinds of issues, start screen is working fine.

Occasionally my screen will stop responding. By occasionally mean it's happened 3 times in the last 4 months or so. Locking the screen or forcing a restart resolves it. I have a Lumia Icon. Edit: I'm on the previous build. Installing the latest today.

I've same issue but I've L820 WP 8.1. My phone freezes & I've to take out battery to let it work again normally.

That happen to me atleast 1 times a day n m getting sick of it

Don't remove battery. Rather press simultaneously POWER + VOLUME DOWN to soft reset. Yes I too faced it in Build 10586.11 too many times. But in 10586.29 it happened twice. I think it's due to apps in SD card causing the freezing. I'm using Lumia 520.

Sometimes when my phones "RAM" get stuck. If I listen music and use edge same time, this usually happens. I have only 512mb RAM.

I'm using w10m for 2 days already , is not perfect but it works and batery life is prity same with w8.1 . Got some glitches now and then....and i think w10 could be faster than it is now on my Nokia lumia 930.
Iv seen a speet test between lumia 950 and samsung tab5 and man...the tab owned his *** at everything browsing speed, opening apps speed, starting the phone speed etc and is loldroid.....

When do you think windows 10 come?

And when are we supposed to get win 10 mobile? Fall 2017?

And one more thing, Hike is not responding to beta testing requests. I don't know if they wanted only limited number of people and which got filled up, but, at least they must respond..

Start screen got destroyed on 2 of the less expensive Lumia phones about 2 months ago after update. They never recovered. Using the L830 and after updating to 186.29 glance, motion, touch, gadgets, none of it works. Cortana search button doesn't respond anymore.

Now Ms Work On build 11082 for phones....

I hope they make it even faster

Hope tooo with new features...

Hey Cortana is availabe in Lumia 640?

No, not at all...
The SoC doesn't support the "always on" for recognizing Hey Cortana

Anybody here using Aeries? Is it a big improvement on the official app?
Windows Central Newsletter
Thank you for signing up to Windows Central. You will receive a verification email shortly.
There was a problem. Please refresh the page and try again.