Windows Phone Weekly Digest: October 25, 2015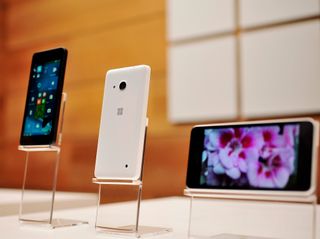 There's a lot going on in the world of Windows Phone. So much, in fact, that it is sometimes tough to catch every important story.
Device rumors come and go. New apps join the Windows Phone Store, and your favorite app can get a big update with a new look or new features.
Therefore, every week we will compile a list of the Windows Phone news that you just shouldn't miss. Welcome to the "Windows Phone Weekly Digest."
Windows Phone
Insiders were asked this week to vote on whether or not they wanted Windows 10 Mobile build 10572 released to the Fast Ring. As if there was any doubt, the "Yes" votes won out and 10572 was rolled out.
The updated build integrates Skype into Messaging, improves storage settings, and brings missed call/text notifications to your PC, amongst other things.
As usual, there are several fixes and remaining known bugs. Check out our hands-on video for all of the ins and outs.
Some Insiders were having trouble installing build 10572. If you are one of them, here is a likely fix.
As far as new phones go, the Lumia 950 listing finally made it onto the Microsoft Store website.
And a leaked render that made the rounds online allegedly shows the Microsoft 'Saana', a mid-range device due out in 2016.
Microsoft has an uphill battle to climb in the smartphone sector. They sold a mere 5.8 million Lumia Windows Phones last quarter, leading many to ask what's next. If Windows Mobile is to not only survive, but thrive, Microsoft may be looking to reboot the concept of a phone.
Other notable items:
Windows 10 Mobile may allow users to change the default search engine for Edge browser
See what's inside the Microsoft Lumia 950 XL in new videos
Microsoft says it will reveal its Windows 10 mobile payment system 'soon'
Microsoft's Lumia 640 is on sale for $60 at Best Buy
The Acer Jade Primo with Windows 10 Mobile may cost around $400
Apps
The renowned newspaper, The Guardian, made their app universal on Windows 10 desktop and mobile. The news app gives you access to print, audio and video news, as well as vivid photo galleries.
After a limited release last week, Facebook Beta version 10.0 widened its availability, rolling out to everyone running Windows 10 Mobile.
The official Dropbox app for Windows Phone got a makeover. It also added the ability to copy any file or folder and some personalization options.
Outlook Mail and Calendar for Windows 10 PC and Mobile picked up a Week View option.
One of our favorite Reddit apps, Readit, went universal for Windows 10 Mobile. Readit also gained a host of features and fixes.
And we say goodbye to Mint for Windows Phone. In a statement, the company said:
Other notable items:
Microsoft's Office apps get updated for Windows 10 Mobile, along with Mail and Calendar
All HERE apps are currently not available from Windows Store due to technical issue
6tin for Windows Phone updated with better Super-Likes support
(/video-360-todays-myappfree-deal)
Microsoft Translator adds text support for Kiswahili African language
Slack (Beta) for Windows Phone snags a bug-fixing update
Microsoft Movies & TV picks up a minor meta update for Windows 10 and Mobile
Fitbit and Netflix Windows Phone apps get minor updates
WhatsApp snags another minor update
Microsoft rolls out updates to OneDrive, Photos and Windows Camera
Games
Game Troopers is at it again. This time, they have released Runemals, a Pokémon-style RPG for Windows Phone.
Game Troopers also updated Imperia Online for Halloween. There are a bunch of spooky costumes, a new World Boss, and a special Halloween event.
Microsoft's own strategy game, Age of Empires: Castle Siege also received and update. Most notably, it adds a new feature called "Wonders," which are large constructs that Alliance members must work together to create.
Gameloft's Trivial Pursuit & Friends was released for Windows and Windows Phone. The new social quiz game is designed to play online with friends or help you make new ones.
Other notable items:
Gameloft's Sniper Fury will arrive on Windows and Windows Phone soon
Be sure to weigh in on this week's news in the comments section. See you next week!
Windows Central Newsletter
Get the best of Windows Central in your inbox, every day!
Still no LED notifications or cortana for our country damn you MS

I have lumia 730 and doesn't have led notifications

If it's true 73x has a led for notifications, maybe it needs a particular firmware (that Insiders don't - neither Preview did - provide)

It has.. Ms need ms to release firmware.. Look at the top of your screen tot the left in a bright light.. You can see the led.... It is even confirmd that the 730 and 735 have it.

Again... Insiders doesn't provide firmware, so probably at least until official w10 release, no firmware, so no led for notification

Although I am most likely getting the 950 xl. Would like to see the Acer close up.

I would like to be avaible cortana for Slovak Republic when will Microsoft release w10 for wp.

Please windowscentral, don't forget the lumia 550 when talking about windows 10 mobile. Sure, Microsoft needs to sell 950s to gain profit. But I'm probably going to buy a 550 because it fits my needs and does everything I need. Posted via the Windows Central App for Android

Notable build 10575 is coming this week...I can't wait for it
Currently running on 10536 and 10549

I may be wrong, but looks like MS has added Mobile Devices category on its products list at the bottom of their websites, besides Windows Phone. I think it's another sign of beginning of the change.

Interesting news happen this few weeks hope to see more of Windows. I would love to see 950 in stores in center america

I found a pretty strong indication of the payment system in the NFC settings. Not sure whether it has always been the same, but it appears like it is simply awaiting connection to a payment network. Exciting.