These 4 HyperX gaming headsets are so discounted for Prime Day, I'm tempted to buy them all
Wired or wireless for sound? HyperX have options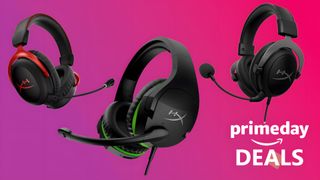 (Image credit: Future)
HyperX is a brand you can trust to provide high-quality gaming products that are comfortable, durable, and affordable. HyperX headsets are especially popular among gamers, as they offer decent sound compared to other budget options and an array of wired and wireless options. That's why HyperX headsets always rank high on our list of the best gaming accessories. Here I'll round up some of the best deals on HyperX headsets that you can find right now.
HyperX is generally known for putting out the best quality in the lower price range so to grab one of their headsets in a sale is a double bargain.

There's a decent range here, from the no-frills designs to the more stylish ones, depending on if you're buying for yourself or getting a gift for a younger family member. HyperX headsets are a great choice for gamers who want high-quality products from a trusted brand without costing an arm and a leg.
They offer a balanced sound profile, a comfortable design, and a simple user interface. Another brand that competes in the same price range is Turtle Beach, which also has some solid options. However, it really depends on your preference. Turtle Beach headsets tend to emphasize bass more and have more features on their headsets, but that also means more buttons to deal with when you are wearing them.
I prefer simplicity over complexity, so I would choose HyperX over Turtle Beach in this comparison. Both brands feature in our top PC headsets and top Xbox headsets lists, though, so I suggest giving those a read if you wish to do more research.
Which I would choose
The HyperX CloudX is a headset that has earned a reputation for being one of the best gaming headsets on the market thanks to its high-quality performance, comfort, and durability at a low price. The updated model, the HyperX Cloud II Gun Metal, improves on the original with features such as virtual 7.1 surround sound, a detachable noise-canceling microphone, and a sleek metal design.
Now that this headset is on sale, it's an even better deal than before, and I think it's the best product that HyperX has to offer in this sale. If you are looking for a gaming headset that will impress you with its sound, comfort, and value, you can't go wrong with the HyperX Cloud II Gun Metal.
Get the Windows Central Newsletter
All the latest news, reviews, and guides for Windows and Xbox diehards.
Jen is a News Writer for Windows Central, focused on all things gaming and Microsoft. Anything slaying monsters with magical weapons will get a thumbs up such as Dark Souls, Dragon Age, Diablo, and Monster Hunter. When not playing games, she'll be watching a horror or trash reality TV show, she hasn't decided which of those categories the Kardashians fit into. You can follow Jen on Twitter @Jenbox360 for more Diablo fangirling and general moaning about British weather.