Best Xbox One games available on EA Access
These are our top picks from the depths of the EA Access Vault.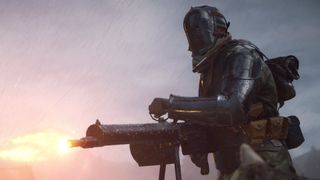 EA Access is one of the most attractive services available on Xbox One, providing access to a wide range of games for a single monthly fee. Spanning pre-release game trials, discounted purchases, and even full titles, EA Access has a lot of potential for every type of gamer.
Is an EA Access on Xbox subscription worth the price?
As a part of the service, a wide range of full retail games are offered via a feature known as the "Vault." Games and expansion packs added to Vault will available for the length of your subscription, with no restrictions on the content that can be accessed. This library continues to grow with additions from both the Xbox One and Xbox 360 backward-compatible library.
However, amidst a quickly growing selection of games, it's getting harder than ever to find the gems. We've brought together our favorite titles available in the EA Access Vault, spanning both the Xbox One and Xbox 360.
Battlefield 1
Why you can trust Windows Central Our expert reviewers spend hours testing and comparing products and services so you can choose the best for you. Find out more about how we test.
Battlefield 1 first made its debut in 2016, delivering a brutal revival of the series in a First World War setting. From its emotional single-player campaign to its expansive multiplayer combat, the game remains truly unrivaled for portraying the weight and scale of the great conflict.
While the Battlefield series has never been known for solo experiences, this latest rendition comprises isolated short stories into a string of wartime tales. Pairing this with an open-world mission structure to explore, this is the first series entry to fully encapsulate its strengths outside of multiplayer.
Despite its single-player advances, the heart of Battlefield 1 lays with its multiplayer. Supporting up to 64 players in large-scale maps, its online conflicts capture the dynamics of early Twentieth Century combat. And even a year since launch, the game is still supported by updates and paid downloadable content. Should you choose to purchase its $49.99 "Premium Pass" for paid content, you'll get $5 off too.
Dragon Age: Inquisition
You take up the role of the Inquisitor in Dragon Age: Inquisition, the latest entry to EA's flagship fantasy medieval role-playing series. Regarded as one of the best RPGs available on the Xbox One, Dragon Age: Inquisition brings together an engaging narrative and exceptional combat systems into a lengthy but immersive adventure.
One of the most outstanding aspects of Dragon Age: Inquisition is its pure scale and open-ended nature, which comes as a welcome feature in an RPG of this stature. From its huge open world to the choices you make as a player, the outcome of Dragon Age: Inquisition never feels out of your control.
If you're new to the series and want to familiarize yourself with the world, the first Dragon Age title, Dragon Age: Origins, is also offered in the EA Access vault via backward compatibility.
Titanfall 2
Titanfall 2 is one of this generation's hidden gems – despite being one of the best shooters, it simply didn't sell. Falling during an unfortunate launch window, Titanfall 2 swiftly made an arrival on EA Access, providing access to the full experience across its story mode and competitive multiplayer.
Like the first Titanfall, the game shines for its core mechanics and general fluidity. The dynamic between fast-paced pilot gameplay and heavy Titan firepower shines in both single player and multiplayer, making for some welcome mechanics that stand out from your average shooter. And when paired with the compelling storyline which accompanies it, Titanfall 2 feels like a complete shooter package.
Titanfall 2's post-launch content plans will be especially welcomed by EA Access users. Not only will you gain unrestricted access to the game for free – all post-launch expansions are also provided for not extra cost.
Star Wars Battlefront
Star Wars Battlefront portrays the expansive battlefields of the Star Wars franchise in all their glory, taking place across all corners of its galaxy. With both competitive multiplayer and wave-based cooperative play, players can witness a range of combat online or split-screen with a friend.
While the game was criticized for its lack of depth and appeal for casual gamers, there's a sense of scale which matches that of the films. Whether playing as a mere Stormtrooper, charging into battle as Darth Vader or commanding an AT-AT, the game can't be beaten in delivering an authentic Star Wars experience.
The Ultimate Edition of Star Wars Battlefront is available for free in the EA Access Vault, which provides access to the entirety of the main game and the Season Pass. This introduces new locations and heroes from the established universe, all for use with online multiplayer. Oh, and you won't have to put up with pesky loot crates like in its successor.
FIFA 17
While a wide variety of sports games are available via EA Access, FIFA 17 is one of the newest titles to be offered through the Vault. Easily the most popular soccer series currently available on console, the game is a must-play for any fans of the sport.
While the expected features of both single-player and multiplayer are present, the game also comes with some significant improvements over previous entries in the franchise. The most notable additions include a new story-driven mode "The Journey," as well as new features built around the Frostbite game engine. Other defining features of the franchise, such as Ultimate Team and updated player rosters, make a return.
Mirror's Edge Catalyst
Mirror's Edge Catalyst reboots the franchise established by the cult classic, revisiting the pre-established sleek and stylish world. Taking control of up-and-coming runner known as Faith Connors, players uncover the secrets of the city's all-controlling corporations.
Evolving the core gameplay demonstrated in the original, Mirror's Edge Catalyst provides an open world full of rooftops and alleyways to explore. Aside from the main story, a range of side-quests is also available, each of which takes advantage of the game's mechanics in its own unique way.
While the game still has its flaws, Mirror's Edge Catalyst offers a streamlined and enjoyable adventure on Xbox One. If you've yet to give the original game a whirl, the Xbox 360 version is also available via the EA Access Vault.
Battlefield Bad Company 2
While modern Battlefield games are the main attraction of EA Access, the classics of the last generation still deserve some love. 2010's Battlefield Bad Company 2 is available through the Vault on Xbox One via backward compatibility, delivering the original experience on current hardware for free.
Battlefield is often known for its somewhat realistic approach to combat, though Bad Company 2 embraces mechanics with an arcade twist. Before loot boxes, a heavy push for DLC and other monetization routes were common in gaming, Bad Company 2 was simply a pure shooter.
Unravel
Unravel stands out from the rest of the EA Access library as one of the smaller titles to come out of Electronic Arts in recent years. Following a yarn-based doll named Yarny, its platforming gameplay revolves heavily around the use of his unraveling body. Using this thread trail, players can move through difficult environments, avoid enemies, and solve various puzzles.
While its unique premise is a huge part of the appeal, Unravel's gameplay is also packaged alongside a touching story. From its cute styling to the accompanying heart-warming tale, Unravel is a short but memorable adventure which shouldn't be missed as a part of the service.
Mass Effect
The entire Mass Effect trilogy is now available on EA Access, so why not jump back and see where it all started? With Mass Effect Andromeda now even included in the the Vault, there's no better time to run through the earlier games in the franchise.
Like other games in the series, the first Mass Effect places a heavy focus on its RPG elements. While combat is a huge focus of gameplay, players will also be challenged with making decisions which influence the course of the narrative. Although latter Mass Effect games enhance various features of the game, the original still holds up as an unmissable experience.
Dead Space
The original Dead Space set the standard for survival horror on the Xbox 360 and is widely regarded as one of the best horror experiences of the generation. Putting players into the shoes of engineer Isaac Clarke, the game follows the events which unfold after a mining starship is infested by an extra-terrestrial threat.
Through every second of Dead Space, players will be subjected to pure suspense and uncertainty – through its atmosphere and gameplay. The game isn't afraid of showing gore either, by allowing players to take down their enemies with graphic dismemberment. Outside of combat, players can also expect to face puzzles along the way, which stand between you and your escape from the facility.
Share your favorites
Do you know of any other EA Access titles you think should be on this list? Let us know all about your favorites in the comments.
Updated, January 11, 2017: We added the latest titles to hit EA Access, including Battlefield 1, Titanfall 2, FIFA 17 and Battlefield Bad Company 2.
Get the Windows Central Newsletter
All the latest news, reviews, and guides for Windows and Xbox diehards.
Matt Brown was formerly a Windows Central's Senior Editor, Xbox & PC, at Future. Following over seven years of professional consumer technology and gaming coverage, he's focused on the world of Microsoft's gaming efforts. You can follow him on Twitter @mattjbrown.