Best Ninja Games for Windows 10 PC and Mobile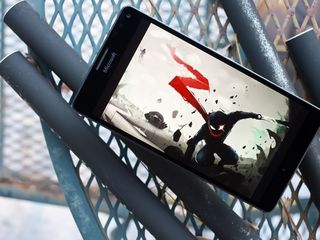 Zombies may rule the roost in the gaming world, but ninjas have a strong showing in the Windows Store as well. The stealthy group is featured in a broad range of titles that include platformer, puzzle, RPG and arcade styled games.
These games test your skills at stealth, strategy, reaction and timing. We see an appealing range of graphic quality with the ninja games that deliver plenty of color and detail to your Windows 10 PC or Mobile screen. We have searched the Store high and low to find the best ninja games. These games can help you pass short bits of time and many are strong enough to hold up to longer gaming sessions. Let's see what we have come up with!
Ninja Joe
Why you can trust Windows Central Our expert reviewers spend hours testing and comparing products and services so you can choose the best for you. Find out more about how we test.
Ninja Joe is a multi-level platformer game that is available for Windows 10 PC and Mobile. You guide the hero of the game, that would be Joe, across prehistoric lands in search for mystical gems that can save his master's life.
The game utilizes screen gestures from touchscreen Windows 10 devices (keyboards are supported for the non-touch devices) to control Joe's jumps, dashes, slides and kicks. Each level has plenty of hurdles for Joe to overcome such as hills to jump, gaps to dash across and more. Along with the physical dangers, the game has a scrolling screen that you need to keep pace with. If you miss a jump over an obstacle, the screen can scroll over you, ending the game.
Additional features of Ninja Joe include:
25 levels of play and three worlds to explore
Boss battles against Velociraptors
Infinite Run mode to see how far you can survive
Graphics have a colorful cartoon feel and game controls are nicely responsive. While Ninja Joe is an enjoyable game to play from a Windows 10 PC, the screen gestures accommodated one-handed play from a Windows 10 Mobile phone nicely.
Regardless the device, Ninja Joe is a fun Windows 10 game to spend a little down time with. There is a trial version available for Ninja Joe to let you try things out before buying. The full version is currently priced at $1.49.
Ninja Mission
Ninja Mission is an endless runner-style game for Windows 10. You are tasked with guiding a ninja warrior across a variety of environments, dodging dangers and battling enemy warriors.
Played from a side view, controlling your ninja is done through a series of screen gestures. Challenges include jumping from rooftop to rooftop, throwing ninja stars to take out your enemy and sliding under dangers. Power-ups are available throughout gameplay and coins can be collected that are used to purchase additional power-ups through the game's store. Power-ups include shields, magnets, bombs and more.
Missions are available to give the Windows 10 game a little depth. These missions are performance based and include sliding a set number of times, run a set distance and more. As you complete missions, additional ninja characters become available for gameplay. If gameplay is too difficult for a younger gamer, Ninja Mission has a Kid Mode to dial down the challenges a little.
Ninja Mission is a free, ad-supported game available for Windows 10 PC and Mobile. While not a very complicated game to spend a little down time with, Ninja Mission has its fair share of challenges to keep the game from growing stale.
Download Ninja Mission from the Windows Store
Stickman Ghost Ninja
Stickman Ghost Ninja is a fun blend of platformer, role-playing and fighting games. You travel the lands with this Windows 10 Mobile game, battling a wide range of enemies and bosses.
You start the game out fighting with your hands and feet. As you win battles, you earn experience and coins that can be used to upgrade your fighter's abilities and unlock additional weapons that range from fighting sticks to swords. On-screen controls handle movement and attack styles. Each weapon has three special attacks to increase the amount and range of your damage. You can even add companions, creating a team of sorts, to improve your chances at survival on the battlefield.
Graphics are a little on the dark side and while does a good job of setting the mood for a good vs. evil battle, it can be tough distinguishing your stickman ninja from the background. Gameplay has its fair share of challenges. Enemies approach your hero from both sides and you need to manage the direction of your attacks to avoid becoming overwhelmed with the enemy.
Stickman Ghost Ninja is an enjoyable Windows 10 Mobile game to pass the time with. Battles can be brief, making this free game perfect when you only have a few minutes to spare.
Download Stickman Ghost Ninja from the Windows Store
Action Ninja
Action Ninja is a fast-paced Windows 10 game where you guide your stealthy ninja across an endless bamboo field. Just tap the screen to move from pole to pole, but beware there are plenty of dangers to avoid.
The edges of the screen are lined with spikes and some of the bamboo shafts are spiked as well. Action Ninja's game screen is scrolling and the poles shift up and down, requiring you to maintain a pace to avoid being driven into the spikes. All the while avoiding jumping into a spike placed on a bamboo pole.
Coins are available throughout the game that can be collected to unlock ninja characters and power-ups. You also have the option to buy coins through in-app purchase.
Action Ninja is a free game, available for Windows 10 PC and Mobile. Graphics and animations are colorful and look good. Gameplay is challenging and overall, Action Ninja is an enjoyable time waster of a game.
Download Action Ninja from the Windows Store
Fruit Ninja
You cannot discuss the best ninja games for Windows 10 without including the classic game Fruit Ninja. Available for Windows 10 PC and Mobile, this Xbox title has been around since the days of Windows 7 and is an addictively simple game to spend time with.
You swipe across the screen to slash fruit in half like a true ninja warrior, avoiding bombs that can ruin your day. The more fruit cut in half, the more points earned. Fruit Ninja has three game modes that include:
Classic Mode: Slice the fruit, avoid the bombs and if you let a piece of fruit pass without being slashed, you earn a strike. Earn three strikes and the game is over.
Zen Mode: This is a more relaxed game where you have 90 seconds to slash as many pieces of fruit as possible. This mode lacks bombs, allowing you to concentrate on your sword skills.
Arcade Mode: Here you have 60 seconds to slash as much fruit as possible. If you hit a bomb, points are deducted and bonus fruit are available to launch food frenzies, slow motion periods and more.
There is a swag store where you can customize the appearance of your sword slice and Gutsu's Cart where you can buy an assortment of power-ups to increase your odds at success. These power-ups are purchased through stars earned during gameplay and include bomb deflectors, time extenders and more.
Fruit Ninja is currently priced at $0.99 for the Windows 10 Mobile version and $1.99 for the PC version. Graphics are colorful and the animations deliver an eye-catching fruit splattering experience. If you are looking for an enjoyable time waster for your Windows 10 device, Fruit Ninja fits that bill great. Just keep in mind that Fruit Ninja is addictive enough where you may lose track of time.
If you have played any of these Windows 10 games, let us know what you think of things in the comments. There are plenty more quality games in the Windows Store that feature ninjas, such as Shadow Fight 2, Shuriken Ninja and more. If we have overlooked your favorite, feel free to toss out your recommendation in the comments as well.
Get the Windows Central Newsletter
All the latest news, reviews, and guides for Windows and Xbox diehards.
George is the Reviews Editor at Windows Central, concentrating on Windows 10 PC and Mobile apps. He's been a supporter of the platform since the days of Windows CE and uses his current Windows 10 Mobile phone daily to keep up with life and enjoy a game during down time.