I can't believe you can get everything in this bumper gaming bundle from HyperX for only $65
An all-in-one package for a killer price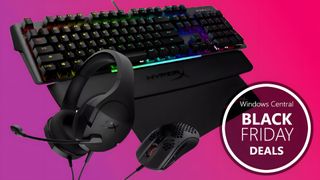 (Image credit: HyperX)
As Black Friday rapidly approaches, shoppers are already reaping the benefits of early deals from the top retailers. Today, we've got an incredible offer from Target that's too good to pass up: the HyperX Gaming Bundle. This bundle is a perfect gateway to the world of PC gaming and doubles as a fantastic gift idea for budding gamers during the holiday season.

Within this specially curated package, you'll find the essential building blocks for your gaming setup: the HyperX Pulsefire Haste mouse, the HyperX Cloud Stinger Core headset, the HyperX Alloy MKW100 keyboard, and a mouse pad to complete your gaming arsenal. Even more remarkable is that you can grab all these quality peripherals for just $64.99. Yes, you read that right — this bundle is currently offered at a jaw-dropping 50% discount for a limited time, and to sweeten the deal further, it comes with free shipping.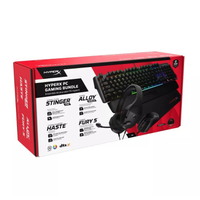 HyperX Gaming Bundle for PC | was $129.99 now $64.99 at Target

Purchasing these items separately at full price would cost around $175 so this is already a great value bundle, but with a whopping 50% discount applied, this becomes an absolute steal. It's everything you require in one convenient package to kickstart your PC gaming adventure (well, almost everything - you'll still need the gaming PC itself).
Black Friday 2023
• Handpicked: The best Black Friday deals overall
• Early graphics card Black Friday deals
• Gaming TV early Black Friday deals
• Early motherboard Black Friday deals
• 4K and Ultrawide monitor Black Friday deals
• Early Black Friday deals on power banks
• Xbox controller deals for November
HyperX are one of our favorite brands here at Windows Central frequently earning a spot on our esteemed list of Best PC Gaming Headsets. hat makes HyperX a standout choice is not just their exceptional audio quality at an affordable price point but also the robustness and longevity of their products. These gaming peripherals are built to withstand the test of time, ensuring that your gaming setup remains reliable and enjoyable for the long haul.
While the individual items in the HyperX Gaming Bundle would typically rack up an approximate MSRP of $175, there's a twist. These aren't necessarily the latest and greatest models in their respective categories, which means they often find their way into sales and discounts. HyperX recognized this and thoughtfully combined these products into a bundle priced at $129.99, delivering outstanding value already. But with the current 50% off deal, it has become a total steal, providing you with a complete arsenal of peripherals at a price that's hard to beat.
HyperX Pulsefire Haste Mouse (usually $49.99)
This feather-light, honeycomb-designed mouse offers lightning-fast precision, adjustable sensitivity, and snappy clicks, making it a perfect companion for your gaming adventures.
HyperX Cloud Stinger Core Headset (usually $39.99)
The HyperX Cloud Stinger Core is often on our sales list for the best Xbox accessories as it's a fantastic entry-level option for gamers who appreciate quality audio without breaking the bank. With superior sound and a reliable microphone, it's the ideal choice for young gamers.
HyperX Alloy MKW100 RGB Keyboard (usually $79.99)
The HyperX Alloy keyboard in this bundle is beautiful with an aluminium top plate, and a remarkably slim build for a keyboard that's sub-$100. It should impress most budding gamers with it's RGB backlighting that's customizable with the HyperX NGENUITY software, and has macro-programmable keys if you want to be really productive with your keystrokes.
HyperX Fury S Mouse Pad (usually $14.99)
There's not much to say about a mousepad other than 'it does the job' but it's nice to get one bundled in with all these accessories so your setup can all match and you're ready to go.

Act fast because this deal won't last long! Equip yourself or your favorite gamer with top-quality gear. The only thing missing is the gaming PC itself, and and we've dug out some of the best pre-built gaming desktop PC deals in the early Black Friday sales for you to check out.
When does Black Friday 2023 start?
The Black Friday sales event is set to begin on November 24, 2023, and will run through the weekend to Cyber Monday. It consistently falls on the last weekend of November, immediately following Thanksgiving.
While numerous Black Friday deals are already available, even more are expected in the coming days and weeks. It's important to note that the best deals will likely surface during the Black Friday weekend itself. Nonetheless, it's advisable not to hesitate to seize exceptional deals you come across early, especially since some items currently available may not be part of the official event's offerings.
Get the Windows Central Newsletter
All the latest news, reviews, and guides for Windows and Xbox diehards.
Jen is a News Writer for Windows Central, focused on all things gaming and Microsoft. Anything slaying monsters with magical weapons will get a thumbs up such as Dark Souls, Dragon Age, Diablo, and Monster Hunter. When not playing games, she'll be watching a horror or trash reality TV show, she hasn't decided which of those categories the Kardashians fit into. You can follow Jen on Twitter @Jenbox360 for more Diablo fangirling and general moaning about British weather.