Surface Laptop Studio 2 is a substantial improvement over its predecessor in performance, especially with up to 64GB of RAM, an NVIDIA RTX 4060 GPU, and Intel's powerful 13th Gen Core i7 processor. While it's a smidge heavier and thicker now, the trade-off in raw power makes this a compelling laptop for engineers, CAD users, artists, content creators, and even gamers. However, it'll remain out of touch for the masses due to its high price tag.
Pros
+

Excellent performance

+

Multiple modes

+

HDR400 is awesome

+

Type-A and microSD ports

+

Intel NPU and AI

+

New Aluminum chassis

+

Quiet fans
Cons
-

Extremely high price

-

Surface Pen is not included

-

Reflective display

-

Shorter battery life

-

Thicker, heavier
Why you can trust Windows Central Our expert reviewers spend hours testing and comparing products and services so you can choose the best for you. Find out more about how we test.
Two years ago, I said in my Surface Laptop Studio review that Microsoft redefined what a laptop can be, combining what it learned from its Surface Studio and Surface Book. Some consider the brutalist design ugly, but I think it's pragmatic, symmetrical, minimalist, distinctive, and does things almost no laptop can do, even two years later.
Now, after a long wait, Microsoft has finally released Surface Laptop Studio 2 with much better performance due to substantially updated specs. Moreover, the company yielded to creator complaints and added a Type-A port and microSD slot, seemingly fixing past wrongs.
While its extremely high price tag keeps Surface Laptop Studio 2 out of most people's hands, I can't deny that it is also one of the best laptops demonstrating all that Windows 11 can do.
And as to why you should read my review, I'm a regular Surface Laptop Studio user and have frequently gushed about it on our podcast. I've also been reviewing laptops for years, including most Surfaces. While my time with Surface Laptop Studio 2 has been short, I'll tell you what I like about the new changes and what can still be improved.
Disclaimer: This review was made possible by a review unit provided by Microsoft. The company did not see the contents of the review before publishing.
Pricing, specs, and availability
Surface Laptop Studio 2 specs
Price: $3,299.99
CPU: Intel 13th Gen Core i7-13700H
GPU: NVIDIA GeForce RTX 4060 L
RAM: 64 GB DDR5-5600
Storage: 1TB SSD M.2 NVMe PCIe 4.0 x4
Display: 14.4", DisplayHDR 400, 120Hz
Battery: 8.5 hours (benchmarked)
Size: 21.84 x 230 x 323.5 mm
Weight: 1.98 kg / 4.37 lbs
Surface Laptop Studio 2 is now available as of October 3 in a few markets, including the US, Canada, and the UK. Availability is first through Microsoft.com, but Best Buy and Amazon often pick up stock.
There are six configurations (compared to five of its predecessor), and its starting price has increased from $1,599 to $1,999 because Microsoft removed the 11th Gen Core i5 model (Iris Xe GPU) with 128GB of storage and 16GB of RAM. The new starting version is spec'd higher with the latest Intel 13th Gen Core i7 (Iris Xe), 16GB of RAM, 512GB of storage—effectively 4x the storage, and a more powerful CPU.
The top tier model costs an eye-watering $3,699 and includes a 13th Gen Core i7, 2TB SSD, RTX 4060 GPU, and now 64GB of RAM.
While the consumer models offer Iris Xe, NVIDIA RTX 4050, and RTX 4060 for GPU options, business models with an RTX 2000 are also available and are certified for the NVIDIA Studio Program.
For this review, Microsoft supplied me with its 4th highest model featuring Intel Core i7, 64GB of RAM, 1TB SSD, and NVIDIA RTX 4060 GPU, which retails for $3,299.
Unfortunately, if you want the more powerful RTX 4060 instead of the RTX 4050, you must step up to this model with 64GB of RAM.
Surface Laptop 2 recommended configuration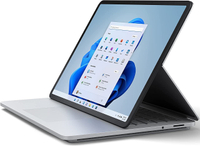 Design and build quality
If you go by press photos, you'd think that Surface Laptop Studio 2 is the same laptop as the original, except they added a few ports and improved the CPU and GPU.
However, that'd be incorrect.
Surface Laptop Studio 2, compared to its predecessor, jumps from 4 lbs (1.8kg) to 4.37 lbs (1.98kg) while it also gets a bit taller, going from 18.94 mm to a more substantial 21.84mm. That added height allows for larger side vents for improved thermals. As a frequent user of the original Surface Laptop Studio, I find the difference very noticeable. It makes Surface Studio 2 feel more like a Dell XPS 15 than a typical 14-inch laptop like it used to.
Nonetheless, as you'll see in the benchmarks below, the larger size allowed Microsoft to hit much higher performance goals than the original, making the trade-off worth it for most creators.
Microsoft also changed the metal for the chassis from a mix of magnesium alloy and aluminum to straight aluminum, which it claims is more resilient and has a brighter sheen, which I can attest to. It's also smoother to the touch.
Microsoft has wisely added a USB-A 3.1 port on the left and a microSD slot on the right, with the latter being requested by creators. It did this while keeping both Type-C Thunderbolt 4 ports, the headphone jack, and Surface Connect, which is excellent. No longer does this laptop feel so limiting.
The overall functionality of Surface Laptop Studio 2 is still the same as the original, with its unique 'pull-it-forward display.'
While pull-it-forward displays have appeared in various devices like Acer's Aspire R7, VAIO Duo 13, and HP's 2018 Spectre Folio, Microsoft takes it to a new level of premium innovation.
The pull-it-forward functionality is elegantly straightforward. Initially, you can use Surface Laptop Studio 2 as a regular workstation laptop. But with a simple flick, the screen gracefully moves forward ("stage mode") while the keyboard is hidden, leaving only the touchpad accessible for navigation (in addition to the touch screen). This configuration proves perfect for immersive media consumption, video calls, reading, and light sketching. With this shift, the display sits about 7 inches closer, completely transforming your viewing experience.
This level of flexibility and power is not typical, making Surface Laptop Studio 2 a standout from other PCs. But it doesn't end there. Pull the screen forward again, and now you can lay it down at a slight angle ("studio mode"). This configuration is ideal for extended drawing sessions or precise manipulation of onscreen data using the Surface Slim Pen 2 (which is not included).
What sets Surface Laptop Studio 2 apart is its incredible adaptability without lifting it off your lap or desk—a task that can be cumbersome with other 14- and 15-inch convertibles.
Other minor changes include Bluetooth 5.3 from 5.1 and Windows Hello 2.0 face authentication camera. RAM is now LPDDR5x, adaptive touchmode (for accessibility), and the display has been upgraded to DisplayHDR 400 and Dolby Vision IQ (instead of regular Dolby Vision).
I didn't know much about Windows Hello 2.0, but apparently, the depth camera goes "beyond the visible range" for facial recognition and logging into Windows 11. The facial tracking is now intelligent enough to factor in glasses, beards, and surgical masks, making it more versatile than the version found on Surface Laptop Studio.
Also unique for this 13th-gen processor is the inclusion of Intel's Gen3 Movidius 3700VC VPU AI Accelerator. A vision/versatile processing unit (VPU) is the same as a neural processing unit (NPU) but was Intel's branding. It is designed to run AI programs efficiently, working alongside the GPU and not taxing the primary CPU (Core i7). More on this later.
I always like to point out that, like other Surface PCs, Microsoft has brilliantly designed this laptop. Hence, no speaker grills or vents are on the bottom, making laptop use precarious if you care about maxing thermals. The bezel's cameras are darkened, so they are barely visible. There is no branding except the Surface logo on the lid (which can be opened with one hand) and a nearly perfectly symmetrical and minimalist overall design.
We'll now go deeper into the core features of Surface Laptop Studio 2.
Keyboard and touchpad
Let's start with the keyboard. It offers an excellent typing experience with 1.3mm of travel and non-metal gray keys that closely resemble those found on the Surface Laptop in design. (Interestingly, Microsoft lightened the grey for Surface Laptop Studio 2 keys, reducing the contrast between it and the chassis).
Compared to the slightly mushy metal keys on the Surface Book, these keys feel snappier and more responsive. With four levels of backlighting (including the option to turn it off), the keys remain easily visible under any lighting conditions.
I still contend that Surface Laptop Studio 2 has the best touchpad on any Windows PC. Like the original, Microsoft is using a haptic touchpad (co-engineered with Sensel), which offers better accuracy and the ability to customize the feedback ("click") when depressing it.
Microsoft says it rebuilt the touchpad to make it even better (although I didn't feel a difference), and it now offers adaptive touchmode, resulting in the company calling it "the most inclusive touchpad on any laptop." Adaptive touchmode lets those with missing digits on their hands or other inabilities use the touchpad instead of a mouse.
Overall, the typing and cursor experience on Surface Laptop Studio 2 is one of the best of all Windows workstations.
Display and Pen
Microsoft uses a unique 14.4-inch 2400x1600 touch display with 201 pixels per inch (PPI) and a 120Hz refresh rate.
Staying true to Surface tradition, this device embraces a tall 3:2 display aspect ratio, deviating from the standard 16:9 or 16:10 formats. This design choice caters to the needs of artists and creators, providing an ideal canvas for inking and creative pursuits. However, when it comes to watching 16:9 movies, the display may not offer the same seamless experience due to the aspect ratio (e.g., black bars at the top and bottom).
This year, there is support for DisplayHDR 400, which enhances the display's contrast for supported content like modern digital movies or formatted content on YouTube. Enabling HDR in display settings resulted in a primarily average experience until viewing video formatted with HDR, resulting in more extreme brightness ranges and higher contrast.
The display also supports Dolby Vision IQ, an upgrade from Dolby Vision (which came out in 2014). Dolby Vision IQ is an HDR format for movies, but now it can adjust colors, brightness, and contrast based on the room's lighting conditions in real time.
By default, there are no settings for Dolby Vision, but users can install the Dolby Access app in the Microsoft Store. That app can tune audio (Dolby Atmos) and video (Dolby Vision) with some presets.
Color accuracy for Surface Laptop Studio 2's display is similar to its predecessor, with 100% sRGB, 80% AdobeRGB, and 88% DCI-P3. Those numbers are solid, but many premium Windows laptops are now hitting all three at or near 100%, like Dell's XPS 15 with OLED.
Brightness comes in around 500 nits, which is good, but the laptop can also dip to just 2 nits of brightness at its lowest point, making it ideal for use in a dark room.
Swipe to scroll horizontally
Brightness/contrast test

| Setting | Brightness | Black | Contrast | White Point |
| --- | --- | --- | --- | --- |
| 0% | 1.9 | 0.00 | 6200:1 | 7300 |
| 25% | 26 | 188 : 1 | 6200:1 | 7400 |
| 50% | 98 | 1770 : 1 | 6200:1 | 7400 |
| 75% | 246 | 1770 : 1 | 6200:1 | 7500 |
| 100% | 498 | 1780 : 1 | 6200:1 | 7600 |
Surface Laptop Studio 2 also supports 120Hz refresh (set by default). Still, users can change that to 60Hz (typical) or 60-120Hz Dynamic Refresh Rate, which adjusts the speed of the display on the current content, thereby conserving battery life (120Hz displays use much more power than 60Hz ones).
Unfortunately, Microsoft does not support human presence detection nor has an anti-reflective layer, resulting in a glossy experience. But new this year is Adaptive Color, which changes the tone of the display based on the color of your ambient lighting.
The 120Hz refresh rate on Surface Laptop Studio 2 eliminates latency and significantly improves the inking experience with the Surface Slim Pen 2. The higher refresh rate allows the ink to flow more smoothly, closely mimicking the sensation of real-life inking.
Adding to the allure, the Surface Slim Pen 2 supports haptics, providing a type of "force feedback" to users. Under Settings, users have control over the strength of haptic feedback and can even turn it off if desired. By default, it's set to 50%, but cranking it up to near 100% delivers an even more immersive experience. The haptics feature replicates the feeling of friction when writing, akin to using a pencil on paper. Switching to a pen or marker alters the sensation, creating versatility.
While pen haptics may not be a showstopper, the subtle combined effect elevates the overall inking experience. Moreover, with the convenience of tucking the pen away under the Laptop Studio's keyboard deck (where it also recharges), Microsoft has crafted an impressive advancement in digital inking.
The only drawback is that Microsoft does not include the pen with the laptop purchase, adding a cost of $130. However, the complete set is an excellent combo if you plan to use it frequently.
The bottom line: The display on Surface Laptop Studio 2 looks great. Colors and contrast are super punchy, brightness is above average, movies in HDR400 look fantastic, and a 120Hz refresh keeps Windows 11's animations smooth.
Surface Slim Pen 2 is a great but expensive addition for those who want to ink to take notes, draw, or annotate on Surface Laptop Studio 2.
Performance and benchmarks
The core new feature of Surface Laptop Studio 2 is the increased performance, which, as noted earlier, contributes to its bulkier size and heavier weight. Microsoft claims this laptop is twice as powerful as the previous one, and going by my benchmarks, the company's claim holds.
Looking at 3DMark Time Spy, primarily aimed at gaming and testing a laptop's GPU, Surface Laptop Studio 2 gets 9,523 compared to the original's 5,034. That result puts Surface Laptop Studio 2 within spitting distance of the 2021 Razer Blade 15 and Lenovo ThinkPad P15 (Gen 2).
Cinebench 23 hammers single and multi-core performance of that Intel Core i7-13700H. It more than doubles Surface Laptop Studio's Core i7-11370H due to the new Intel architecture that goes from just 4 cores to 14 in the 13th Gen Core i7. Max Turbo increases from 4.8GHz to 5.0GHz, and the cache doubles to 24 MB with the i7-13700H.
Image 1 of 7
Keeping on with the CPU, Geekbench 6 reveals the doubling of multi-core performance from 6,826 to 13,468 compared to the original Surface Laptop Studio. It's also very close to the Razer Blade 14 (2023) and even beats Dell's XPS 15 and XPS 17 laptops, which are competitors to Surface Laptop Studio 2.
PCMark 10 measures casual system performance when completing productivity tasks like video calls, web browsing, document writing, spreadsheet use, and anything that doesn't tax the GPU. Surface Laptop Studio 2 scores just above Lenovo's ThinkPad P15 (Gen 2) with an older 11th Gen i9-11950H but also beats the 2023 Dell XPS 15 and XPS 17.
Image 1 of 3
Even the SSD has improved with its tested 1TB capacity and support for PCIe 4 standard. Write speeds jump from 3,225 MB/s to nearly 5,000 MB/s, but the read speeds are most impressive, increasing from 3,523 MB/s to 6,462 MB/s, which is very competitive with other premium workstations and gaming laptops.
What about gaming? While Surface Laptop Studio 2 is technically not a gaming laptop, Microsoft continues to mention that as one of its abilities. Thanks to the included dual-pronged 127W charger (up from the measly 102W of the previous version), Surface Laptop Studio 2 won't drain the battery when plugged in and max out the CPU and GPU during your favorite FPS.
Image 1 of 3
Microsoft improved the thermals to match the significantly more powerful hardware. The fans remain extremely quiet (or are not even on) during everyday laptop use and only come on when gaming or maxing the CPU and GPU. When that happens, you hear them, but there is no high-pitched whine, more just the whooshing of the air coming out the side vents.
The laptop can get warm under heavy loads but is never hot. Thanks to its design, there are no intake vents on the bottom of this PC, so when it is in your lap, you are never reducing air intake for cooling.
Battery life
Battery life is the one weakness of Surface Laptop Studio 2 compared to its predecessor. Despite adding beefier hardware, improved thermals, and more ports, Microsoft kept the 58WHr one from the previous generation. A 58WHr battery is small for a laptop with this hardware and is typically found in regular Ultrabook laptops with no NVIDIA GeForce GPU. For example, Dell pushes 86WHr with its XPS 15 (9530).
While Intel 13th Gen does OK for battery life, often performing similarly to 11th Gen, when combined with the GPU, battery life only came in at 8 hours and 40 minutes using PCMark's Battery test, which relied on a productivity scenario. When I re-ran the battery test on Surface Laptop Studio, both running the Windows 11 September 26 update, 120Hz refresh rate, auto-brightness disabled, and with the same brightness levels, it outlasted Surface Laptop Studio 2 by 50 minutes (the graphs below show even a wider gap when tested initially in 2021).
The user can control some of this, however. Setting the display to 60Hz, auto-brightness, and auto-contrast with HDR disabled will save some power, but not enough to make this a top contender for battery life.
That said, the battery life is not out of the norm, as HP's excellent Spectre x360 16 with OLED display and NVIDIA GPU also hit around the same runtime.
As noted above, Microsoft is including the bigger 127-watt charger in the box this time (120W for the laptop, 7W for the Type-A port), a step up from Surface Laptop Studio's 102-watt, which at times could discharge faster than it could charge.
Speakers and camera
The audio on this laptop is excellent, especially since there are no speaker grills anywhere. Instead, Microsoft puts two speakers (mids and highs) under the keyboard and two (bass) that emanate from the sides, resulting in a very clean-looking laptop.
Microsoft calls these speakers Omnisonic, and when combined with Dolby Atmos (software), which gives a more comprehensive spatial presence, I'd rate the audio on this laptop near the top. Music and sound effects during a movie seem to surround you while voices from the actors are centered, making it clear and distinct.
The sound profile adjusts based on the display posture, providing an intriguing experience. Shifting from laptop to stage mode enhances the mids and highs in audio playback. Microsoft ensures that the sound aligns with the Surface Laptop Studio's current mode, showcasing the meticulous attention to detail in its design execution.
The webcam has been slightly updated, as it now offers a 3.0 MP (2304x1296) resolution versus the older model's 2.1 MP (1920x108) camera. Combined with the NPU AI Accelerator, you can get what is called Microsoft Studio Effects, including background blurring during video calls, auto-framing, and gaze correction (adjusting your eyes to look like you're looking at the camera).
These advanced AI features can be enabled and disabled with ease via the Quick Settings panel, but they significantly enhance the video calling experience. Intel's NPU helps by offloading complex computation to this embedded processor instead of relying on the Intel Core i7. Not only is this more efficient for the battery, it frees up the Core i7 for other tasks and not being overwhelmed with the AI elements of Microsoft Studio Effects.
Of course, you could take AI to the next level and rely on NVIDIA's Broadcast app, which relies on an RTX GPU, such as the one included in this laptop, giving even better blurring abilities with excellent noise cancellation. It'll use more power, so it's better suited when plugged in and at your desk.
Microsoft tends to do some of the best laptop cameras, which holds here, too. That said, HP routinely offers 5.0 MP cameras in its premium laptops and has even done an 8.0 MP one, so the competition is catching up and surpassing Microsoft in many ways.
The competition
There are two ways of thinking about a good alternative to Surface Laptop Studio 2.
Suppose you're looking for a laptop with a powerful 13th Gen H-series processor and an NVIDIA RTX 4050 or 4060 graphics that can switch between three modes (laptop, stage, and studio) with a premium, minimalist design, allowing you to jump from between mid-range gaming to high-level drawing. In that case, there isn't anything like Surface Laptop Studio 2 (let alone with a 120Hz HDR400 display).
The one exception (almost) to that rule is the Acer ConceptD 7 Ezel. The problem is Acer doesn't seem to have updated recently, so you can only get to an 11th Gen Intel with an RTX 3000 series GPU. That's a shame, as it's an elegant design with a traditional 16:9 4K display. It's also heavier at 5.6 pounds compared to Surface Laptop Studio 2's more reasonable 4.3lbs.
Assuming you don't need inking for notes or drawing, you want a powerful workstation laptop with an NVIDIA GPU. The Dell XPS 15 (9530) fits the bill. We had a lot of positive things to say about the laptop in our Dell XPS 15 (9530) review. You can get the same processor, a more powerful RTX 4070 GPU, a 3.5K OLED display, and longer battery life. A similar configuration as Surface Laptop Studio 2 (same CPU, GPU, 64GB RAM, and 3.5K display) runs $2,949. Not cheap, but cheaper than Microsoft.
HP has its Spectre x360 devices in 14- and 16-inch designs. I reviewed the 2022 16-inch model with Intel 11th Gen and an RTX 3050 GPU, giving it very high praise, and HP has updated the hardware to 13th Gen but dropped NVIDIA for Intel's Arc 370 GPU (roughly equivalent to an RTX 3050). HP offers many configuration options, including 3K IPS or 4K OLED. For $1,579.99, you get Core i7 P-series, 16GB of RAM, 512GB of storage, and Intel Arc 370. It won't be anywhere near as powerful as Surface Laptop Studio 2, and it's a 1/2 pound heavier, but it's an impressive laptop.
HP also has a Dragonfly Folio G3 with an Intel 12th Gen P-series processor with a similar pull-it-forward display but no NVIDIA GPU. It's basically an ultrabook version of Surface Laptop Studio 2 aimed at business users who may also want 5G support with pen abilities and an 8MP front-facing webcam.
Finally, if you don't need that GPU, you can't go wrong with Lenovo's excellent Yoga 9i Gen 8 with 13th Gen intel, OLED display, convertible design, soundbar hinge, and an overall great experience. There's a reason why it's our #1 best Windows laptop for 2023 (so far) and just edged out the previous gen's Surface Laptop Studio. Read my Lenovo Yoga 9i Gen 7 review to see why it's so great.
Score card
Swipe to scroll horizontally