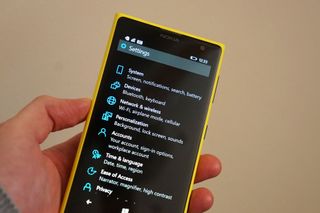 A lot can happen in a week. New apps join the Windows Phone Store or Windows Store. Your favorite apps can get a big update with a new look or new features. Device rumors come and go. Seven days might not seem like much, but it can be an eternity in the tech news cycle.
Every week we're going to compile the biggest stories into one post, so you never fall behind – In Case You Missed It (ICYMI).
Windows Phone
Microsoft set for a Qualcomm Snapdragon 810 powered Lumia [Read]
Raspberry Pi 2 supports Windows 10 because customers demanded it [Read]
Lumia Denim updates rolling out to more UK phones including the unlocked 1520 [update: Australia too!] [Read]
O2 rolls out Denim update for Lumia 930, 'Hey Cortana' passive-listening not included [Updated] [Read]
Windows 10 for phones may come with larger, vertical live tiles [Read]
Should you install the Windows 10 Technical Preview on your phone? [Read]
First Windows 10 preview build for phones will support some 512MB devices [Read]
Windows 10 Preview for phones might include a rollback feature [Read]
Has the Windows Phone 8.1 update hit your HTC 8X? [Read]
Even more Windows 10 phone screenshots get posted showing off Cortana and more [Read]
Microsoft + Windows
Watch Microsoft's pair of touching Super Bowl XLIX commercials [Read]
New OS data shows gains for Windows 8.1 while Windows XP still hangs around [Read]
Touch-based Word, Excel and PowerPoint apps now available for Windows 10 preview users [Read]
The Windows 10 9926 preview build gets updated with a boatload of bug fixes [Read]
Microsoft's new Comfort Headset Earphones to go on sale in Europe in March [Read]
Microsoft's paying more than $100 million for the Sunrise Calendar app for iOS and Android [Read]
Satya Nadella talks about cricket, Microsoft Band, and Windows Phone in latest interview [Read]
Future versions of Office may come with Cortana built in [Read]
Project Spartan browser images emerge from leaked Windows 10 build [Read]
Cortana for Office on Windows Phone becomes a reality in these new leaked screenshots [Read]
Apps
Games
Xbox
Sony Online's sale may allow some of their games to come to Xbox One [Read]
Battlefield Hardline enters open beta, PC system requirements detailed [Read]
Game of Thrones Episode 2: The Lost Lords is now available on Xbox One [Read]
Halo 5: Guardians will get tons of multiplayer changes thanks to feedback from the recent beta [Read]
Xbox One Preview dashboard update brings easier problem reporting [Read]
Xbox One February update rolls out to the masses with game hubs, TV updates, and more [Read]
Xbox One with Kinect will be $50 off starting Feb. 8 [Read]
Xbox One's upcoming screenshot feature teased via (what else) a screenshot [Read]
Extra and Miscellaneous
Poll results: A lot of love for Spartan and Sony [Read]
Cortana correctly predicts the outcome of the Super Bowl [Read]
From the Editor's Desk: Taking a break from the doldrums of winter [Read]
Poll: Are you planning to buy a Raspberry Pi 2? [Read]
ARM unveils Cortex A72 processor architecture, coming in 2016 [Read]
Cortana can now predict the results of English Premier League football matches [Read]
FCC Chairman states outright: they plan to classify internet access as a utility [Read]
Weekly photo contest: Public transport [Read]
Apple's upcoming Beats-based music service may not include Windows Phone [Read]
Do you need an antivirus program for your Windows PC in 2015? [Read]
Share your thoughts on this past week of Windows Phone, Windows, Xbox and Microsoft news!
Well this week was full of Leaks :p
Hope for the Better Weeks Ahead...:)

The first week that I missed nothing

I never miss anything... When rumors are floating in the air....:P

I miss nothing, I check too often. .-.

I would love to receive this into my email..

That's actually what Sam hinted at when he first started ICYMI, but it never eventuated.

We'll look into doing that for this coming week. Should be easily doable.

Please update WC app as well :-/ .. Need better UI and Features :-)

"A lot can happen in a week."
Really, that's how you start the article off?

That's how they start off this article every week. I think it's a great intro.

"Really, that's how you start the article off?"

I'm fully open to criticism, but merely pointing at something without giving a

reason

for your disgust is extremely unhelpful to us. Any chance next time you could actually explain your complaint, instead of just presenting to us your reaction?

If the ICYMI piece was a video or audio I think that intro would suffice. It doesn't sound well when read, in my opinion. Nevertheless I'm not disgusted in the least way; I love Windows Central and the fact that I had a short-lived "beef" with Daniel Rubino himself has made my day.

"Really, that's how you start the article off?" Really this is how you comment?

This was an interesting week for leaks and rumors. I never miss anything. Hopefully the real deal comes next week :D

This week's WP leaks had multiple times the setting being showed again and again. Why? I miss that WinP8.1 leaks..it had many things to be leaked and awed upon. Great week anyways.

Still no denim! So I dont care about any other news till then. K bye ;)

Hey man... What about the windows 10..... For phones release date

Windows 10 preview and outlook this week please :D

Denim...AT&T....US....think I must have missed that one. I guess other than that, um........
Windows Central Newsletter
Get the best of Windows Central in in your inbox, every day!
Thank you for signing up to Windows Central. You will receive a verification email shortly.
There was a problem. Please refresh the page and try again.