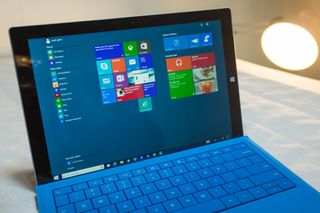 A lot can happen in a week. Seven days might not seem like much, but it can be an eternity in the tech news cycle. Between Windows news, hardware and software developments and Microsoft's fast-paced movements throughout the technology landscape, it's never easy to keep your hand on the pulse of technology. Not to mention everything that's going on right here at Windows Central!
Every week we're going to compile the biggest stories into one post, so you never fall behind – In Case You Missed It (ICYMI).
Windows
OneDrive 'is being integrated directly' into Windows 10, ditching the app model
Microsoft partners with Adobe on Project Spartan development
Windows 10 10041 preview build gets another update to fix sign-in bug
Microsoft
Surface Pro 3 up to $150 off from Microsoft, free sleeve thrown in
Microsoft posts new instructional videos for Windows 10 app developer preview users
Report says Microsoft will reveal new Surface tablet with low-power Intel chip at Build 2015
'Windows apps' is the new and simple label for Universal Windows 10 software
Microsoft's universal app strategy for Windows 10 shown off in MWC 2015 video
Microsoft and Yahoo are in the middle of re-negotiating their Bing search engine deal
Extra and Miscellaneous
Five great Toshiba laptops
Five great gaming laptops
Mobile Nations Community Update, March 2015
Five great laptops from ASUS
Share your thoughts on this past week of news! And we'll be back again next week to do it all over again.
Windows Central Newsletter
Get the best of Windows Central in your inbox, every day!
Everytime I see that awful W10 Start "screen" on a SP3 it makes me sad when you compare it to the beauty of the W8.1 Start screen. I really hope Microsoft sort it out in future builds.

Don't know..but i like the new Interface..of win 10 (phones)

The 8.1 start screen is a car crash. I can't wait for the new one. Don't we have the choice to switch between the current awful "I can't believe it's not a Windows XP desktop full of icons" and the new version?

The beauty of 8.1 start screen? Wow I laughed pretty hard on that one.

The picture of the car reminded me that I wish there was a Windows in car thing like the Apple Car thing.