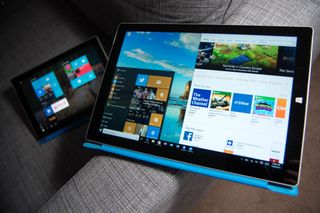 (Image credit: Dan Rubino / Windows Central)
A lot can happen in a week. Seven days might not seem like much, but it can be an eternity in the tech news cycle.
Between Windows news, hardware and software developments and Microsoft's fast-paced movements throughout the technology landscape, it's never easy to keep your hand on the pulse of technology. Not to mention everything that's going on right here at Windows Central!
Every week we're going to compile the biggest stories into one post, so you never fall behind – In Case You Missed It (ICYMI).
Windows
Windows 10 continues to slowly, but steadily, continues to increase its share of the PC operating system market, now owning 7.94% of it as of October. That number is up just under one and a half percent from the previous month and still a long way from Windows 7's nearly 56%.
It seems that gamers are upgrading more than average users, as 27% of Steam users are now running Windows 10.
The scales will surely begin to tip sometime next year, when preinstallations of Windows 7 and 8 on new PCs will come to an end.
Windows 10 PC Insiders in the Fast ring received preview build 10586 this week. There doesn't appear to be any monumental additions, but rather the usual fixes.
Word has it that the Windows 10 Fall Refresh for desktop and mobile devices is slated for Thursday November 12. The update will bring with it a new Skype experience, UI improvements, and code optimizations for better performance.
If it does, you can bet Windows Central will cover it.
Other notable items:
Microsoft's opens Windows Store for Business signups ahead of launch
Microsoft
Just ahead of the Xbox One New Experience update on November 12, Microsoft released two videos to show off some of the new design features.
And though they plan to announce the initial list of Xbox One backwards compatible games on November 9, someone appears to haveleaked the list ahead of time.
The Surface Book and Surface Pro 4 already received a November Hardware Update this week. The updates consist of firmware updates, as well as drivers for video, display, and the Surface Pen settings.
But the big news came when Microsoft announced significant changes to OneDrive storage limits. Users with free OneDrive accounts will see their 15GB of storage drop down to 5GB. And Office 365 subscribers will no longer be entitled to unlimited storage.
Although the new limits are still pretty generous when compared to OneDrive's competitors, OneDrive users are not happy, to say the least. Tens of thousands of customers have voiced their displeasure on the OneDrive UserVoice feedback page.
Other notable items:
Microsoft makes second sports push with PGA Tour partnership
Microsoft is expanding the number of locations for training veterans in the US
[Microsoft is now seeking beta testers for Cortana on iOS](/Microsoft is now seeking beta testers for Cortana on iOS)
Microsoft rumored to be developing a Cortana-based hearable device called Clip
Miscellaneous
AMD has announced plans to do away with their Catalyst Control Center software, which has had its fair share issues. AMD will be supplanting Catalyst with a new driver and settings suite, simply dubbed Radeon Software. The first release of the driver package will be called Crimson and is due out by the end of the year.
Video game powerhouse Activision is now the proud owner of Candy Crush, after dishing out $5.9 billion for the game's developer, King Digital. That is assuming the deal gets approved in home country of Ireland. The acquisition of King and its immensely popular franchise makes Activision "the most profitable standalone company in interactive entertainment," according to CEO Bobby Kotick.
Another coming together of sorts came in the form of two former competitors in wireless charging joining forces. A4WP and PMA have combined to form the AirFuel Alliance, which will now focus on taking on the Wireless Power Consortium, makers of the industry-leading Qi charging technology.
Lenovo's roadmap for their ThinkPad line of computers was leaked online. Most notably, the document lists a new X1 Tablet due in February 2016.
And with Microsoft's move to cut back on their OneDrive storage limits, Windows Central scoured the internet for the deals in cloud storage.
Other notable items:
Microsoft launches a #DiwaliUpgrade campaign in India
Amazon takes pre-orders for tiny Intel Compute Stick with Windows 10 for $153
Samsung reveals ATIV Book 9 Pro and ATIV Book 9 Spin Windows 10 notebooks
Share your thoughts on this past week of news! And we'll be back again next week to do it all over again.
Windows Central Newsletter
Get the best of Windows Central in your inbox, every day!
Just a small correction, Activision bought Candy for 5.9B, not M. Otherwise, thanks for helping bring up to date Posted via the Windows Central App for Android

Ermh... Wednesday is November 11th you guys... #proofread ☺

Limiting the storage you can store on OneDrive will impact Groove too, I only use it with my own music.