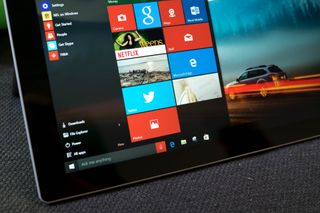 A lot can happen in a week. Seven days might not seem like much, but it can be an eternity in the tech news cycle.
Between Windows news, hardware and software developments and Microsoft's fast-paced movements throughout the technology landscape, it's never easy to keep your hand on the pulse of technology. Not to mention everything that's going on right here at Windows Central!
Every week we're going to compile the biggest stories into one post, so you never fall behind – In Case You Missed It (ICYMI).
Windows
It was a pretty quiet week on the Windows front. The only Windows 10 Insider Preview build that we got was an unofficial build 10568 that leaked online, and even that was rather lackluster.
At first glance, there were no clear differences to behold. The one that finally surfaced is that this build of Windows 10 prompts users to keep using Microsoft's apps as defaults. Hardly a reason to get excited.
[There were more rumblings that Google Chrome-like browser extension support for Microsoft Edge may be delayed until 2016, and sure enough, Microsoft later confirmed those reports. Citing their focus on security and reliability, Microsoft released a statement:
And a public service announcement to those of you who running Windows 10 Insider preview build 10565. The KB3105208 Windows update is causing the "Blue Screen of Death on many systems that have the Secure Boot/UEFI feature enabled.
Other notable items:
Windows 10 PC Insider preview build 10565 gets a small update, along with IE Flash Player fix
Microsoft
Due to some issues with credit card providers, many people who pre-ordered the Microsoft Surface Book had their orders cancelled. When those same people placed their orders a second time, they found that their ship dates had been moved back by several months.
Microsoft has since said that anyone who had their Surface Book pre-orders get cancelled will receive expedited processing.
Microsoft reported strong FY16 Q1 results in the form of $20.4 billion in revenue. The news sent Microsoft's stock surging to 15-year high. And though Satya Nadella was handsomely rewarded for his part, it appears that some of the positive gains for Microsoft come at the expense of 1000 more laid off employees.
If you've been wondering what all of the hubbub around the Microsoft Surface Pro 4 is, it's time to check out the Windows Central review. We went through every nook and cranny to tell you what makes it so special and why others agree that it's the best Surface yet.
The New Xbox One Experience started rolling out to all Xbox preview members. The update revamps the layout of your game console menus and adds new functionality.
And what better way kick off the new experience than with a new controller? Check out our in-depth review of the Xbox Elite Wireless Controller.
Other notable items:
Microsoft's US site Back to the Future Easter egg promotes HoloLens, Lumia, Surface Book and more
Microsoft beefs up low-end Surface Book with discrete GPU option
Miscellaneous
Lenovo held a press event to unveil some of their new wares. Among them were the Windows 10-based Yoga 900 and Yoga Home 900. The Yoga 900 is the latest iteration of Lenovo's convertible tablet, even thinner and with a beefier processor. As for the Yoga Home 900, it's a 27-inch all-in-one PC that doubles as a massive tablet.
It seems ASUS has some plans to create an augmented reality headset based on Microsoft's HoloLens technology. Both ASUS CEO Jonney Shih and Microsoft's head of Windows and devices Terry Myerson have confirmed that they are in very early talks.
And a week after Dell's historic acquisition of EMC comes another big purchase. Hard drive maker Western Digital is set to buy fellow storage device manufacturer SanDisk for $19 billion.
Other notable items:
Share your thoughts on this past week of news! And we'll be back again next week to do it all over again.
Get the Windows Central Newsletter
All the latest news, reviews, and guides for Windows and Xbox diehards.