Fitting more reading time into your daily schedule can feel impossible at times, but today Amazon has an exclusive discount for Prime members that can help you get back to your books, even while you're busy. Audible is the #1 retailer for audiobooks in the world, and for a limited time, Prime members can save $30 on a year-long membership and snag an Echo Dot smart speaker for only $1 in the process.
Not yet a Prime member? Not a problem. You can start a free 30-day trial to become eligible for this offer, as well as all the major Prime Day deals that are coming down the pipeline next month, where we'll see even more offers like today's. News just came this morning that Prime Day 2019 will be held on July 15 and 16.
Catch Up Anywhere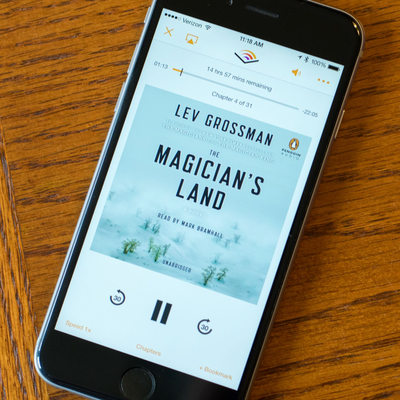 One year of Audible and a $1 Echo Dot
In the spirit of Prime Day 2019, its announcement unleashed a few Prime-exclusive deals today, including $30 off a year-long Audible membership that snags you an Echo Dot for only $1.
$119.50 $149.50 $30 off
Last year I started a free Audible trial which I liked so much, I decided to keep the service activated after the trial ended. My growing Audible library helps me keep checking out books I've always wanted to read but didn't have time for. Whether driving, doing chores, or running to the store, once you get accustomed to listening to audiobooks, you might find yourself listening everywhere. Audible gives you one credit per month which can be traded for any audiobook offered on its site, while other audiobooks can be purchased separately with a 30% member discount. You also receive two free Audible Originals each month, which are exclusive audio titles that aren't available anywhere else, and there's usually a handful to choose from. Plus, if you don't like an audiobook you purchase, you can return it for any reason. Audiobooks from Audible can be listened to via the Audible app on your phone or tablet, on your computer, or even on newer Kindle E-readers.
Once subscribed, you'll receive an e-mail within 48 hours detailing how to score your $1 Echo Dot. A credit will be applied to your Amazon account automatically that discounts its regular price of $50 down to only $0.99 when you reach checkout. The Echo Dot is great to have with an Audible membership. It's a voice-activated speaker which lets you give commands like "Alexa, Play Harry Potter and the Sorcerer's Stone on Audible" and begin listening instantly.
We may earn a commission for purchases using our links. Learn more.