Windows Mobile Weekly Digest: Build 14316 skips Mobile (for now), WhatsApp encrypts everything, and more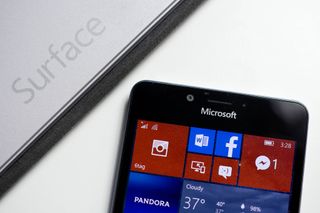 (Image credit: Windows Central)
There's a lot going on in the world of Windows Phone. So much, in fact, that it is sometimes tough to catch every important story.
Device rumors come and go. New apps join the Windows Phone Store, and your favorite app can get a big update with a new look or new features.
Therefore, every week we will compile a list of the Windows Phone news that you just shouldn't miss. Welcome to the "Windows Mobile Weekly Digest."
Windows Mobile
Windows Mobile
The Windows 10 over-the-air update may be available for Windows Phone 8.1 users, but that doesn't mean that users who upgrade are stuck with it once and for all. A member of the Windows Insider Engineering team said via Twitter that Windows Phone 8.1 devices that get the upgrade will have Windows 8.1 images available to them in the Windows Device Recovery Tool.
Windows 10 Insider build 14316 rolled out to PCs this week, skipping over mobile users. It turns out that the reason Windows 10 Mobile Insiders didn't get the update was that there is a bug that breaks cellular data. Once the issue is resolved, Mobile Insiders can expect to receive build 14316 or higher.
A screenshot shared by WinBeta shows that the Redstone update will add a camera button to the lock screen.
But it's Continuum that Microsoft CEO Satya Nadella thinks is the defining feature of Windows 10 Mobile. In an interview with Business Insider, Nadella said that the "phone as a PC" concept will create a new category of device, which will set them apart from other companies.
He also touched on why there isn't a lot of specific focus on Windows 10 Mobile:
So don't worry, the smartphone piece is still very much alive and well. Although, you may have to wait until early 2017 for a Microsoft Surface Phone.
Other notable items:
Lumia 950 drops to $499 at B&H Photo
Lumia 650 now available to purchase at Newegg and B&H Photo
Apps
Facebook-owned WhatsApp announced this week that all communications sent and received using the service, and its apps will be encrypted end-to-end. This means that not even the company itself will be able to access the information the messages.
RSS app Nextgen Reader launched its UWP Windows 10 app. It's currently only available for PC, but a mobile version is on the way.
SHAREit updated their phone app for Windows 10 Mobile, sporting a brand new design.
Enpass, the password management app, went universal on Windows 10, complete with Windows Hello support.
A new startup called Atom created the first mobile-only bank in the UK. The fledgling company says that a Windows app is due out later this year.
Other notable items:
Madefire launches its digital comic book store for Windows 10 PC and Mobile
WhatsApp snags a minor update
Reddit has no plans for its own Windows app, but many third-party apps are great
Microsoft rolls out new release for Windows Camera
WhatsApp receives yet another small update
TD Ameritrade adds support for Windows 10 Mobile, Cortana and more
Games
And finally, it was an overall lackluster week in the mobile gaming arena, but we did get one big collaborative effort. Hipster Whale teamed up with Disney to bring the mouse and his pals to Crossy Road.
Disney Crossy Road features over 100 characters from your favorite Disney and Pixar flicks. It also takes you to some of their cinematic backdrops to dodge traffic to classic Disney music with a retro video game twist.
Other notable items:
Be sure to weigh in on this week's news in the comments section. See you next week!
Funny that Windows 10 for phones did my mums mobile useless... has about 4 hours of battery time... Posted via the Windows Central App for Android

What is the phone model? Is it one of the old ones? If so, you might be better off returning to 8.1 to get the best experience.

Why would you do that to your mom :(. Get her on ios Hehe Maybe she's born with it, maybe it's Lumia 950xl

Hey fyi I downloaded nextgen reader for my Lumia 950 XL. It's available for mobile. :)

I hope you aren't referring to the old app, as I can only see the old non-UWP app on to mobile store.

For those tin foil hats that believe a two year phone is obsolete take your time and reas the oficial microsoft comparison between lumia 950xl and 930. Posted from WC for W10 running on my 930.

https://www.windowscentral.com/e?link=https%3A%2F%2Fclick.linksynergy.co... Posted from WC for W10 running on my 930.

https://www.windowscentral.com/e?link=https%3A%2F%2Fclick.linksynergy.co... Posted from WC for W10 running on my 930.

The 930/929(ICON) is the best phone I have ever owned.

Hey microsoft , how to downgrade windows 10 mobile from 14295 back to 14265( previous version build).......because this 14295 build sucks....!!!

I agree, 14295 would turn anyone away from ever using a Windows Phone. Strange that the slow ring people got ****** into installing this build

Strange that people who have no place in the insider are in it.

Fortunately I can't download that build ☺. My SMART phone understood that it's better too stay on 14291☺ . The best phone ever.

I hope you know, this is not a Microsoft website.

A broke man trying to win a game I can't afford. Who's with me? Posted via the Windows Central App for Android

Dear Microsoft
we don't. Need continuum or Holo lense. .. We only need a better performance with our current wp10 software at least upto industry performance.. Please to to fix those.. You people are finding new things in every hour.. At least try give a few seconds to improve current software.. Innovations may help to to catch the market.. But quality might give u consistency and it catch heart of lakhs of wp users like me..

Different teams going different stuff getting rid of hololens doesn't mean windows mobile gets better..

If you would have known about windows everywhere then you wouldn't have asked this question...hololens also is a part of windows.... Microsoft don't treat pc, mobile,xbox and hololens differently now... They just work on windows....#universalapps

While improved performance should be a high priority goal for MS, it should not be at the expense of key features, like Continuum. Since getting my 950XL, I have found Continuum to be an important productivity feature, which I and many business users would miss if it were to be removed.

"But it's Continuum that Microsoft CEO Satya Nadella thinks is the defining feature of Windows 10 Mobile". I.e. any remaining user should put their hope into beta functionallity that the competition might copy way before it is usefull for the masses? Any othr reason to buy a W10M phone _today_?
Office = no reason. Xbox = no reason. Outlook = no reason. OneNote = no reason. Skype = no reason, The Band = no reason etc etc. It's like Nadella said, "Continuum" and what is the use for the average user today?

There is no reason why you would buy an android over an iPhone or vice versa and yet people do it, if you just want to be a drama queen then be in your own corner. With each article there comes a guy who cries about these things... switch and leave the community already ...if the platform doesn`t make you happy anymore and you don`t have reasons to buy it because ios and android also have office .. then be my guest to go, but don`t start being a drama queen for nothing. MS is a software company, it`s logical for them to put their products on every platform they can be on ... only narrow minded fanboys can think having exclusives would be the better choice.

And you are happy with the sales figues for WP/W10M? No reasons to choose iOS/Android? Kidding me?

Why should i care about sale figures ? I chose what`s best for me. And you were missing the point of the question, you wanted a reason to buy a Win phone, i gave you an example thate there is no reason to choose android vs ios or vice versa and yet people still chose one over the other, for various reasons. If you buy your stuff just because other people buy them then you`re just a fashion trend folower ;)

No reason to buy an Android over iPhone? I guess expandable storage, the ability to change out batteries, and better cameras aren't good enough reasons? Or the ability to transfer files, pictures, music, etc to your phone, by simply dragging and dropping, instead of using that confusing syncing crap with iTunes?

Continuum is not beta. It is available in the production builds too, not just the Insider preview builds. I have been using it for months now on my 950XL and my employees have been using it on their 950s. It is a valuable feature that has improved our productivity. As to any other mobile OS being able to copy this feature, iOS has nothing in the works, and Android is working to develop a copy, but their desktop would have to be Chrome, which can't run win32 apps (MS is working on this, which some say is likely with the Surface phones this year or next).

I dnt believe this shiit. It's extremely hard to believe that even WhatsApp can't access it. It's just plain bullshiit

I think this cellular bug may already be out there in the last mobile build. My 950 XL started rebooting itself as soon as mobile data transfer starts, works fine with no SIM card or cellular data disabled. I hope it'll be fixed in the next build because having no Internet access without Wi-Fi is really annoying.

BLU Win JR LTE X130e W10m update anyone?
Windows Central Newsletter
Get the best of Windows Central in in your inbox, every day!
Thank you for signing up to Windows Central. You will receive a verification email shortly.
There was a problem. Please refresh the page and try again.