Windows Phone Summary of the Week: January 9 - 15, 2012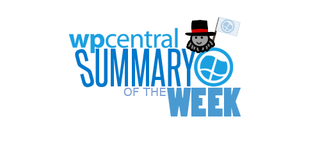 It's that time of the week again, folks! This week has seen a good number of hardware stories come to light from CES 2012 (check the link for our Windows Phone coverage) and beyond. To help you sieve through the CES 2012 content, we've put together highlights of both day one and day two. Should that not excite you enough, WPCentral set up an interview with Joe Belfiore and Kevin Shields (of Nokia).
Because the HTC Titan II and Nokia Lumia 900 were both unveiled in the past week, we've now got two brand spanking new hardware forums to cover both handsets. We previously have two forums dedicated to shining the spotlight on developers for both games and apps, but these sections were hidden away. Now the Applications Spotlight and Games Spotlight forums are on the index page to receive maximum exposure. Just to round off a good forum-based introduction to this week's summary, we now have photo gallery support for members. No more hotlinking images!
Head on past the break for the full Windows Phone summary.
Kicking off this week's highlight section are five reasons why Windows Phone has strong potential, published by E.D. Kain over at Forbes. Microsoft has patented GPS technology to help keep pedestrian users safe by mapping routes based on crime rates, weather reports and more. So if you live in built-up areas and wish to return home safe and sound, Bing Maps will (eventually) have the solution.
Unfortunately, among the good news at CES 2012 came the announcement that Microsoft would be holding off from future events for a while. Meanwhile Nokia has created an interactive map that illustrates their plan of world domination. Ben Rudolph of Microsoft wasn't holding back at CES, and was offering $100 to anyone who could beat Windows Phone at a selected task. Morgan Stanley, a global financial services firm, has estimated that Nokia is going to ship anywhere up to 37 million Windows Phones this year.
Sprint's Vice President of Product Realization David Owens has made it known that Sprint is not particularly interested in Windows Phone for the foreseeable future, even though their HTC Arrive seems to have been doing relatively well with reviews and customer satisfaction. But let us not forget how committed the Windows Phone community is. A petition is now ongoing, which Sprint users (or anyone) can sign for more platform support.
If you thought Microsoft were done with going after license settlements with Android OEMs, then you'd be mistaken. The next in line was LG who has signed a deal with the software giant. Speaking of Android, Google is now collecting data on Windows Phone in their Analytics software, which will please webmasters. Twitter notifications have been spotty since last Thursday for those who enjoy using the integration the platform offers. Boo.
This week's Xbox LIVE Deal of the Week is Implode!, which is on sale for just $1.99, not bad! Microsoft gave a preview at CES 2012 of what's to come to the platform for February this year - 5 new Xbox LIVE titles. Including the likes of Toy Soldiers and Need for Speed. EA has released a teaser video to show what's on the way to Nokia Windows Phones thanks to a partnership between the two companies. Eleven games are to be available exclusively to Nokia handsets, including Tiger Woods PGA Tour, Monopoly, Spy Mouse, Yahtzee, The Game of Life, Spy Mouse, Vampire Rush, Mirrors Edge, SIMS Medieval, Parking Mania, 2 Real Racing, Picnic Wars.
We take a look at the premium content found in Bug Village, the first freemium Xbox Live game for Windows Phone, which was released in the week. Square Off, a popular twin-stick shooter, has gone on sale for just $1 after being updated to 1.5, bringing wallpapers and ringtones. Let's Golf 2 has been updated, which fixes one of the two broken achievements. Ah well, we'll get there eventually. Spider Jack has also received an update, with more levels on the way.
We know the Lumia 900 is a solid phone hardware wise (winning awards at CES, etc.), but how does the software side fare? Pretty darn awesome if we say so ourselves. As well as the EA titles that are on the way, the AT&T 900 comes packed with some goodies for owners. Two of the apps pre-loaded on the 900 are CNN and ESPN, and we take a quick look at both. Pandora have once again updated APIs which have broken third-party apps on Windows Phone.
Popular help desk suite Zendesk now has a Windows Phone app, YouTube Pro takes the reign of "King of YouTube HD players" off available apps on the Marketplace, and we take a sneak peek at an upcoming photo/contact sharing app - Square. To not dwell on Skype for too long, the app is on its way with full integration coming with a later update. Microsoft has released an app specifically targeted at retailers, an app that displays insider info, guides and more for sales staff to look over and keep up-to-date with. 4th & Mayor has been updated to version 3.1, bringing Live Tiles and push notifications.
The Lumia 710 has now been reviewed by WPCentral and didn't fail to impress. Some of us are still awaiting for the Lumia 800 magenta (pink) availability, especially here in the UK. Good news is that the Carphone Warehouse has announced that the colour will be available next month. An optimised-for-AT&T Lumia 800 will be sold at the Microsoft online store. Orange hasn't failed to surprise us with some interesting deals for their Windows Phone line up, and now in France the network is offering 5 free apps with a Lumia 800 purchase. Nice!
Clove UK is offering a 40 day money-back guarantee with the Lumia 800, should you not be satisfied with the handset you'll be able to return it for a full refund. For those who reside in Ireland, you'll be pleased to learn that the 800 will be coming to the Irish shore on Vodafone soon.
The AT&T HTC Titan II, which was announced at CES 2012, took us all by surprise. We took a closer look at the handset for a hands-on. If that wasn't enough, we compare it to the Samsung Galaxy Note which sports a massive 5.3" screen. The Titan II is packing a punch with LTE, so we set the record straight surrounding a few questions that came from readers. Also, we take the device for a spin and try out its 16MP (not a typo) camera.
We can't focus too heavily on the Titan II as the Lumia 900 was also stealing thunder at CES. Check out the introductory video for Nokia's LTE Windows Phone, as well as some photos we captured of the 900 in its glory. The handset left such a first impression that it won a number of awards from multiple sources. When will you be able to get your paws on Nokia's US-optimised Windows Phone? March 18th is the rumoured date.
It wasn't all about the high-end Windows Phones being announced at the event, we got to see some mid and low-end handsets appear from multiple OEMs. The Acer Allegro was one of the budget devices that kept the manufacturer's laptops company throughout. The Tania from ZTE was another handset, which surprised us by how good it looked and felt to hold. With only 4GB of storage it wont appeal to most smartphone users. We'll have to see if ZTE will bring a higher specification model to the market.
Japan's Fujitsu IS12T also made a brief appearance, allowing us to take a rare look at the waterproof Windows Phone. Lastly, we had LG's Jil Sander E906, which took to the catwalk. The Lumia 710 and 800 are heading to Canada, Rogers and Telus respectively. Good news for Canadians who were beginning to feel left out, it seems Nokia CEO Stephen Elop doesn't ignore his roots. The T-Mobile 710 is now available in the U.S. from Target, Wal-Mart and Costco.
Nokia CEO Stephen Elop discusses the Lumia 900 and more with Nokia Conversations, prior to CES 2012. If you're a Facebook user and would like to advertise Windows Phone to your contacts who you communicate via Facebook chat, then you may wish to take a look at a hack that displays a Lumia 800. T-Mobile are running an advertisement for their T-Mobile TV and 4G infrastructure, if you look closely in the video, you'll be introduced to the Lumia 710.
Should you wish to see an actual T-Mobile advertisement for the 710, then you might want to check out their "Windows Simple" campaign. Speaking of 710 advertising, a U.S. version of the advertisement we saw last year when the handset was announced in Europe is now airing. To round up our fun section this week, we take a look at where Nokia gets the Amazing Everyday music from.
Moving onto developer news, 31 Days of Metro Design (which we covered previously) is turning into 31 Weeks of Metro, so ensure you soak up all the information you can. Should you be looking to submit an app for Windows Phone soon, then perhaps a free Lumia 800 would be a worthy reward to set off 2012 in good light (U.S. only)? An infographic has been published on the official Windows Phone Developer Blog, which illustrates how the platform has come (statistics wise), ending 2011.
The Windows Phone User Group are holding a meeting on January 31st in London, which will see Alan Mendelvich of AdDuplex provide a guide to monetise apps on the Marketplace. What's more is both myself and Jay Bennett will be attending from WPCentral. Should you be able to attend, we'll see you there. The first ever independent Windows Phone developer conference, WPDevCon, has been announced for later this year. Lastly, Jeff Wilcox has published a QR control library, which will be of great aid to developers who don't quite know how to go about the image processing for QR codes.
Highlights
Gaming
Software
Hardware
Fun
Developers
Rich Edmonds is a word conjurer at Windows Central, covering everything related to Windows, gaming, and hardware. He's been involved in technology for more than a decade and knows a thing or two about the magic inside a device chassis. You can follow him over on Twitter at @RichEdmonds.
Windows Central Newsletter
Get the best of Windows Central in in your inbox, every day!
Thank you for signing up to Windows Central. You will receive a verification email shortly.
There was a problem. Please refresh the page and try again.