Windows Phone Summary of the Week: September 12-18, 2011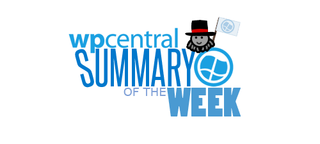 Another weekend, another break for most. This week has been a Mango-focused beast with rumours and speculation coming from all directions. Dave Blake from the WPCentral forums brings across the top discussions that are being engaged with by readers. We have episode 125 (opens in new tab) of the WPCentral podcast and we were joined by Mike Newman, developer of Penguin, for this week's interview.
Head on past the break for the full summary.
To kick off our summary highlights, AT&T have announced Windows Phone Mango plans that include the launch of three new handsets and updates. While their plans for WP are promising, the planned merger with T-Mobile is hitting some rocks with seven states joining the 'against' side. HTC have been talking about purchasing an OS of their own with Google partnering up with Motorola and Microsoft with Nokia.
Mango news, we've been covering the rumours and speculation that include the WPDev podcast discussing sources, not to mention Taiwan receiving the update (opens in new tab), however Joe Belfiore decided to crush all hopes and dreams (opens in new tab). Stephen Elop explains how they plan to release planned Nokia Mango devices (opens in new tab) by country. Steve Balmer has said that although he's disappointed with how the platform has sold he's optimistic about the future.
President Barak Obama has signed a bill (opens in new tab), that Microsoft supports, which will be the largest patent reform since 1952. Orange France is set (opens in new tab) to disable WiFi sharing, group MMS and visual voicemail in the Mango update, which is sure to disappoint most. Windows Phone has won the IDEA People's Choice Award (opens in new tab) among two other nominations.
Grand Theft Auto on the Xbox 360, Kinect and WP has been demoed working in harmony (opens in new tab) bringing a new dimension to gaming. Zombie Attack 2 is this week's Live Deal of the Week, although our Paul Acevedo isn't impressed. We take a look at secret Gravity Guy achievements and upcoming DLC (opens in new tab) (downloadable content).
The Marketplace was updated slightly late (opens in new tab) and so Zombie Attack 2's discounted price was delayed and Collapse! wasn't available on time. We take a look at Windows 8 and Windows Phone coming together with multiplayer gaming (opens in new tab). Rocket Riot has been Mango'd which brings with it 60 FPS and fast app-switching.
Our Daniel Rubino previews an upcoming Twitter client, Mehdoh. Palringo, a cross-platform IM client, is finally coming to Windows Phone and some first screenshots have been published. Windows 8 is set to share the same kernel as Windows Phone 8 (opens in new tab) and the mobile platform is looking to sport email voice integration.
Metro UI invades Windows 8, bringing a whole new look and feel to the OS. Should you wish to check out what's new, the developer preview is available (opens in new tab) to download for free. With all the Mango news storming the feeds, we had Joe Belfiore and Brandon Watson urge all developers (opens in new tab) to get apps updated to Mango.
Directed Electronics had provided a demonstration at BUILD of its Viper SmartStart automotive app while working closely with Microsoft. A BBC Radio Player app has landed on the Marketplace that features the main BBC stations and appears to be available outside the UK. Windows 8 is looking to sport phone calling (opens in new tab), which could signal the possibility of Windows Phone 8 being built on Windows itself.
There have been some rumours flying around about Samsung leaving Microsoft's OS in 2013, which is also the same year that Nvidia plans to bring across their Tegra chipsets (opens in new tab). Nokia is still looking to enter the market in 2012 (opens in new tab) by storm with some crackin' handsets. The HTC Titan and Radar handsets have remained in the spotlight with release dates being spotted (opens in new tab) (pre-orders) on websites around the world.
Nokia Sea Ray silicone cases have been spotted (opens in new tab) in an N9 video. Qualcomm has said, at the Qualcomm Innovation 2011 event in Turkey, that its proud to be the first provider for Windows Phone 8, while Dell seems to be continuing to put us under the impression that they've given up with WP.
Acting president of HTC America, Martin Fichter, has lashed out at the iPhone stating that it's for the older generations and is losing its cool factor (opens in new tab). A new Windows Phone advertisement (opens in new tab) displays the uniqueness and elegancy of the OS (and devices). Ever wondered why the iPad isn't post-pc (opens in new tab)? While you're at it, check out the revamped Facebook page (opens in new tab).
Microsoft plans to make augmented reality easy for developers to implement and a demonstration of the AR starter kit (opens in new tab) has been uploaded, which shows the ease-of-use. Oliver Ulm got in touch with us about a situation that arose (opens in new tab) with another developer where two apps were developed with the same function but one was more successful than the other. Free developer camps (opens in new tab) are sprouting up around the U.S in the coming months, be sure to add dates to diaries!
Highlights
Gaming
Software
Hardware
Fun
Developers
Rich Edmonds is Senior Editor of PC hardware at Windows Central, covering everything related to PC components and NAS. He's been involved in technology for more than a decade and knows a thing or two about the magic inside a PC chassis. You can follow him over on Twitter at @RichEdmonds.
you guys havent really been posting like normal these past few days.
Windows Central Newsletter
Thank you for signing up to Windows Central. You will receive a verification email shortly.
There was a problem. Please refresh the page and try again.