The best Cyber Monday deals on cables: HDMI, USB-C, and more modern necessities
Grab some critical cables while they're cheap!
Quick menu
• Quick links
• USB cables
• HDMI cables
• Cables FAQ
• When is Black Friday?
• What about Cyber Monday?
So, picture this – you're juggling one lonely phone charger for your entire household, and you find yourself playing musical chairs with it from room to room. Sound familiar? Well, guess what? It's high time we put an end to the charger shuffle, and lucky for us, Cyber Monday is the perfect moment to snag a few backup chargers.

There are a lot of great deals on cables, from HDMI 2.1 to USB-C, as well as Thunderbolt and DisplayPort cables.
Now, let's talk cables. Cyber Monday is serving up some fantastic deals on everything from HDMI 2.1 to USB-C, Thunderbolt to DisplayPort cables. It's a cable paradise, my friend! And hey, if you're scratching your head about which cable suits your needs, fret not. I'm here to help answer any questions you might have. Gold-plated cables? I'll tell you now — they're not the holy grail, but cable quality does matter. Trust me, there's nothing more frustrating than snagging a cheap HDMI cable, only to have your picture flicker or fail to deliver that crisp 4K 120Hz experience. Or go through 10 different USB cables to find one that actually works with your car Android Auto.
So, whether you're a cable connoisseur or you're still figuring out the difference between HDMI 2.1 and HDMI 2.0, consider this guide your go-to for scoring the best cable deals this season. Let's make sure your tech setup is top-notch without breaking the bank.
The best deals for Cyber Monday: Quick links
Best deals on USB cables for Cyber Monday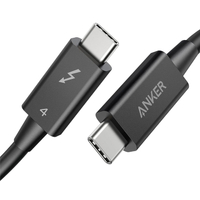 Anker Thunderbolt 4 2.3ft, 40Gbps 100W charging | was $48.99 now $29.99 at Amazon
If you want the best Thunderbolt 4/USB-C connector cable then this cable from Anker is the one to get. With 100W charging and a 40Gbps transfer rate, there is nothing you can't throw at this cable it can't handle.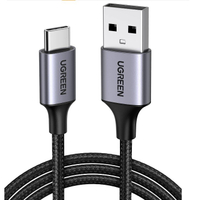 UGREEN USB A to USB C Cable, Type C Fast Charger Cable | was $10.99 now $6.74 at Amazon

This is a great cable for Android Auto, with is sturdy braiding and high-quality reinforced aluminium connections. Also works with iPhone 15, Samsung phones, Nintendo Switch and a bunch of other devices for fast charging.
Best deals on HDMI cables for Cyber Monday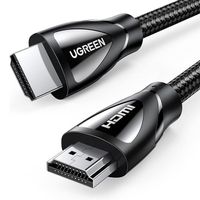 UGREEN 8K HDMI 2.1 6.6ft 48Gbps | was $12.99 now $7.98 at Amazon
These HDMI 2.1 cables feature HDCP 2.2 and 2.3 which are used for copyright protection. The cables also have eARC which allows audio passthrough for your sound system. They will work great for 4K 120 fps gaming on your Xbox.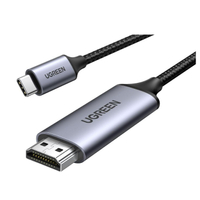 UGREEN USB C to HDMI Cable | was $16.99 now $13.99 at Amazon

A great cable for use with laptops, Steam Decks, ROG Ally and iPhone 15 for expanding your screen to another monitor and supports supports 4K@60Hz resolution. Comes in 3 lengths, and UGREEN has some of the best and most reliable cables in the business.
Frequently asked questions: USB and HDMI cables
What are USB-C cables?
When it comes to picking the right USB cable, you will want to check what kind of connector your device uses. Most new devices use the new USB-C cable, but some older devices will still use Micro-USB. For this guide, we will be focusing on cables with the USB-C connector.
The USB-C connector is a reversible/symmetrical connector, so no more guessing on how to plug it in. It is good to know that the term USB-C only defines the physical connector, and the actual speed of the USB cable is defined by the generation of the cable.
What is the difference between USB generations?
The naming convention for the USB generations has been changed several times over the years, which makes it even more confusing. But the best way to know what kind of cable you're getting is to look at the transfer speeds. To make sure the cable can do everything you need it to, look for USB4 at 20 or 40 Gbps, but this is the cream of the crop, and there are cheaper cables that will work in most situations, like the USB 3.2 Gen at 20 Gbps.
If you want the best USB cable on the market right now, It is important to realize that there are generations of USB-C, and they are not all created equally. The first generation of USB isn't really used anymore, but you will commonly see the Gen 2.0 USB-C, which is able to transfer data at a rate of 480Mbps and has a max length of 5 m or 16 feet.
The Gen 2.0 is normally just used for charging, and good cables can output 100 Watts of charging to power even the most power-hungry devices. However, these are the ones to avoid if you need a USB-C cable that can power a device and pass through video and audio or you plan to just use it for the video signal. If that is your intention, make sure to use, at the bare minimum, a USB 3.0 or newer cable.
We have a breakdown of all of the current generation of USB cables, their data transfer speeds, and the length limit.
What are the USB length limits?
Swipe to scroll horizontally
| USB Generation | Data Transfer Speed | Length Limit |
| --- | --- | --- |
| USB 2.0 | 480 Mbps | 5 m or 16 feet |
| USB 3.0 | 5 Gbps | 3m or 9 feet |
| USB 3.1 | 10 Gbps | 3m or 9 feet |
| USB 3.2 | 20 Gbps | 3m or 9 feet |
| USB 4 Gen 2x2 | 20 Gbps | 2m or 6.5 feet |
| USB 4 Gen 3x2 | 40 Gbps | 0.8m or 2.6 feet |
A small disclaimer: There are several conflicting sources of information on the length limits, but I tried to find the most reputable sites to gather this list.
For the most part, cables won't be made longer than their limit, but it is important to understand that daisy-chaining cables together can cause the cable to be over the limit and cause issues with the signal.
USB-C vs Thunderbolt: Are they interchangeable?
The distinction between USB4 and Thunderbolt can be a bit confusing. Thunderbolt is owned by Intel, and they gave the technology to the USB Implementers Forum which maintains the USB standards so that they could use Thunderbolt technology. That is why Thunderbolt and USB-C use the same connectors and are interchangeable.
Thunderbolt 3 and Thunderbolt 4 both deliver 100 watts of power and 40Gbps. USB-4 has two versions, one capable of 20Gbps and one capable of 40Gbps. So, you can find a USB-C connector on a USB4 cable that can match the power output and signal transfer speeds of a Thunderbolt cable. For more information, check out our guide to everything you need to know about Thunderbolt 4 and Thunderbolt 5.
You can plug a USB-C cable into a Thunderbolt port, but if the USB-C power output or signal speeds aren't sufficient, it won't necessarily work. If you want the best cable you can get, getting a Thunderbolt 4 cable will guarantee you have that.
Charging only vs data transfer
To make sure you don't end up with buyer's regret, it is best to make sure the USB cable you're going to buy will work for the use-case you plan on using. If you just want a fast-charging cable, get a 100W Gen 2.0 USB cable. If you want a cable that can send video to a 1080p monitor, then the Gen 3.0 will be fine. However, if you're looking to power an 8K monitor over Thunderbolt, either get a Thunderbolt 4.0 cable or a USB 4.0 cable that is rated to 40 Gbps.
Be wary of posts on retailers because a lot of 3rd party sellers will be vague about what their cable does in the hopes that most users that buy a cable that doesn't do what they need it to won't take the time to send it back for a refund.
How to choose the right HDMI cable
Choosing the right HDMI cable really comes down to length and what kind of display or TV you are using. If the television or monitor you are using is only 1080p 60Hz, then an HDMI 1.4 will work fine. However, if you have a 1440p monitor at 144Hz, you will need at least an HDMI 2.0. Finally, if your TV can output a 4K signal at 120Hz like the LG OLED C2, which we loved, you will need an HDMI 2.1 cable.
Getting a braided cable, like with all other cables, will ensure it doesn't get cabled and that it should last longer than a regular cable. But for the most part, HDMI cables are mostly created equally and should perform the function they are meant to do as long as you have the right standard for the job.
HDMI 2.0 vs 2.1: Which do I need?
There are three popular HDMI versions still for sale. HDMI 1.4, 2.0, and 2.1. HDMI 1.4 has been the standard for over a decade and will be the normal cables you have lying around or that come with most devices.
HDMI 1.4 will output 4K resolution at 30Hz, while HDMI 2.0 can manage to output 4K at 60 Hz or 8K at 30 Hz. The most recent standard is HDMI 2.1, which can send a signal at 4K resolution at 120 Hz or even 8K resolution at 60 Hz
HDMI 2.1 is the only option that can offer enough transfer speed to output 4K resolution at 120Hz to take advantage of the games that use the full power and speed of your Xbox Series X and S.
Does gold plating and maximum length matter?
Back in the day of analog cables, having gold-plated connectors could help a little bit because gold doesn't tarnish as copper does, and if the copper connector started to erode, it could cause signal loss.
Today, though, with HDMI cables, there is really no reason to buy an HDMI cable with a gold cable; it is really just marketing fluff to try to sell a more expensive cable. Cable length, though, does matter. USB cable length limits were explained above, and HDMI cable length shouldn't exceed 50 feet. Besides that, you should be good to go.
When does Black Friday 2023 start?
Cyber Monday 2023
• Convertible 2-in-1 laptops
• Unbeatable Xbox bundles
• Discounted Dell laptops
• Razer gaming accessories
• Pre-built gaming desktops
• 4K and ultrawide monitors
• The best gaming laptops
Officially, Black Friday happens on November 24, 2023, but that doesn't mean retailers will wait to apply their discounts. It consistently falls on the last weekend of November, immediately following Thanksgiving, but the deals appear earlier every year, and the same is true this year.
Although some storefronts label their deals with tags like 'early Black Friday,' it's not guaranteed that the price won't drop again. Unfortunately, it's impossible to say whether a hot item will drop further in price. Still, some third-party stores like Newegg offer a price drop guarantee that will reimburse you if you purchase within this window.
We'll check every deal to see if it's a historically low price, but other savings will still be listed if they're a genuinely great deal. Unfortunately, not every deal will put a product at an all-time low, but hardware that rarely sees discounts, like the Xbox Series X, will always be shared here.
When does Cyber Monday start?
Cyber Monday follows after the Black Friday weekend, landing on November 27, 2023. It focuses on digital storefronts rather than physical stores, with discounts usually expiring as the Monday ends. Many products will often retain their Black Friday discount throughout Cyber Monday, though some will enjoy a further reduction or even a unique deal. We'll share the best Cyber Monday deals with you as soon as retailers switch and publish their listings.
Get the Windows Central Newsletter
All the latest news, reviews, and guides for Windows and Xbox diehards.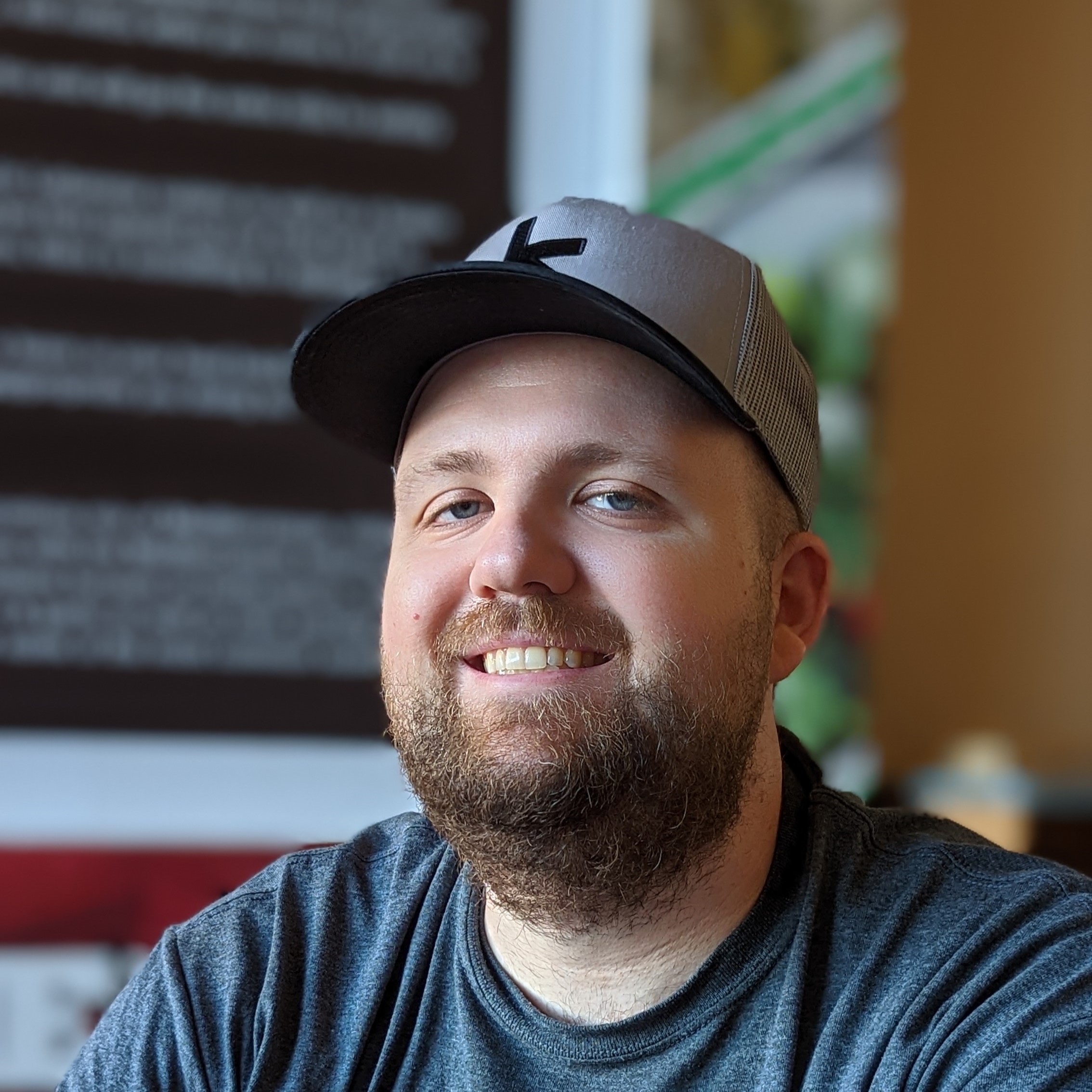 Colton is a seasoned cybersecurity professional that wants to share his love of technology with the Windows Central audience. When he isn't assisting in defending companies from the newest zero-days or sharing his thoughts through his articles, he loves to spend time with his family and play video games on PC and Xbox. Colton focuses on buying guides, PCs, and devices and is always happy to have a conversation about emerging tech and gaming news.