The all-new Amazon Kindle Oasis is receiving its first major discount at Amazon this week thanks to Black Friday. This latest edition of the Kindle Oasis was released this past June and is easily Amazon's best Kindle e-reader to date. Now that it's $75 off for the first time ever and down to $174.99, you should put some serious thought into grabbing one of these premium e-readers for a loved one this holiday season (or maybe even yourself).
Readers Rejoice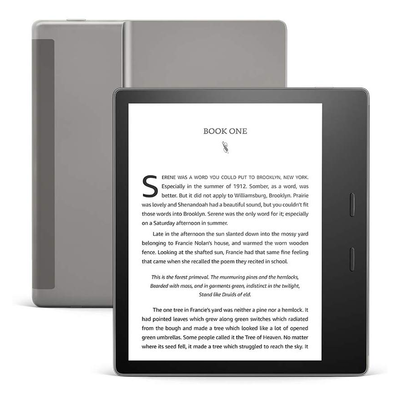 The All-new Kindle Oasis was released this past summer and features one of the largest screens on a Kindle device to date, along with a higher number of LEDs for its screen light, making it easier to read anywhere you go!
$174.99 $249.99 $75 off
This device is equipped with the best and biggest screen ever seen on a Kindle — a large 7-inch, 300 ppi Paperwhite display. It has a higher number of LEDS for its screen light too, so you'll be able to clearly see what you're reading no matter whether you're in a dimly-lit room, out on the beach, or traveling. Its adjustable warm light helps in that regard as well, as it can switch from white to amber to make reading easier on your eyes.
One of the best features of the Kindle Oasis is its IPX8 waterproof rating. Now you can read in the bath or by the pool without worrying about your book's pages getting wet or your device being ruined after an accidental drop into the water. Its e-ink technology makes it feel like you're reading from a book rather than from a screen, and there are even built-in page turn buttons so you can easily flip to the next page when you're using the device one-handed.
Those with an Audible membership will even be able to use the Kindle Oasis to listen to audiobooks. It can pair with Bluetooth headphones or speakers so you can keep up with the story even while it's time to do some chores around your home.
This is just one of many Black Friday deals that are already live! You can scour through the rest of the best ones we've found via our Black Friday headquarters.
We may earn a commission for purchases using our links. Learn more.