Best Time-Waster Games for Windows 10
By George Ponder published
Life is full of situations where you find yourself needing a little help passing the time. Fortunately, the Windows Store is full of fun, time-wasting games that can help in these moments.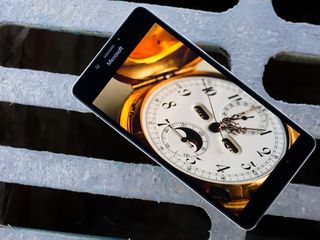 It could be at the restaurant waiting for a table, the doctor's office, in the carpool line at school or simply waiting for the spouse to get ready to leave the house. These games are easy to play, addictive and help you tune out the frustration of the wait and make time move just a little faster.
We have narrowed down the extremely long list of entertaining time waster games in the Windows Store. It was a difficult task scaling things down, but these are the best time wasting games for Windows 10.
Updated February 22, 2017: We made a few changes to this article based on new releases, reader input and staff discussion. We added new titles to the mix in addition to those that we continue to view as the best from the Windows Store.
Cosmo Run
Cosmo Run is a fun arcade game for Windows 10 PC and Mobile in which you need to guide an energy ball across a mind-bending path. Controls are simple, graphics and animations full of color and gameplay addictive. Cosmo Run also has Xbox Live support that delivers a host of achievements to the mix and an online leaderboard to see how your scores match up against other players.
You tap the screen to make your energy ball turn as the path's course changes. The pace of the game increases the longer you survive, and don't be surprised if the path begins to shift and change where you are racing sideways, defying gravity.
Along with working to travel the furthest with your energy ball, there are also stars that can be collected. Stars can be used in the game's store to unlock different energy ball styles. Overall, Cosmo Run is a fun game to spend a little down time with. This free Windows 10 game offers a nice challenge of your skills at timing and reaction.
Download Cosmo Run from the Windows Store (opens in new tab)
Stack!
Stack! is a simple, addictive Windows 10 Mobile game in which you are challenged to stack square tiles on top of each other. The goal is to create a stack as high as you can and while this sounds easy, it is harder than you think.
The free game offers a simple layout, colorful graphics and addictive gameplay. You begin by stacking square tiles by tapping on the screen to drop them on the stack as they slide across the display. If your timing is off just by a hair, the portion of the tile that misses the stack is shaved off, resulting in a smaller tile to stack.
The higher your stack becomes, the faster the tiles slide across the display. Timing is key and becomes even more critical as the tiles become smaller. If you miss the stack completely with your tile, the game ends. Stack! is not an overly complicated Windows 10 Mobile game, but it's still is a fun way to pass the time.
Download Stack! from the Windows Store (opens in new tab)
Lines the Game
Lines the Game is a fast-paced, racing game from the creative souls at Game Troopers, and it offers an abstract, Zen-like gaming experience for Windows 10 Mobile. You place colored dots along an assortment of designs to initiate a colorful race that fills the design. The player with the longest colored line wins the race.
Lines the Game includes 250 puzzle levels to tackle, each randomized every time you play them. This Xbox gaming title also includes 20 in-game achievements, five game modes and daily challenges.
It only takes a few seconds to complete a level with Lines the Game, making this Windows 10 Mobile game a great option for when you only have a few minutes to spare. Gameplay has a slight relaxing feel, with more of a casual pace, and does an excellent job testing your skills at strategy to find the best course for your colored line to follow to be the longest line in the crowd.
The addictive quality of the game also makes Lines the Game a fun option when you have a little more time to spend gaming. Lines the Game is currently listed at $4.99 and while a little on the pricey side, this Xbox Windows 10 game is well worth the cost of admission.
Download Lines the Game from the Windows Store (opens in new tab)
Threes!
If you've played 2048 (opens in new tab), you will enjoy the original (and best): Threes! This Windows 10 Mobile game has you sliding numbered tiles around a 4x4 grid, merging matching tiles.
You begin by merging 1 and 2 numbered tiles to create a 3 tile. From there you swipe the tiles around to merge matching numbers, which create a new tile with the sum of the numbers merged. For example, merging two tiles with the number 12 creates a tile numbered 24. But it all begins with the creation of a 3.
Each swipe adds a new tile to the game board, and a game ends when you run out of moves. The final score is based on the values of the tiles you leave on the board. High scores are saved locally with an image of your final grouping of tiles.
Graphics are minimal but look good, and the gameplay offers a nice strategic challenge where you need to stay one or two moves ahead. The free game is a great choice for when you have a little time to waste, and your game progress is saved, should you need to shut things down early.
Threes! is available for Windows 10 Mobile, and it is an excellent numbers game to have around.
Download Threes! from the Windows Store (opens in new tab)
Two Dots
Two Dots is a puzzle game for Windows 10 PC and Mobile that offers a bubble-burst style of gameplay. Two Dots has more than 500 levels of play in the story mode and dozens more in the treasure hunt mode.
Gameplay is simple, but by no means a pushover. You are presented with an assortment of colored dots and need to make connections between two or more of the same colored dots. Connections can be vertical and horizontal, but not diagonally. Each puzzle has a set of objectives where you must remove a specific number of a colored dot from the game board. Any moves remaining once all the objectives are reached translate into bonus points.
To add to the challenge of the game, you must meet your level objectives within a set number of moves. There are powerups that can be initiated by creating a connection pattern. For example, if you create a square connection of dots, any dots of that particular color are removed from the game board.
Two Dots includes a color-blind mode that swaps the colored dots with symbols. The free game also supports Facebook login, which allows you to share your scores with Facebook friends and synchronize gameplay between devices.
Two Dots offers a fun way to test your skills at observation and strategy. Two Dots is an additive game to spend a little downtime with and a game that makes it easy to lose track of time.
Download Two Dots from the Windows Store (opens in new tab)
If you have tried any of these Windows 10 games, let us know what you think of things in the comments. We know that there are other excellent time-waster games in the Windows Store. If we've missed your favorite title, feel free to share your recommendation in the comments as well.
George is the Reviews Editor at Windows Central, concentrating on Windows 10 PC and Mobile apps. He's been a supporter of the platform since the days of Windows CE and uses his current Windows 10 Mobile phone daily to keep up with life and enjoy a game during down time.
Threes is my favourite among mentioned games.

Hill climb needs cloud save progress. I spent a lot of time playing that game on another windows mobile, but lost all progress when changing phone.

It synchronizes the progress (except coins) between devices. So install it on your PC before changing your phone.

Threes is wonderful, but it's a real battery hog for some reason. They need to optimize it.

My favourites
1. Benji bananas
2. The machine
3. Cut the rope
4. Anoxia
These are the best of the best!

If you're wasting time and don't want to think too hard about the game, try Color Switch.

Too bad two of those games are too old and one isn't even free.

Chickens Can't Fly is an oldie but goodie.

No one mentions Cosmo Run, and its really a cool game. The music is about 40% of the coolness of this game, you should really try.

Everyone should try Two Dots. I'm suprised that this masterpiece of a game hasn't got any spotlight! And the music, oh it's just wow!

Dungeon of Slyn and Taptitude are also must-haves. They've been around forever but have stayed fun.

LINES the game is wasting my time a lot as well. Still working on that 10km achievement! LOL

Love the clock background on the phone

Yeah, me too! I wonder where is it from? I noticed a lot of good wallpapers in Windows Central news.

And only one that has Xbox live Achivements....sigh.. You should do another Post on "Great time wasters that WONT kill your battery" Most of these games will take a nice hit on your battery on your WM device.

Great information, thanks. Really useful to me.

Thanks for the info...do they need internet access to work i mean they online or offline games... Please mention offline games in them. thanks everyone
Windows Central Newsletter
Get the best of Windows Central in in your inbox, every day!
Thank you for signing up to Windows Central. You will receive a verification email shortly.
There was a problem. Please refresh the page and try again.