I just stumbled upon a gaming nostalgia bomb with this Hyperkin Duke controller — a must-have blast from the past with 30% off
This early Black Friday deal is the perfect gift for any Xbox fan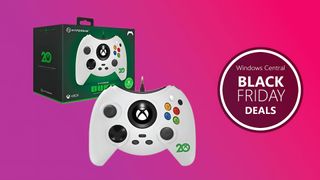 (Image credit: Hyperkin)
Many of us are using the early Black Friday deals as an opportunity to purchase holiday gifts for our nearest and dearest, and I've found the perfect gift for an Xbox fan, myself included! Take a trip down memory lane to the OG Xbox Console with this controller from Hyperkin, created to celebrate the 20th anniversary of the very first Xbox console.

The Hyperkin Duke Wired Controller for Xbox is a Thicc-with-a-capital-T controller, created as an ode to a time before we had responsibilities. A time we had hours upon hours every weekend to play the one game our Mom could afford, a time before Xbox Game Pass. This trip down memory lane to a simpler time can be yours (or a loved ones) for a whopping 34% off as Amazon have shaved just over $22 off the price.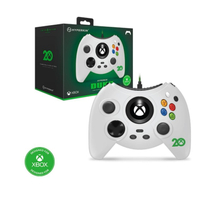 Hyperkin Duke Wired Controller for Xbox (Xbox 20th Anniversary Limited Edition) | was $64.99 now $42.69 at Amazon

The original Xbox controller, built to work with current Xbox consoles and Windows PC. With improved bumpers and triggers, and the OG Xbox start-up animation built into the Home button. This controller is a collector's dream.


👍Price check: $59.99 at Newegg
The Hyperkin Duke controller is a great example of how nostalgia can be done right. Staying faithful to the original design of the Xbox controller of old, but making slight improvements to usability. The controller's OLED display featuring the iconic Xbox start-up animation is a window to your childhood, and the 20th-anniversary logo adds a touch of exclusivity for collectors and a gentle reminder of how time flies. You can check out our full Hyperkin Duke review for more on our thoughts.
Black Friday 2023
• The best handpicked deals overall
• Xbox accessories under $100
• Gaming laptop early deals
• Early graphics card deals
• Gaming TV early deals
• Early motherboard deals
• 4K and Ultrawide monitor deals
• Early deals on power banks
• Xbox controller deals for October
The Hyperkin Duke that's on sale right now also has the 20th anniversary logo making it a covetable item for collectors as well as reminding you how old you really are. But it's not all about sentimentality; the Hyperkin Duke brings practical improvements to the table. New shoulder buttons and modern precision analog triggers enhance the overall gaming experience while maintaining the distinctive style that made the original Xbox controller iconic.

I also reviewed Hyperkin's ode to the Xbox360 era in my Hyperkin Xenon review and wasn't quite as impressed with its construction, as no improvements were made to the original design Where Hyperkin excelled with the Hyperkin Duke, I felt they fell flat with the 360 effort.
While the initial price tag of the Hyperkin Duke may have been daunting, Amazon has slashed over $22 off the original price, making it an affordable piece of gaming history. Whether you're an Xbox enthusiast or shopping for the perfect gift, this controller is a thoughtful nod to Microsoft's console gaming origins.

Xbox has come a long way with its controller design, perfecting it to what we have today on our list of the Best Xbox Controllers. However, the Hyperkin Duke stands as a dedicated homage to where it all began. Big, brash, and beautiful, this controller isn't just a piece of hardware — it's the perfect companion for reliving the best Xbox backward-compatible games. Grab one now and rediscover the joy of gaming's simpler times.
Get the Windows Central Newsletter
All the latest news, reviews, and guides for Windows and Xbox diehards.
Jen is a News Writer for Windows Central, focused on all things gaming and Microsoft. Anything slaying monsters with magical weapons will get a thumbs up such as Dark Souls, Dragon Age, Diablo, and Monster Hunter. When not playing games, she'll be watching a horror or trash reality TV show, she hasn't decided which of those categories the Kardashians fit into. You can follow Jen on Twitter @Jenbox360 for more Diablo fangirling and general moaning about British weather.