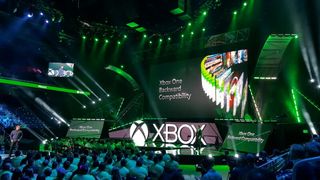 (Image credit: Windows Central)
A lot can happen in a week. Seven days might not seem like much, but it can be an eternity in the tech news cycle. Between Windows news, hardware and software developments and Microsoft's fast-paced movements throughout the technology landscape, it's never easy to keep your hand on the pulse of technology. Not to mention everything that's going on right here at Windows Central!
Every week we're going to compile the biggest stories into one post, so you never fall behind – In Case You Missed It (ICYMI).
Windows
With all of the focus on E3 this week, Windows took a back seat, leading to a fairly uneventful news cycle.
A previously unreleased build of Windows 10 made its rounds on the internet after being leaked. Build 10147 appears to have originated in China and is available on several popular pirating sites.
A list of changes included the typical bug fixes, but interestingly showed the new-found ability to revert your install back to Windows 7, 8, or 8.1. There are also improvements to the Start menu, Taskbar, Cortana, and more. There were also significant changes to the Edge browser.
Most notably, the Microsoft Edge branding has finally supplanted "Project Spartan" and a built-in password manager has been added. We went hands-on with the new version to take it for a test drive.
Speaking of the Microsoft Edge, the development team said this week that the new browser should work better with websites than Internet Explorer. Microsoft said:
Given Internet Explorer's sometimes less-than-flattering reputation, Edge will hopefully redeem Microsoft's name amongst web surfers.
Other notable items:
Microsoft
E3…E3…E3…That is what dominated the wires. Of course, Windows Central was onsite to cover all of the festivities as they happened, but in case you missed it, here's a rundown of some of the big news.
There was a ton of announcements at E3, including the unveiling of Xbox One Elite Wireless Controller, for the most serious of gamers. This heavy hitter is fully customizable, from the d-pad and joysticks to the buttons, and right down to the trigger sensitivity. But it ain't cheap. Hitting shelves in October, the Xbox One Elite Controller will run you about $150.
One of the coolest revelations was that Xbox One is now backward compatible, thanks to a Xbox 360 emulator. The emulator is already making its way to Xbox Preview members and will be available to everyone this holiday season.
For the time being, only 21 Xbox 360 titles are compatible, but that will change. Ever so eager for customer input, Microsoft wants to hear from gamers, which Xbox 360 games should be compatible with the Xbox One.
In other gaming news, we got a taste of just how HoloLens changes the gaming experience with Minecraft and what the near future of gaming will look like.
We also saw what Xbox One will look like in the future. Cortana will be heading to Xbox One later this year in huge dashboard revamp. This fall, Xbox One is getting the Windows 10 UI, with massive changes to its current look and functionality, including everyone's favorite personal assistant. Keep in mind, though, that if you want to use Cortana's speech recognition on your Xbox One you will need to have a Kinect sensor.
I don't know about you, but I can't wait.
Outside of the excitement of E3, there was some bittersweet news coming out of Microsoft headquarters. As Redmond forges ahead and restructures, it is not without its casualties. Microsoft head Satya Nadella announced the departures of some names we have come to know.
Among them are Jo Harlow, Microsoft's phone division leader, one-time Nokia CEO Stephen Elop, and Mark Penn, the man behind Microsoft's "Scroogled" attacks on Google.
Other notable items:
Trade in your Xbox 360 or PlayStation 3, get $175 off on the price of an Xbox One
Microsoft is partnering with Valve to have its SteamVR system support Windows 10 games
Microsoft confirms Skype won't be a universal app for Windows 10
Microsoft expands Skype for Web beta worldwide with 30 languages supported
Miscellaneous
Oh, hey! In case you hadn't heard, we were at E3 to bring you the latest gaming news from Microsoft.
But not to be left out, there were some other companies that used the timing of E3 to show off their own gaming goods. Starbreeze Studios, surprised us with their StarVR, a dual-display virtual reality headset that will offer a 210-degree view.
SteelSeries announced their Stratus XL wireless game controller that works on Windows and Android games. Razer cut in with their super-sensitive Mamba gaming mouse and AMD showed off their cramming skills with a console-sized gaming PC that sports two 4K-capable GPUs.
Rumors are circulating that Comcast is the latest company interested in acquiring T-Mobile US.
And don't forget to check out our Hidden Gems series. This week, we show you how to travel smarter with Expedia and you can [win one of five TYLT Energi+ backpacks in the Hidden Gems Day 3 Sweepstakes!
Other notable items:
Box launches deep integration with Office Online
Share your thoughts on this past week of news! And we'll be back again next week to do it all over again.
Get the Windows Central Newsletter
All the latest news, reviews, and guides for Windows and Xbox diehards.