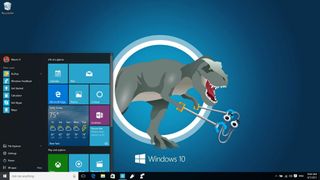 A lot can happen in a week. Seven days might not seem like much, but it can be an eternity in the tech news cycle.
Between Windows news, hardware and software developments and Microsoft's fast-paced movements throughout the technology landscape, it's never easy to keep your hand on the pulse of technology. Not to mention everything that's going on right here at Windows Central!
Every week we're going to compile the biggest stories into one post, so you never fall behind – In Case You Missed It (ICYMI).
Windows
As we have seen in past weeks, Windows 10 has been enjoying early success and quick adoption by millions of people. It now accounts for over half of all Windows Store app downloads, which is pretty incredible.
Early this week, Windows 10 PC preview build 10565 rolled out to Fast Ring Windows Insiders, and then reached the Slow Ring shortly after.
Some of the highlights include new Skype apps, as well as tab previews in Microsoft Edge. Perhaps the most innovative new feature is "nested virtualization", which essentially allows users to run a virtual Windows 10 machine within another one.
Take a video tour of the new build to see what else is new.
We've also compiled a list of what's fixed and what's still broken in Windows 10 PC Insider preview build 10565 and everything else you need to know
Word has it that Microsoft has started working on "Redstone", the next major update for Windows 10.
Redstone is not expected to roll out until next year. So in the meantime, they pushed out the "October update", which is largely "improvements to enhance the functionality of Windows 10."
Other notable items:
Microsoft
Microsoft's new Surface Book has become a hit before it's even been released. Pre-orders of the laptop already sold out at the Microsoft Store. Microsoft quickly made more available, but with long shipment dates.
With worldwide PC sales down nearly eleven percent in Q3 of this year, Redmond has teamed up Intel, Lenovo, Dell, and HP for a massive ad campaign to get people excited about PCs in time for the holidays. The "PC Does What?!'" campaign kicks off October 19 and will span TV, print, and the internet.
Gamers in enrolled in the New Xbox One Experience got an update that will allow them to remap the buttons on their Xbox One controllers.
And in a recent interview, Xbox head Phil Spencer said he wants to see Xbox 360 games running on PC. With backwards compatibility being added to Xbox One, it doesn't sound too far-fetched.
Other notable items:
Office 365 to be available from local datacenters for customers in India
Microsoft Band 2 gets an app design guideline document and updated SDK
Miscellaneous
Dell rocked the technology world when it announced that it will acquire the EMC Corporation in a 67-billion dollar deal. The deal will create one of the largest one-stop shops for enterprise computing:
Dropbox and Adobe have teamed up, allowing Windows and Mac users to open, edit, save and share PDF files stored in DropBox directly from Adobe Acrobat and Acrobat Reader. Though this is just the first phase of the partnership, no other features have been announced yet.
And just over a week after naming co-founder Jack Dorsey as its new CEO, Twitter revealed its plan to lay off up to 336 team members, or about 8 percent of its workforce, as part of a company restructure.
Other notable items:
Share your thoughts on this past week of news! And we'll be back again next week to do it all over again.
Windows Central Newsletter
Get the best of Windows Central in your inbox, every day!
Candy crush soda saga now live for win phone 8.1 Posted via the Windows Central App for Android

Pretty pleased with both pc and mobile builds this week. Really excited about messaging finally being here. Gapless playback was a nice welcome too. Not a bad week.

I like that desktop background

Those first few lines... Couldn't they be changed up a bit? They've stayed the same way since Sam Sabri was here...

Touch'e Sam Sabri is legend now.

Good to see we can send text from the PC. And Im so envious to see people buying the SurfaceBook! I cant afford it at the moment. But god do I love it! It makes me cry in joy just to see it lol. Good to see the virtual desktop thingy too. Nest i believe is what its called. Love MS! Just fix the dang Online-Only file of OneDrive. Launch the bloody Onenote Desktop whether it be from the action center or Stylus. And pump up the store a wee bit more.

I went to see New surface devices to Columbus Circle, the Surface book is amazing, probably the best Notebook 2015, and the keyboard of Surface pro 4 is so good, bought on of those for my SP3. Anyway Microsoft did his job well!

It's possible have desktop background above or link for download? Thanks

I'm looking for this aswell... Actually, I'd like every backgrounds like this :(

http://www.pcworld.com/article/2950859/windows/celebrate-the-windows-10-ninjacat-meme-with-new-microsoft-desktop-wallpapers.html Link for the download is at the bottom.

Specifically looking for the one with cortana and clippy that headlines this article. It's not included in the zip.