Windows Phone Summary of the Week: December 12-18, 2011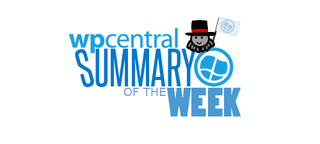 Welcome to another Windows Phone weekly recap! Kicking us off is Dave Blake from the WPCentral forum with some updates. Two new forums have been added, Custom Themes and Beta Testing will both open up new discussions to be held between developers and consumers. We've got episode 133 of the WPCentral podcast up and ready for your viewing.
We're also running a contest for wallpaper designs to be made for Windows Phones. The winning reader will receive a brand new Samsung Focus S, be sure to get your entry in now as the closing date is December 22nd. Head on past the break for the full summary.
Starting off our highlights is our question as to whether or not Carrier IQ is being used by the FBI, interesting stuff. The president of Windows Phone division, Andy Lees, is being replaced by Terry Myerson in response of the slow adoption of the platform. PCWorld love their lists, and their "20 Most Anticipated Tech Products of 2012" list includes Windows Phone. AT&T are in the festive mood already by giving out a featured gift to random winners, one per day until December 20th.
Microsoft is still on the offensive when it comes to attracting unhappy users on other platforms with Ben Rudolph giving 5 free Windows Phones to the best (or worst in this case) Android experience story. Not all is red rose in the garden of Windows Phone as an SMS/Live Tile bug has been spotted, which disables the Messaging hub (or live tile), although is extremely unlikely to actually affect any user. With years of Windows experience under the belt, the software giant is always aware of the problem and is actively working on a solution to protect consumers.
According to Niels Munksgaard, director of Portfolio, Product Marketing & Sales at Nokia Entertainment Global, in an interview with Pocket-lint Nokia is pulling out punches by stating that youths are fed up with the iPhone and are unhappy with Android. Speaking of Nokia, Justin Angel is giving away five Lumia 800s to homebrew developers who require handsets. AJ Troxell is acting as Windows Phone Santa by offering 12 days of freebies. We take a look at his free wallpaper pack for your handset(s).
Our dear friend James Dudley is back again with Final Mission, another illegal submission. We last covered his illegal ROMs being present on the Marketplace back in September. Guess he ignored Microsoft's warning? Nokia is all set to put their plan into effect, operation "rolling thunder" is what they're calling their upcoming U.S. marketing blitz. CloudMusic, a SkyDrive music app, is in need of some beta testers to help the developer squash bugs and ensure the user experience is perfect prior to release.
Last.fm has been playing host to some heavy on-site Windows Phone advertising, a positive boost for consumers to see. Mendzapp, the developer behind YuleTile, the Christmas calendar app, has released a Windows Phone Christmas card design for the public to print out and send to contacts in the festive season. An investment firm has called poor RIM to adopt an existing eco-system, namely Windows Phone. While we don't see this happening, it's an interesting thought.
Windows Phone Device Manager version 1.8 public beta is now available, which will allow owners of unlocked devices to explore the OS and phone in more detail. Folders for Windows Phone Mango has been updated bringing more support and fixes. Lockergnome takes on Microsoft's Metro UI and goes into how the software giant is releasing good apps for iOS and the UI works exceedingly well on touch.
We're counting down the days until the Xbox Live Countdown to 2012 sale starts, which will include three Windows Phone titles. We take a look at the rumours spreading about Kinectimals using the Unity game engine, after the company said they were "skipping" Windows Phone 7 and coming onto the field in OS version 8. Microsoft's Dream.Build.Play challenge is set to include a Windows Phone category for 2012, and we'll see developers around the world taking stance to win first place.
Breeze joins Battlewagon and Doodle God as the third Xbox Live game to be released this week, great news for mobile gamers. To keep up the excitement, Tentacles is this week's Xbox Live Deal of the Week. Sega has published a video of a Sonic CD Development Diary, which shows some interesting art work from the titles that's hitting the Xbox and Windows Phone. Microsoft has expanded its iOS catalogue of apps by releasing Kinectimals to the platform, met by much criticism from our readers.
Windows Phone Hacker has released a themes customiser tool for the homebrew community to alter the way their tiles look beyond the available accents. Nextgen+ ROM for the HD7 has hit version 2, advances even further and now offers "lite" and "full" options. The Audible.com app, which we've been anticipating for the past year, is set to be released in March 2012 according to an anonymous tipster.
Newegg, the U.S. haven for geeks (we have ebuyer in the UK), has finally got an app for Windows Phone, and it ain't-half-bad. StreamBox7, which allows users to stream music from their DropBox account, has arrived and is pretty easy to use supporting background streaming. Microsoft has released a HealthVault app (U.S. only) that will allow users to keep track of health information, access medical records, and much more.
If the above releases weren't enough, a SkyDrive client has also made its way onto the Marketplace. Should you enjoy using your Windows Phone as a media player while exercising, you'll be pleased to know that Nokia is bringing Sports Tracker to all OEM handsets, which will allow users to keep track of physical fitness. Wunderlist is headed for he platform -- and it looks sweet! Stitcher, a popular web-based radio provider, is set to release an app on the Marketplace in 2012. Closing off the software section of this week's recap is Telstra rolling out the Internet Sharing update to customers. Samsung has updated the "Extra Settings" app to version 1.6, but again we have no change log.
We take a look at the first generation Samsung Focus potentially receiving the 7740 OS update. The HTC Radar 4G has been receiving good reviews since it was announced months ago, and it's the second highest rated phone at T-Mobile and is tapped "Best of 2011" by IGN. Its bigger brother, the HTC Titan, has also been making headlines by being top rated at AT&T with the Samsung Focus S closely following in fourth position.
T-Mobile hosted a 4G Super Sale over the course of the weekend, which saw a number of Windows Phones being given away (among Android handsets etc.) after mail-in rebates. SFR has released their white label ZTE handset titled "Windows Phone Internet 7" -- nice! According to a report over at CNet, Verizon and AT&T are playing with a LTE Nokia Lumia 800. We take a look at the possibility of the Lumia 800 sporting DLNA in the near future, just like some OEMs have enabled it on handsets via an app on the Marketplace.
We'll never grow tired of how Nokia can market their products, and this is another wow-factor. The manufacturer had set up blocks of ice in German cities that contained a dummy Lumia 800. The public passed by, some stood to stare, while others attempted to smash the ice to reach the phone. In the video, it appears should you have been one of the lucky ones who poured effort into freeing the device, you received a brand new 800.
Nokia isn't just fooling around in Germany, the Finnish handset maker has launched the Lumia 710 and 800 in India, and have planned a massive marketing campaign. The 710 is also making its way to Brazil and Italy. Let's not forget T-Mobile looking to stock the 710 in January (unveiled at the New York event) with an announced price tag of $49.99. If you like the Lumia 800 and Batman, you'll love the Dark Knight edition of the Nokia handset. Wrapping up our hardware coverage is Mugen Power offering a 1950mAh battery for the HTC Titan, should you be a power house and drain the stock battery easily.
Nokia continues to produce some amazing visual work with episode 4 of the "Little amazing Show". This episode is in London again, but is specifically at night. MonWindowsPhone has compiled a pack of 180 wallpapers for owners to use on their Windows Phones, you'll never run out of new images. The Samsung Focus Flash takes a trip to the shops in a new U.S. commercial. Jon Rettinger, from TechnoBuffalo, has switched from the iPhone to a HTC Titan as his main handset. Good news with the amount of exposure the device will receive.
Not much developer news this week apart from Core77 announcing the winners of their "Fast Track to the Mobile App" contest and a new, slick Windows Phone emulator theme has been released by Jeff Wilcox.
Highlights
Gaming
Software
Hardware
Fun
Developers
Windows Central Newsletter
Get the best of Windows Central in your inbox, every day!
Rich Edmonds was formerly a Senior Editor of PC hardware at Windows Central, covering everything related to PC components and NAS. He's been involved in technology for more than a decade and knows a thing or two about the magic inside a PC chassis. You can follow him on Twitter at @RichEdmonds.