Windows Phone Summary of the Week: February 6 - 12 2012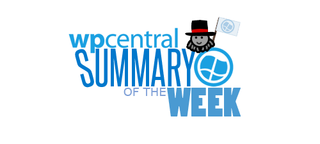 Welcome to this week's summary, where we summarise the weeks news up into one easy-to-digest recap post. For our developer interview series, we were joined by Alan Mendelevich for some insight into developing for the platform. We've got episode 136 of the WPCentral podcast, and our Windows Phone forums topic highlights. Head on past the break for the full breakdown.
Rafael Rivera writes up his experience with Microsoft in taking down James Dastardly Dudley for selling an emulator (which he didn't own rights to) on the Marketplace with illegal ROMs. The winners of the Greek Windows Phone App contest have been announced who receive goodies including Lumia 800s. Gizmodo has interviewed Sam Moreau, Director of User Experience for Windows, Windows Live and Internet Explorer at Microsoft, where he discusses Android.
Continuing market loss, Nokia is slashing another 4,000 jobs and prepares to move production of their Windows Phones to Asia. Scott Dorman, a Microsoft MVP, has set up a location (using UserVoice) where consumers can submit and vote for apps they'd like to see on the Marketplace (not official). Tiina Aarras, materials designer at Nokia, has explained in an interview with Nokia Conversations how the Lumia colouring (black, white, magenta, cyan) came to be.
Ben Rudolph has taken his #smokedbywindowsphone challenge away with him from CES 2012 and is now starting to attack those at Microsoft Stores who have competitor handsets. T-Mobile had a one day sale planned for Valentine's Day that included a few Windows Phones. On the other end of the excitement scale is AT&T by introducing a raise in the upgrade fee. Are you sticking to your Mobile Nations Fitness Month goals? You better be, as we move into week numero deux.
Bullet Asylum, which we had a sneak peek look at, has been released onto the Marketplace. Should you be a fan of neon-type games like OMG! or just enjoy blowing things up on-screen, you'll want to check out this Xbox LIVE Arcade title. Occasional Gamer has released its 15th title to the Marketplace, Paradox Exit. Exit Games has announced real-time multiplayer gaming for Windows Phone with their Phonton Cloud Network coupled with a Windows Phone SDK.
TextTwist 2 is updated to version 1.1, which fixes some issues preventing achievements being able to be earned by players. Rocket Riot receives Mango treatment; including some custom ringtones, and is now ESRB rated in a major update. EvoFX are looking for beta testers to gain early access to their upcoming first-person zombie shoot'em up title. A 3D boat racing title splashes onto the Marketplace for absolutely nothing at all, which will interest those who aren't too impressed with Hydro Thunder GO!. Finally, MonsterUp, a superb indie game inspired by Doodle Jump, is available for free throughout this weekend only, so be sure to pick up your copy ASAP.
Twitter addicts, rejoice with me! The Carbon Twitter client for Windows Phone, which has had problems with being approved, is finally available! Should you be like myself where you have the odd day when cooking dinner is just a nono, Domino's Pizza has come to the rescue with an official app for Windows Phone. Seesmic has released an interesting app for those who own multiple Twitter/Facebook/LinkedIn accounts, Seesmic Ping. This app allows users to schedule, draft and post to all (or individual) accounts, pretty big.
There's one issue with the built-in calendar functionality - you can't search events. Introducing Calendar Search, a app that is completely self-explanatory. The Windows Phone Marketplace almost has 50 native apps that make use of blocked APIs, etc. Trapster for Windows Phone has been released, which will please Windows Mobile users of the app to help avoid unwanted speeding tickets. Canadians will soon be able to enjoy free calls over 3G/WiFi with Dell Voice, a VoIP solution.
The geniuses on the Dark Forces Team are prepping a Windows Phone 8750 build for custom ROMs, and this is amongst the highest OS builds we've seen yet. GroupMe is looking to make a comeback on the platform by calling out for users in New York. We take an early preview look at a new third-party YouTube app, PrimeTube. SugarSync, a cloud-based storage service, is planning to launch an official app for Windows Phone sometime in 2012. Unfortunately, as quickly as the Sonic's Jewels 7 Sega emulator came to the Marketplace the app was pulled at the request of Microsoft/Sega for IP infringement.
Nokia has announced the Lumia 800 in white, which SlashGear were able to get early hands-on action, and Nokia Netherlands published an introductory video. Should you reside in Portugal you are able to pre-order the handset for €549. The Lumia 800 in general, which has been gaining traction among Windows Phone users, is being bundled by Microsoft and is set to be sold with accessories in the U.S. for $900. We look at the possibility of Nokia introducing green and red 800s, should the current selection not be enough for you.
We caught wind of what could be a simple error on Nokia's behalf, but on their Facebook page a photo was uploaded that looked like a white Lumia 900. Could we be seeing this variant coming to stores? The Lumia 900 pre-order reservation deal with Microsoft Stores is no longer available, possibly hinting at an imminent release. The Finnish handset maker is set to unveil a new high-end Windows Phone at MWC, which we speculate to be the Lumia 910. To unofficially add coal to the rumour fire, a 910 protective decal skin appears on Amazon.
The LG Miracle / LG Fantasy has been in the spotlight for some time, but has now been revealed with a handful of photos. The LG handset (a test version), which is set to launch in July, has been put up for sale over on the XDA forums. Moving on back to Nokia, the 710 is now available in Canada on Rogers, as well as Three and Vodafone in the UK. Note that some owners are experiencing call ending issues. The ZTE Tania has had another price cut to take the tag down to £199 at Clove UK, which was required to compete with Nokia's 710.
Would you like to win a Lumia 800, signed by Tinchy Stryder? UK only. The Lumia 710 and official Twitter app are both featured in Flo Rida's new music video, some handy product placement to join the 800 in Tinchy Stryder's video. Malaysia gets struck by Nokia's "The Amazing Everyday" marketing campaign, and as always the company doesn't fail to impress. Not only that, but the Finnish handset manufacturer takes the country by storm with the launch of the 710 and 800.
Swedish television channel Kanal 5 teamed up with Nokia to integrate the Lumia 800 advertisement with the channel's logo, which turned out to look extremely cool. It's great to see this kind of promotion to separate from the norm. In Madrid's Estación de Ópera, a popular train hub in Spain, is hosting a Nokia advertising campaign with large demonstration screen. We'll end the fun section with Meteor in Ireland believing the HTC Radar powers Android.
Good news for developers in Czech Republic as Nokia and Microsoft are giving away 100 Lumia 800s to those who submit three apps and accumulate 50 downloads in total. Should you wish to promote your app around the web, Nokia is lending a helping hand by providing a tool that allows the user to generate banners. The two companies are in Australia and New Zealand to host more developer workshops. Aviary is soon going to be providing smartphone photographers the tools to edit photos on the fly with a Windows Phone SDK.
Highlights
Gaming
Software
Hardware
Fun
Developers
Windows Central Newsletter
Get the best of Windows Central in your inbox, every day!
Rich Edmonds was formerly a Senior Editor of PC hardware at Windows Central, covering everything related to PC components and NAS. He's been involved in technology for more than a decade and knows a thing or two about the magic inside a PC chassis. You can follow him on Twitter at @RichEdmonds.