Windows Phone Weekly Digest: May 24, 2015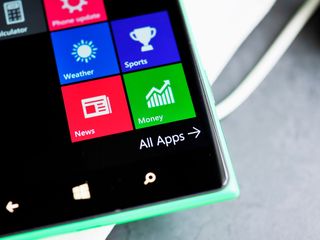 There's a lot going on in the world of Windows Phone. So much, in fact, that it is sometimes tough to catch every important story.
Device rumors come and go. New apps join the Windows Phone Store and your favorite app can get a big update with a new look or new features.
Therefore, every week we will compile a list of the Windows Phone news that you just shouldn't miss.
Welcome to the "Windows Phone Weekly Digest."
Windows Phone
After declaring last week that they would have control over the Windows 10 mobile update process, Microsoft clarified on Monday that they will still get "input" from carriers on software rollouts.
A Microsoft spokesperson said:
It remains to be seen just how much effect that "input" will have on the timing of updates, but here's hoping that the process is much more streamlined and carrier-neutral than the current one.
One update that will not be making its way to everyone is Windows 10 Insider Preview build 10080. According to a tweet from Windows Insider member Gabriel Aul, "10080 isn't likely to go to Slow ring because of a few issues being reported."
Although Slow ring members will miss out on the new features in build 10080, they will also be spared the many known issues. They will either have to wait for a more stable build to be released or change over to a faster ring.
If you are one of the many who have made the leap to Windows 10 Mobile preview, and for one reason or another want to move back to Windows Phone 8.1, be sure to check out our handy guide to rolling back your phone.
Other notable items:
Yezz Billy 4.7 smartphones reportedly receiving Windows Phone 8.1 Update 2
T-Mobile Lumia 640 still expected for spring release
The chairman of ASUS is not convinced Windows is good for smartphones
Lumia 640 and HTC One M8 should now be able to update to Windows 10 Mobile build 10080
Apps
The newly redesigned version of Microsoft's MSN suite of apps have started making their way onto phones. MSN Weather, News, Sports and Money all got makeovers, that replace the old pivots for split-view menus. Windows Central got our hands on the them and gave you a video tour of the new look
A new version of Outlook also began rolling out with preview build 10080 of Windows 10 Mobile. The redesigned mail and calendar app received a different button layout, trading its buttons on the top of the screen in for a quick-action ribbon at the bottom. In addition to the new layout, there are also many new settings and tweaks. Not to mention that the program itself just seems faster over all.
There was a brief blip of excitement across the Windows Phone user base when a vague tweet from Snapchat Support claimed that the notoriously anti-Windows Phone company has "plans to make [a Snapchat app] available in the future."
While this would surely make the masses collectively jump for joy, we urge you all to temper your expectations, given the long and tumultuous Snapchat vs. Windows saga
As for apps that actually do exist on Windows Phone, the beloved MixRadio went cross-platform, making its way to iOS and Android. All the while, MixRadio reiterated their continued commitment to Windows Phone, saying:
Speaking of loyal customers, VLC on Windows Phone has reportedly exceeded 1 million downloads since its launch. This is a huge achievement for any app.
But they aren't just sitting on their laurels celebrating. They were still hard at work on an update, which tweaked the navigation within the app.
The makers of Tubecast updated their app with support for new casting services, amongst other things.
OneDrive competitor Dropbox was relaunched as a universal Windows app, bringing a host of new features to Windows Phone.
One of our favorite Reddit clients, Readit for Windows Phone went free with their new version 2.1, which is loaded with a ton of new tweaks and features.
And after many Windows Phone app developers reported seeing revenue drops from Google's AdMob network, Google, who is traditionally less than cooperative when it comes to Windows Phone, stepped up to the plate. The technology superpower was quick to provide a fix.
Other notable items:
Photo filter app Gloomlogue makes its way to Windows Phone for free
Disqus for Windows Phone snags new channels and home feed filters in latest update
Pimp My Band app adds a battery Live Tile for Microsoft Band users
Revolve is Microsoft's upcoming 'conversation starter' app for Windows Phone
Microsoft's facial recognition service How-Old is now available as a Windows Phone app
Discovery News releases a dazzling universal Windows Phone app
6tag 5.0 for Windows Phone released with video uploads, new filters and more
Games
It's hard to believe that Microsoft Solitaire is 25 years old. It's even harder to believe how much of those 25 years that I have speant playing it. At any rate, Microsoft is celebrating with a big tournament starting June 5.
If you are more into high-adrenaline games, SBK15 Superbike World Championship raced onto Windows Phone this week.
Sid, Manny and Diego returned to Windows and Windows Phone in Ice Age Avalanche, a match-three puzzle game with a twist.
And one more popular iOS game made the leap. Leo's Fortune made its way to Windows and Windows Phone as a universal app.
Other notable items:
Be sure to weigh in on this week's news in the comments section. See you next week!
Windows Central Newsletter
Get the best of Windows Central in your inbox, every day!
The new MSN apps + outlook update are the best
The future of wm10 is getting clearer everyday!

I still couldn't get the outlook mail update on my phone...tried different keywords in the beta store, changed the region...nothing helped! Anyone else facing the same issue??

search for mail and calendar

Are you using the Store (Beta) or the Old Store

Wishing all the best for WM10! Good to see Microsoft becoming serious about WM10.

I wonder why carrier input can not be totally removed, why can't they just deliver updates from the Windows Store like they did with Windows 8.1 on PC

Without having a good connection to a carrier they can decide to scoff at the phones and not even support them. Microsoft has to do some kind of deal to keep phones on the market. And keeping that input is the deal. But if they can't push widows 10 mobile out then it really doesn't matter. So long as carriers keep the decision on putting out the first update.

Any news about coming updates for the (bugs fixes) apps I mean facebook and messenger.. God I missed their updates it has been a while

A little off topic. What's the deal with 640 & att

Windows Central, please do an article on the rumours about Microsoft buying Blackberry.

Rumour was ,Samsung buying Blackberry .but If Microsoft is showing interest then source link please? :)

Maybe when the source isn't one with a highly dubious track record.

When the next update will comes off windows 10

I got the windows 8.1 update 2 on my Lumia 730, I was trying to upgrade windows 10

Will windows central have a new universal app for windows 10?

I rolled back last night. I installed windows 10 the day i could on my lumia 1020. At this time there is no comparison on the speed when I rolled back to 8.1. I forgot how smoth and refined it is. Windows phone is amazing. I only hope there is time to finnish 10 and make it as good as 8. I may try a later build but I plan to hold off untill July at this point. They need a few months to work out bugs. Hitting windows key and waiting 45 secounds or longer just isn't going to cut it. Back on 8.1 it opens in an instant. I now remember why I use windows phone. I love this os. I hope i love 10 just as much when it is complete...

Hey Satyendr ji! What's your take? Leave a comment.