My favorite Xbox headset is so comfy it feels like a hug for your ears, and Cyber Monday deals are your last chance to get it for half-price
And in the carbon neutral line no less, for environmentally conscious gamers who want to bag Cyber Monday Xbox deals
We've witnessed some outstanding deals grace our screens in the lead up to Cyber Monday, and here's the most the most impressive mid-range headset offer yet — the Turtle Beach Stealth 600 Gen 2 Max. Despite its lengthy name, its 48+ hours of battery life almost matches the word count. Both the Stealth 600 Gen 2 Max and its predecessor stand out as the most comfortable headsets I've ever experienced. Now, you can grab one for under $90 as a few retailers have slashed the prices of the new colors to $89.99 and $59.99 in the Cyber Monday sales that end at midnight, so if you want a great Xbox headset without breaking the bank, go fast!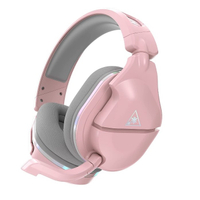 Turtle Beach Stealth 600 Gen 2 MAX Wireless Headset | was $119.99 now $89.99 at Best Buy

One of my absolute favorite headsets, the Turtle Beach Stealth range is incredibly comfortable, with 48+ hour battery life, immersive surround sound and a clear and crisp mic quality that surpasses expectations in this price bracket. The headset comes in Pink, Teal or Black. It's also on sale at Amazon.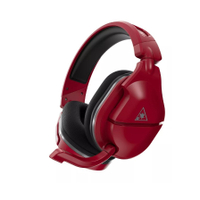 Turtle Beach Stealth 600 Gen 2 MAX Wireless Gaming Headset for Xbox (Red Target Exclusive) | was $119.99 now $59.99 at Target

You can actually shave off another $30 off the above headset if red is your preferred color, as this is exclusive to Target. The black is on sale at the same price as Best Buy are offering.

👍Price Check: None, Target is the only place you can get this color!
✅Perfect for: People who wear glasses. The foam cushions are especially comfortable over the top of the temples of your glasses.
❌Avoid it if: You want a headset that includes a wired option, as this doesn't have a 3.5mm audio jack.
👍Price check: $89.99 at Amazon
🔍Our experience: Turtle Beach Stealth 600 Gen 2 Review (previous model)
More great early Cyber Monday deals
Why this is one of my favorite headsets
Cyber Monday 2023
• Xbox Game Pass and gift cards
• Unbeatable Xbox bundles
• Xbox SSDs and expansion cards
• Best Xbox controller deals
• 700hrs in this game is 3¢ an hour
• Refurb Surface Pro 9 is just $639
• Microsoft Audio Dock is 80% off
• Pick ROG Ally over the Switch
• LG OLED TVs from $550
• The cheapest Xbox exp card
• Amazing keyboard for $28
I own the previous model of this headset, the only difference being that the MAX has an increased battery life to a whopping over 48 hours, and it's so incredibly comfortable to wear with my glasses which is normally the make-or-break moment for a headset for me. The original scored an impressive 4.5 out of 5 in our Turtle Beach Stealth Gen 2 review, and still sits comfortably on our best Xbox headsets list.

The Pink and Teal colors that were added to the MAX range earlier this year also represent Turtle Beach's commitment to more sustainable efforts with its periphials, as they are the brands first certified Carbon Neutral products. Turtle Beach has achieved this goal by drastically reducing the plastics used in its packaging, using sustainably sourced paper trays and boxing materials, and substantially reducing the size of its packaging for accessories. These adjustments are said to lower carbon output when transporting their goods, and they have committed to being a member of the Million Mangroves program. An ecological restoration project to restore mangroves in areas of wildlife around the world. Microsoft is already leading the way in big tech's commitment to positive climate goals, and it's great to see companies like Turtle Beach joining in the movement.
While the Turtle Beach Stealth 600 Gen 2 MAX is compatible with both Xbox Series X|S and Windows PC, it is specifically marketed as 'Designed for Xbox' with the familiar seal of approval on the headset packaging. So you needn't worry about it's compatibility as Microsoft crack down on unlicensed third party accessories. It includes a 2.4GHz wireless USB transmitter means you can switch between console and PC with the flick of a switch, and the microphone is a familiar flip-to-mute system. Simply put, this a great headset and the best you can get in this price range, so go quick either for an upgrade for yourself or a holiday gift for the Xbox gamer in your life.
Get the Windows Central Newsletter
All the latest news, reviews, and guides for Windows and Xbox diehards.
Jen is a News Writer for Windows Central, focused on all things gaming and Microsoft. Anything slaying monsters with magical weapons will get a thumbs up such as Dark Souls, Dragon Age, Diablo, and Monster Hunter. When not playing games, she'll be watching a horror or trash reality TV show, she hasn't decided which of those categories the Kardashians fit into. You can follow Jen on Twitter @Jenbox360 for more Diablo fangirling and general moaning about British weather.