Grab the Razer Leviathan V2 X PC soundbar for a steal on Prime Day and say goodbye to your terrible old speakers
Enhance your PC gaming audio experience with the Razer Leviathan V2 X for a reduced Amazon Prime Day-only 25% discount.
Soundbars are a great tool to unleash the full auditory potential of your computer without taking up too much space on your workstation or desk as regular speaker systems do. One such soundbar is the Razer Leviathan V2 X — a smaller-scale version of the Razer Leviathan V2 that offers similar high-quality sound capabilities at a cheaper price.
A price that is now made even cheaper thanks to Amazon Prime Day as there is a sale going on right now that has reduced the Razer Leviathan V2 X's retail cost from $99.99 to $74.99.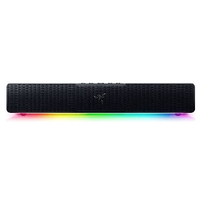 Razer Leviathan V2 X | $74.99 (was $99.99) on Amazon
Enhance the audio of your PC gaming experience for a low cost with the Razer Leviathan V2 X.
Price check: $89.99 (was $99.99) at Bestbuy | $98.99 at Walmart
✅Pros: High-quality sounds for an affordable price and a compact size to fit onto small desks without eating up space.
❌Cons: It sacrifices the subwoofer and THX Spatial Audio features of the regular Razer Leviathan V2.
Our own Ben Wilson, reviewed Razer Leviathan V2 X's big brother, the Razer Leviathan V2, and it features much of the V2's engineering characteristics and build grade that he praised it for.
Our Managing Editor, Richard Devine, has the Leviathan V2 X sat on his desk right now and highly recommends it at its normal price. The sound quality is fantastic for something so compact without the need for a massive subwoofer and has completely replaced his old desktop speaker setup. It's neater and tidier than regular speakers, too.
Prime Day deals
• Best deals: Our best (so far)
• Windows laptops
• Gaming laptops
• 4K and ultrawide monitor deals
• Gaming monitors
• GPU deals: AMD & NVIDIA
• Motherboard deals: Intel & AMD
• NAS deals: Network-attached storage
• Routers: Wi-Fi home networking
The only major difference is that Razer Leviathan V2 X lacks the Razer Leviathan V2's subwoofer and THX Spatial Audio which means this soundbar will have downgraded immersion and bass audio compared to the regular Razer Leviathan V2.
If you can accept that trade-off, the Razer Leviathan V2 X has a lot of positive traits to offer. It comes packed with two full-range drivers and two passive radiators to produce excellent and satisfying audio quality and its small compact design makes it ideal for being placed on desks with a minimal amount of space.
In addition, the Razer Leviathan V2 X is easy to set up as it only requires a USB-C cable connection. It features Bluetooth 5.0 so you can listen to stutter-free, buttery-smooth audio when pairing the Razer Leviathan V2 X wirelessly to a PC or mobile device via the Razer Audio App. And it comes with Razer Chroma RGB lighting which reacts dynamically while playing PC games and can be customized through the Razer Audio app and Razer Synapse app.
Why we like this deal
By omitting the subwoofer and THX Spatial Audio features of the Razer Leviathan V2, the Razer Leviathan V2 X is sold at a much more affordable price of $99.99 compared to the V2 which is sold for $249.99. And that price is 76% cheaper than the ultra-powerful Razer Leviathan V2 Pro, which dwarves the sound quality of the other two soundbars but it has a staggering hefty price tag of $399.99.
With this 25% discount offering through Amazon Prime Day, you can get your hands on the Razer Leviathan V2 X for $74.99. Provided you are okay with losing out on immersive and bass audio quality, you will be getting your hands on a well-made Soundbar whose audio capabilities are on par with Razer Leviathan V2 at roughly 72% cheaper than V2's retail price. The V2 is a big investment both financially and in terms of space, so for most, the V2 X is a better option.
If you are looking for a reasonably priced, first-rate PC soundbar that could some of the best PC speakers on the market a run for their money without taking too much space on your desk, use this Prime Day deal and buy yourself a Razer Leviathan V2 X.
Get the Windows Central Newsletter
All the latest news, reviews, and guides for Windows and Xbox diehards.
Alexander Cope is a gaming veteran of 30-plus years, primarily covering PC and Xbox games here on Windows Central. Gaming since the 8-bit era, Alexander's expertise revolves around gaming guides and news, with a particular focus on Japanese titles from the likes of Elden Ring to Final Fantasy. Alexander is always on deck to help our readers conquer the industry's most difficult games — when he can pry himself away from Monster Hunter that is!