ICYMI: Xbox One gets a preview update, some Windows 10 'Redstone' features get delayed, and our new podcast goes weekly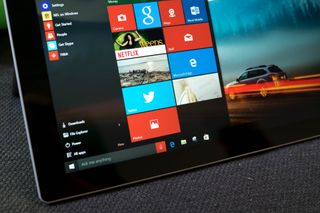 A lot can happen in a week. Seven days might not seem like much, but it can be an eternity in the tech news cycle.
Between Windows news, hardware and software developments and Microsoft's fast-paced movements throughout the technology landscape, it's never easy to keep your hand on the pulse of technology. Not to mention everything that's going on right here at Windows Central!
Every week we're going to compile the biggest stories into one post, so you never fall behind – In Case You Missed It (ICYMI).
Windows
A report from Petri this week said that Microsoft is going to delay some features from the "Redstone," the next major Windows 10 update, due out in the first half of the year. The article says that Microsoft is postponing some features so that they can focus on improving internal workings of the operating system:
In the meantime, Insiders in the Fast ring received Windows 10 PC preview build 11102. The new build contains one lone new feature, the ability to access your recently visited websites by clicking the back or forward button in the Microsoft Edge browser.
As expected in preview builds, 11102 does have some known bugs, including some that will directly affect some gamers.
Microsoft continues to try luring iOS devs to the Windows platform. In their latest bid, the company's blog demonstrated how to create a simple iOS app and port it using the Windows Bridge for iOS.
At the same time, Microsoft miffed some of the current Windows 10 developers by announcing that they soon will receive less revenue from gift card purchases in the Windows Store. Starting in March, they will be instituting a 2.24% "Commerce Expansion Adjustment" on all Store purchase made with gift cards.
Other notable items:
The second annual Microsoft Edge Web Summit is coming on April 4
Microsoft
If a new patent filing by Microsoft is any indication, the Surface Pro 5 may have a rechargeable Surface Pen that docks magnetically. The Surface Book and Surface Pro 4 already have a magnetic dock for the stylus, but this new design includes an embedded charging dock, so the pen powers up while being secured to the device. If approved, the design could make it to the next generation of Surface devices.
The Xbox One February 2016 preview build began rolling out this week. Amongst other things, the update includes a Gamerscore leaderboard, the ability to rearrange pins and launch them while offline, and improvements to the Party feature.
Microsoft is working on a technology that may one day help you channel your inner Snoke by projecting a life-sized image of you into someone's living room. The technology, currently called Room2Room, uses Kinect and a digital projector to create a full-size projection of a person for a chat session.
A voluntary recall of Surface Pro chargers was announcedthis week, affecting customers who purchased some Surface Pro, Surface Pro 2, and Surface Pro 3 devices in Europe before July 15, 2015. The recall concerns a potential fire hazard with the power cords, as they can be prone to overheating.
Lastly, Microsoft will be donating $1 billion worth of its cloud services to nonprofits around the world. Over the next three years, Microsoft Philanthropies will offer cloud resources, including Microsoft Azure, to researchers and non-profits in 15 different countries.
Other notable items:
Bing homepage pays tribute to Dr. Martin Luther King, Jr. with photo and 'I Have A Dream' audio
Buy a Surface Pro 4 and get a free skin of your favorite NFL team at any Microsoft Store
Microsoft to forgo hardware giveaways at Build 2016, will offer deeper technical experiences instead
Surface 3 128GB prices are currently cut by $150 at Microsoft Store and Best Buy
Voting starts Jan. 21 for finalists in Microsoft's HoloLens 'Share your idea' contest
UK Members of Parliament will reportedly get Surface tablets to vote with instead of just yelling
Microsoft issues new build to Office Insider program members
New Surface 3 and Surface Pro 3 firmware updates rolling out
Miscellaneous
Social media giant Twitter ran into some technical difficulties this week, rendering the site useless for many users. The result was the inability for people to load their timelines, view profiles, send or receive tweets, and more.
Dell began selling their revamped Venue 8 Pro running Windows 10. In addition to packing a more powerful processor, more RAM, and a better camera, this latest iteration also sports a Full HD display and optional LTE. The new Dell Venue 8 Pro starts at $399, but it can get much more pricey depending on the options you select.
And after receiving a hugely positive response from the first episode, Windows Central aired episode 2 of our new OneCast podcast, which will now be a weekly segment. OneCast features our very own Jez Corden and Matt Brown discussing Xbox One, Windows 10 and anything Microsoft.
Other notable items:
Share your thoughts on this past week of news! And we'll be back again next week to do it all over again.
Windows Central Newsletter
Get the best of Windows Central in your inbox, every day!
It's a little disheartening to see Microsoft delay more and more when they are coming from behind. Posted via the Windows Central App for Android

Delay delay delay....Microsoft now making a relationship with delay...what's happening on time from Microsoft

There is a time distortion in Microsoft.

I am in the Xbox preview program and have the 1602 update but I haven't got the gamerscore leaderboard and I can't rearrange the pins. Anybody else having this problem?

Keep in mind the keyboard is in your achievement section

When are they going to start releasing any of the new Xbox preview features to the rest of us? Been waiting for Miracast for a long long time, now REALLY want it after buying a Lumia 950.

You are right. How difficult is it and why is it taking so long?

didn't they stop podcasts a few years ago? now your trying again??

It's a little different to the original podcast, this one has an Xbox/wider gaming slant, but we'll also discuss anything Windows 10 / Microsoft / hardware related too. We talked about W10M a lot in Ep 3.

My start menu keeps crashing on my Toshiba l50 brand new since upgrading some days it's fast and some days it's slow as f**k when the start menu crashes the store dosent work or settings or anything metro tbh Posted via the Windows Central App for Android

I loved the podcast pand really missed it

Why can't I find the podcast in Podcast Lounge?!