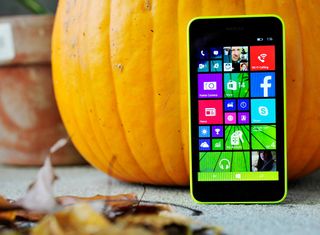 A lot can happen in a week. New apps join the Windows Phone Store or Windows Store. Your favorite apps can get a big update with a new look or new features. Device rumors come and go. Seven days might not seem like much, but it can be an eternity in the tech news cycle. Every week we're going to compile the biggest stories into one post, so you never fall behind – In Case You Missed It (ICYMI).
Windows Phone
Microsoft Band - Topic Page
Microsoft Band: Unboxing and hands-on tour of Microsoft's new 'smart' wearable [Watch]
You can now buy the Microsoft Band from the Microsoft Store for $199 (US only) [Read]
Microsoft Band's auto-brightness, VIP lists, auto-reply, and other advanced features [Read]
Why Microsoft Band is in short supply (it's not a marketing conspiracy) [Read]
Microsoft + Windows
New details emerge about rumored Microsoft Xbox Music Locker service [Read]
All Office 365 subscribers to get free unlimited OneDrive cloud storage space [Read]
Microsoft says Office 16 for Windows won't launch until second half of 2015 [Read]
Lenovo reveals 13.3-inch Windows 8.1 version of Yoga Tablet 2 for $699.99 [Read]
Apps
Games
Spider-Man Unlimited update weaves in new levels, gains 512 MB support on Windows Phone [Read / Download]
Xbox
Review – Xbox One Sunset Overdrive Special Edition white console [Read]
TrueAchivements app available for Xbox One, brings gaming guides to Snap [Read]
Catch the latest games with NBA Game Time on Xbox One [Read]
Plex brings its streaming experience to Xbox 360 with new official app [Read]
Xbox One and laptop get together one night, here's the outcome nine months later [Read]
Misc.
Weekly photo contest: Curves [Enter]
The Story of Straw, the polling engine for your pocket [Read]
Win an Xbox One Titanfall Bundle from Windows Central! [Enter]
ICYMI Mailing list
Subscribe to my newsletter to get the above content and more delivered to your inbox. I'll share the above content with you, plus share a few extra links to cool stories and products from around the web. You can even submit links to your blog post or apps that you'd like to be shared with the community. Just send me a tweet (@samsabri) with the URL to your story or app and include the hashtag #ICYMI.
Share your thoughts on this past week of Windows Phone, Windows, Xbox and Microsoft news!
That Lumia looks nice in the cover photo :)
How did I miss the article about the tRibez game

I still don't get the watch. Just make something similar to the galaxy gear. Just a fitness watch is pretty lame IMO.

I dunno, the Cortana integration, notifications, weather, SMS messages are all pretty awesome. In terms of a health tracker, it's up there with the better ones. I think the idea of a 'smartwatch', at least in the sense of what people really expect out of it, is still a few years out. Better to build off of a solid base than go for the whole watch thing.

It didnt leave a great first impression, but its growing on me. Still it's probably best to wait six months to see what else is on the market

Dan. Does Cortana on the watch works with IOS and Android?

No, since Cortana works off of the phone's built-in Cortana.

I absolutely agree about your take on what a smartwatch is today. There are no smartwatches yet in the market even with the future release of the iWatch. We started calling cellphones smart when they started getting the processing power and its own internet connectivity. To date, the so called smartwatches out there are accessories to the smartphones. They rely on the actual smart device to fuction - that is not considered smart in my opinion.

Go look at Apple Insiders even some Apple folks think this is good and better that you can go for a run and not need to tote your phone along unlike what they have heard about their watch. They said Microsoft did it the right way by including all three platforms

I still run with my cell phone but I let the Band do the GPS and HRM. I listen to my music using the cellphone. Its just safer to have the cellphone with you but its also safer knowing that i know i will still have battery just in case i do need to take/make a call.

so cant wait get my 735! :D

Alot has happened in the year. :D

Does anyone know if the ATIV Odyssey is getting 8.1?

Same here, anyone got any info on the 8.1 update?

Guys I can't install Spiderman unlimited.please help Lumia 520 with WP 8.1 update 1

Still no news for denim firmware update.
Windows Central Newsletter
Get the best of Windows Central in in your inbox, every day!
Thank you for signing up to Windows Central. You will receive a verification email shortly.
There was a problem. Please refresh the page and try again.