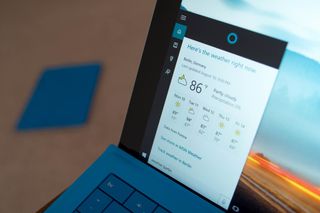 A lot can happen in a week. Seven days might not seem like much, but it can be an eternity in the tech news cycle.
Between Windows news, hardware and software developments and Microsoft's fast-paced movements throughout the technology landscape, it's never easy to keep your hand on the pulse of technology. Not to mention everything that's going on right here at Windows Central!
Every week we're going to compile the biggest stories into one post, so you never fall behind – In Case You Missed It (ICYMI).
Windows
We heard some more encouraging news out of the Microsoft camp regarding Windows 10 this week. It appears that the operating system has exceeded the 100 million mark for PC installations. While that may only be ten percent of the "one billion Windows 10 devices" that Microsoft is shooting for in the next three years, keep in mind that it has only been two months since the launch.
Windows 10 increased its share of the PC OS market to 6.63% in September, up about one and a half percent for its 5.21% in August. The climb certainly slowed from the month before, but any growth is still positive news.
The number off apps available for Windows devices is also on the rise. According to Microsoft, there are 669,000 phone, tablet and desktop in the Windows Store. It certainly seems like more developers are including Windows in their plans, but Microsoft still trails Apple and Google in the apps department. The so-called "app gap" is far and away the biggest knock against Microsoft's ecosystem.
After many concerns, allegations and misunderstandings about Windows 10 and user privacy, Microsoft finally came out and clarified what information Windows 10 collects. We here at Windows Central have put together a guide about privacy and settings in Windows 10 and Microsoft Edge.
And with Apple's Mac OS El Capitan in the news, we also took a look at its Split View feature and compared it to Windows 10's Snap View.
Other notable items:
Microsoft debuts Windows 10 coding series for absolute beginners
How to reduce the Windows 10 footprint on your computer
Microsoft
In what is usually the unexciting world of patents, the USPTO granted Microsoft a design patent for its HoloLens. The "headset with visor" patent didn't offer any insight into the HoloLens, but hopefully means that the device is one step closer to hitting the market.
Also on the patent front, Microsoft and Google called a truce of sorts, calling it quits on a patent dispute that has been raging since 2010. The battle consisted of over twenty lawsuits in Germany and the U.S. with Microsoft crying foul at Android and Motorola taking aim at Xbox. According to Bloomberg:
Microsoft acquired game tool developer Havok from Intel. The company will be a complementary addition to Microsoft's other development platforms.
And just days before the big press event, photos of Microsoft's Treasure Tag follow-up, code-named 'Valora' made their way out into the open, thanks to the FCC. Though geared for Microsoft's Lumia smartphones, the Valora looks like it will also work with Android and iOS.
We'll find out for sure in a few days.
Other notable items:
Latest Surface Pro 3 firmware update finally gets a change log
Lumia Conversations and Surface blogs merge into new Microsoft Devices blog
Surface 3 to be used by 7,500 ExpressJet and SkyWest Airlines pilots
Miscellaneous
We learned all about Dell's upcoming 2015 XPS 15 laptop. It's going to sport Intel's Skylake quad-core processors, Nvidia's GeForce GTX 960M graphics card, along with a 3840x2160 touchscreen. There's also going to be a 1080p non-touch variant.
Details about Dell's XPS 12 tablet were also leaked ahead of its launch. Their Surface Pro 3 competitor has a 4K touchscreen, Intel Core M Skylake SoC, USB-C port, and optional LTE. There are two different optional keyboards that can accompany it, a thinner travel one and a full backlit one with a trackpad and extra ports.
More information and images of HP's upcoming Envy 8 5000 Windows 10 tablet also leaked. The Envy 8 5000 is powered by a 144GHz Intel Atom Z8300 "Cherry Trail" quad-core processor, 2GB RAM, and either 32GB or 64GB of storage with a microSD slot. It will come with a detachable keyboard and Wacom stylus.
It looks like HP is working on a Surface Pro 3 competitor of their own. The 12-inch tablet has a 1920x1080 display, an Intel "Skylake" Core m5 or m7 processor, 4GB or 8GB, and either a 128GB or 256GB hard drive.
And Finally, we gave you a behind-the-scenes look at our new Windows Central office, where Dan and Mark make the magic happen. Don't be fooled by the lack of unicorns in the video. They're there, but they are shy.
Other notable items:
Oculus founder says Rift VR headset will cost more than $350
Share your thoughts on this past week of news! And we'll be back again next week to do it all over again.
Windows Central Newsletter
Get the best of Windows Central in your inbox, every day!
I really like these posts

Love that setup at your office...

Yeah, I have to agree... I like this series of news recap. I don't always have time for aaaaaall the individual articles, and this helps me to see what I missed, and whether I need to go back or not.. Fantastic. Thanks