Windows Mobile Weekly Digest: VAIO's Phone Biz is skipping the U.S., a peek at the new Windows Central app, and monkeying around in Plague, Inc.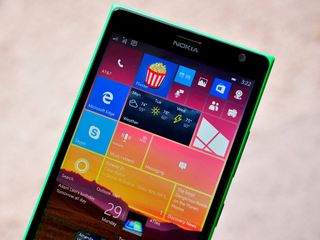 There's a lot going on in the world of Windows Phone. So much, in fact, that it is sometimes tough to catch every important story.
Device rumors come and go. New apps join the Windows Phone Store, and your favorite app can get a big update with a new look or new features.
Therefore, every week we will compile a list of the Windows Phone news that you just shouldn't miss. Welcome to the "Windows Phone Weekly Digest."
Windows Mobile
T-Mobile's first Windows 10 smartphone, the Alcatel OneTouch Fierce XL is now available to purchase. The 5.5-inch phone comes in cyan, exclusive to the carrier, and will run you $139.00 when you buy it outright.
Trinity's Nuans NEO, the Windows phone with interchangeable "two-tone" backplates, was originally slated to be sold only in Japan, but now may be getting a global release after all. When asked by a Windows Central reader whether or not the phone would be heading elsewhere, the company replied:
Sadly, the newly-released VAIO Phone Biz may never find its way to the U.S.. In a tweet to an eager would-be reviewer, VAIO revealed that "at this time there are no plans to bring VAIO Phone Biz to the US."
Windows 10 Mobile Insider Preview build 10586.107 now available to Fast Ring members ADD: Windows 10 Mobile build 10586.107 now available for Slow Ring Insiders Firmware for the elusive Lumia 650 was spotted on Microsoft servers , along with a list of possible host countries. Poland, Germany, Italy, Spain, Great Britain, France, Portugal, Romania, Netherlands, and a few others were all listed, though there have been no official announcements as of yet.
And Microsoft is implementing some changes for Windows 10 Insiders. Firstly, they are adding a new Insider ring called the Release Preview ring. This is for folks who want to receive stable updates before the public, but with less risk than the Slow and Fast rings.
Secondly, Windows 10 Mobile now has an update history page that you can visit to see changelogs for different builds.
And Finally, Windows 10 Insiders will soon be seeing the return of the Insider Hub app. The app will be in one of the next releases and will offer users the latest info on current and upcoming releases.
Other notable items:
Microsoft's Lumia 640 is now available off contract for just $49
BLU's Win JR LTE and Win HD LTE to get sweetheart deals on Feb. 13
Apps
Developer David Burela posted an interesting video of him porting an iOS game to Windows 10 in just five minutes. Burela used the code from the simple endless runner Canabalt and Microsoft's Project Islandwood tools to demonstrate how easily devs can bring their apps to the Windows 10 platform.
William van Hecke, who lead the design team for the Word, PowerPoint and Excel Office apps on Windows Phone, revealed the details of the design process in a new paper this week.
WhatsApp for Windows Phone picked up some notification improvements borrowed from the private beta version. Now the Live tile will display a preview of missed messages, and message notifications received while the app is closed will clear once the app is opened.
Video chat service Glide released an official app for Windows smartphones this week. The app was previously available on iOS and Android, but now both Windows Phone and Windows 10 Mobile users can join in the fun.
Fhotoroom, the beloved photo editing app, got a makeover, especially for Windows 10 Mobile. This completely rewritten version now supports Continuum and got a bunch of behind-the-scenes improvements to make it run like a champ.
You've been asking, so we finally gave you a status update and sneak peak peek at the new Windows Central App for Windows 10. We're excited to announce that it will be released in public beta form very soon. Sit tight!
Other notable items:
Third-party Twitter app Aeries gets a revamped login experience and more
GroupMe for Windows 10 Mobile gains message delivery improvements and more
Caledos run tracker will soon become a Universal app for Windows 10
Facebook Beta for Windows Phone snags another minor update
Liquid Daffodil is calling for 30 beta testers to help with an upcoming Microsoft Band social app
Outlook Mail and Calendar snags small update on PC and mobile
Straw can now let you know when new polls are posted for your favorite topics
fanband update will randomly pick one of more than 1500 custom Microsoft Band themes
Windows Store app snags modest update on Windows 10 PC and Mobile
N10 is a universal Windows 10 app that lets you control your Nest thermostat
Games
The popular virus-based strategy game Plague, Inc. was updated for Windows Phone and Xbox One. The Xbox One version can now run custom scenarios created by other players, while the Windows Phone game catches the Simian Flu.
Both Minecraft for Windows 10 and the Pocket Edition will be getting the Overworld Update near the end of February. The update will add new gear and building materials, advanced mechanical contraptions, and wicked witches. Players on the Windows 10 version will also be able to earn eight new achievements.
And if viruses and spooky invaders aren't enough for you, perhaps robot overlords will help. We gave you a look at Stop The Robots for Windows PC and Phones, a game where you build a team of tweeners to defend your turf from a robot onslaught.
Other notable items:
Be sure to weigh in on this week's news in the comments section. See you next week!
Get the Windows Central Newsletter
All the latest news, reviews, and guides for Windows and Xbox diehards.