Windows Phone Summary of the Week: November 21-27, 2011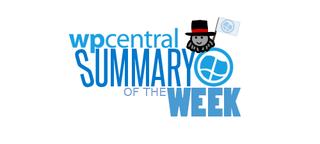 Welcome to your weekly Windows Phone summary, where you're kept in the loop with all the top news this week. To kick us off is this week's interview, where we were joined by Chris Field, developer of Mehdoh. If you're not already, you should be tuning into our weekly podcast, with episode 131 being published this week. We've had version 1.7 of the WPCentral app approved, which brings hot fixes with website development.
For the upcoming festive holiday, we have some gift ideas for automotive accessories and Windows Phones themselves. Right, let's get started, eh?
Pushing us off to a start with the highlights is French retailer, Phone House, inviting customers to come in-store and try out the Nokia Lumia 800. Four new major apps for Windows Phone were announced at Mobile Acceleration Week, including Flud, Get-a-game, GateGuru and Taap.it. Stephen Elop has stepped up to the challenge of tackling the U.S., which was put forward by CNET. Joe Marini, the Microsoft Windows Phone Manager who got fired for tweeting about the Lumia 800, has landed a job at Google.
We take a look at Marketplace statistics a year on, while Nokia publishes positive statements about Lumia 800 sales (we covered positive indicators). NetCom is offering a free Xbox 360 to those who purchase the LG Optimus 7. USA Today threw up an article going into how Windows Phone is a joy to use compared to the usual offerings. An interop unlock was discovered for the Lumia 800, but due to the publicity it received Nokia later intervened.
Windows Phone Apps Magazine edition #2 is out for you to get the low down on latest Marketplace offering. Windows Phone has received the award for "Operating System of the Year", judged at the 2011 Know Your Mobile Awards, while Stephen Elop walks away with "Mobile Personality of the Year". Germany has overtaken the UK for the 2nd most popular country for Windows Phone users.
Moving onto gaming, Tetris returns as the Xbox Live Deal of the Week. Dreadnoughts Defense is on course for the Marketplace and will start defending Skyholds. The anticipated Xbox dashboard refresh is set to be rolled out on December 6th. We had a massive sale on some Xbox Live titles through last week due to Black Friday. Farm Frenzy is all set to harvest the crops and Shuffle Party is on the way to the U.S. by November 30th for free.
We took a sneak peek at MetroTube by Lazyworm Apps, while the Amazon Mobile app gets Mango updated and now sports a barcode scanner. We requested an app to be made for Ffffound, and here we are with a solution developed by RogueCode and it's awesome. Barclays Bank released a Secure Pass app, which sucked quite frankly. It had an iOS UI and barely did anything. It was blown out the water by Skandia's offering of a full featured banking app. Sweet. Now if only HSBC and other major banks got on board...
There have been a good number of updates released this week, including the popular BBC Radio apps. SlingPlayer Mobile has finally gone Mango, GoVoice also receives Mango treatment, Parcel Tracker follows suit and now features pinnable tracking, and The Onion 7 receives fruity a injection. Microsoft Lync is on the way to Windows Phone, Android, iOS and Blackberry in the coming weeks, and Cracked.com has brought out an official app after an unofficial reader was pulled.
The Facebook app has been experiencing issues this week with not allowing users to login. The problems are normally due to Facebook altering things their side. A 3rd party web browser has landed this week and features video streaming. Turns out, Nokia Drive is Lumia only, but the manufacturer is going to sell Maps to all devices. Navigon had its price slashed by almost 50% for what appears to be in line with Black Friday. The Windows Phone 7 Connector for Mac is updated, bringing custom ringtone support, but still has issues. An unofficial Pandora app, Metro Radio, is currently in development using the recently released app SDK.
Firing off our hardware coverage is our HTC Titan review. Best Buy currently has the Titan at $0 when purchased on a two year contract with AT&T. Through popular request, we took a look at the HTC Titan and Samsung Focus S in terms of screen quality, the outcome was that the Titan has a slight advantage. Facebook users are able to try out the Nokia Lumia 800 for themselves with an interactive demo. Diagnostic tools for the Lumia 800 get detailed by nanapho.jp, and are a real joy to use.
SIM unlocked Lumia 800s were originally set back until January, but have since been pushed forward to December 1st at Clove and other retailers. Be sure to pick one up now should you be interested. If you're wondering just how tough the Lumia 800 is, we've heard a one year old decided to put the strength of the unibody and glass to the test. While the handset may prove to be seriously well built, we do have some issues early adopters have been experiencing.
A fair amount of advertising has been observed as of late. The Jil Sander gets a full-page advert in Germany's Die Zeit, the Samsung Focus Flash is featured in the Washington Post, and the HTC Radar was spotted in India's Gujarat Samachar. Some Windows Phones are being sold at Amazon Wireless for $0.01 with a $100 Amazon gift card, well worth checking out. Sprint brings down the price of the HTC Arrive to just $99. The Acer allegro is now available at RueDuCommerce for €284.05.
Nokia kicks off "The Little Amazing Show" creating a new people-centric ad that focuses more on life and enjoying the "everyday". David Bandey has created some free retro ZX Spectrum ringtones including Amaurote, LED Storm and more. We take a look at SmartBot mini, the Windows Phone controlled robot. In case you've forgotten, Nokia are holding a free event tomorrow that will feature deadmau5 and a 4D presentation. On a funny note, Optus believes the Samsung Omnia 7 runs Symbian.
For developers, we have 31 Days of Mango available in the Marketplace. Microsoft has launched the Big App on Campus campaign where student developers can win some great prizes at SXSW. 3rd party Pandora SDK has been made available, which has been used to create an upcoming unofficial Pandora app.
Highlights
Phone House inviting customers to try the Lumia 800
Four new major apps for Windows Phone shown off at Mobile Acceleration Week
Stephen Elop steps up to the U.S. challenge
Fired Microsoft Windows Phone Manager arrives at Google
Windows Phone Marketplace statistics after one year
Nokia being positive about Lumia 800 UK launch and sales
NetCom offering free Xbox 360 with LG Optimus 7
Indicators point to the Nokia Lumia 800 selling well
USA Today: Windows Phone is a joy to use
Interop unlock found for the Lumia 800, intervened by Nokia
Windows Phone Apps Magazine #2 is now out
Windows Phone 7 receives "operating system of the year" award
Stephen Elop wins "Mobile Personality of the Year" award
Germany overtakes UK for 2nd most popular country for Windows Phone
Gaming
Dreadnoughts Defense heading to the Marketplace
Xbox 360 Metro Dashboard coming December 6
Xbox Live Black Friday sale looks a bit familiar
Tetris returns as the Xbox Live Deal of the Week, eliminates four lines at once
Xbox Live: Farm Frenzy 2 ready to harvest from the Marketplace
Exclusive: Shuffle Party coming to Xbox Live in the US November 30 - Free!
Software
Sneak peek - MetroTube by Lazyworm Apps -->
Amazon Mobile app gets update for Mango and a barcode scanner
1st WPCentral App Request - Ffffound by RogueCode
Barclays Bank releases Secure Pass app
Skandia Bank releases Windows Phone app
BBC Radio apps receive update
SlingPlayer Mobile finally goes Mango on Windows Phone
Microsoft Lync Mobile coming in next few weeks to Windows Phone, Android, BlackBerry and iOS
Official Cracked app is out
Facebook app experiencing some errors
3rd party Metro Browser lands in the Marketplace with video streaming
Nokia Drive and Maps to be paid apps for non-Lumians? [Updated]
Google Voice client GoVoice with Mango support now available
Parcel Tracker goes Mango with pinnable tracking
The Onion 7 Mango updated
Navigon on sale in the Marketplace [Updated]
Windows Phone 7 Connector for Mac updated but still has issues
Unofficial Pandora app "Metro radio" for Windows Phone 7 in the works -->
Hardware
AT&T Titan - Did you get yours?
AT&T HTC Titan - Review
AT&T HTC Titan 4G at Best Buy for free
Screen Comparison: Samsung Focus S and HTC Titan
Unlocked international version of HTC Titan available in Canada
Try the Lumia 800 for yourself on Facebook
Nokia Lumia 800/710 to be sold in Taiwan in mid-Dec
Nokia Lumia 800 diagnostic tools get detailed
SIM unlocked Nokia Lumia 800 coming to Clove Dec 1st, pre-order now
SIM unlocked Nokia Lumia 800 also available at Expansys USA and Phones4U
Nokia Lumia 800 shows strength by surviving drop test
Problems with the the Nokia Lumia 800 for early adopters
Samsung Omnia W gets Brazilian
Jil Sander gets full-page ad in Germany's Die Zeit
Samsung Focus Flash advert in the Washington Post
HTC Radar advertisement in the Gujarat Samachar
Windows Phones for $0.01 with $100 Amazon gift card
Sprint knocks HTC Arrive's price down to $99
Jil Sander Mobile LG-E906 now available through Expansys for £299.99
Acer Allegro available at RueDuCommerce for €284.05
Microsoft Stores: $0 for an HTC Titan, Focus S and Focus Flash on Black Friday
Fun
Nokia Lumia - The Little Amazing Show ad-campaign
Free retro ZX Spectrum ringtones
SmartBot mini: a Windows Phone robot
Nokia deadmau5 event details and live stream
Optus believes Samsung Omnia 7 runs Symbian?
Developers
31 Days of Mango app now in the Marketplace [Developers]
Big App on Campus campaign
3rd party Pandora SDK now available for Windows Phone developers
Windows Central Newsletter
Get the best of Windows Central in your inbox, every day!
Rich Edmonds was formerly a Senior Editor of PC hardware at Windows Central, covering everything related to PC components and NAS. He's been involved in technology for more than a decade and knows a thing or two about the magic inside a PC chassis. You can follow him on Twitter at @RichEdmonds.