All you need to know from Nokia World 2013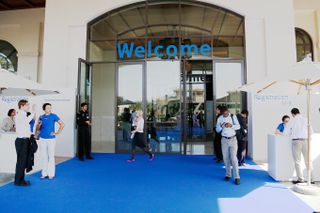 Nokia World 2013 is almost over and the main announcements have all been made. You've got the new Lumia 1520, Lumia 1320 and Lumia 2520 that offer unique new experiences for consumers. Windows Phone finally sees its first 6-inch smartphone, while Nokia attempts to tap into the Windows RT 8.1 market with its first Windows 8 tablet.
We live blogged the initial announcements, so be sure to head on over and check our coverage through the demonstrations. Nokia World was then a case of grabbing as many photos and hands-on footage as possible. There was a lot to cover (it was our largest day yet), but fear not if it all got a bit too much. In case you somehow managed to miss out on some of the stories, here's a quick run through:
Highlights
Nokia Beamer allows you to share your Lumia display with another device. And it's the craziest thing we've ever seen
Lumia 1320
Lumia 1520
Lumia 2520
Hands on with the Nokia Lumia 2520 keyboard case
The special edition Nokia Music app for the Lumia 2520 video tour
Video of the Windows 8 version of HERE Maps for the Nokia Lumia 2520
App News
Miscellaneous
Nokia announces Refocus app and RAW support for PureView devices
Nokia Camera now available, combines Pro Cam and Smart Cam into one photo app
Don't forget the polls we've got running:
What did you make of the Nokia World 2013 presentation?
Which new Lumia from Nokia World 2013 is your favorite?
Rich Edmonds is Senior Editor of PC hardware at Windows Central, covering everything related to PC components and NAS. He's been involved in technology for more than a decade and knows a thing or two about the magic inside a PC chassis. You can follow him over on Twitter at @RichEdmonds.
Woah, wait, how much is the Lumia 1520 again?
I need to buy a new WP8 device anyway

Damn, that costs more than the tablet!

Most high-end phones do, but this one is extra high.

It's much less than the iPhone 5S and kicks it's butt in a serious way

Anything on the Cortana digitial assistant?

I've also been wondering about that.

I know. I haven't seen much about it lately. I'm curious what is going on with it.

Cortana will be MS baby...up to them to give us the details on her.

Any updates on what happened with the 929? Just a rumor/fake?
Dissapointed (again) that Verizon won't get any new hottness this year - from the looks of things.

I can't believe that's it's fake. But I have no idea when Verizon will see it. It would be fantastic if WPCentral would shed some light on this.

Not fake and I've seen photos of it. Looks snazzy with the metal band. But pushed back to Q1. Undergoing cartier testing.

Metal band? That wasn't in the photos by evleaks was it?

evleaks had renders, so neither they nor us would really be able to tell. But it's real :)

please when verizon gets the high end lumia give us some color. i prefer yellow!

I hate Verizon. Just one question remains. How big is the battery in the 929 going to be? Is it going to be the same 3400 mah as the 1520 or is it going to be smaller because of the size.

As far as I know nothing happened to it.
Nokia World is a global event, they are not going to announce device emant for one carrier there.

nokia world was awesome but my follw up question to all of this is..... when?

Just tell me Nokia will sell me Here Drive for my Surfaces/Surfi some day.

They will have to...

If they dont do Google will be the King of Maps

Last and best Nokia world!!

Why should this be the last "Nokia World"?

Because Nokia are intent on selling their devices division to Microsoft in 2014. If the deal goes through then obviously Nokia won't be in the phone business anymore, ergo they won't be hosting another Nokia World event.

i want all these apps to try asap not to mention 512mb RAM
mainly waiting for instgram, story teller, flipboard, camscanner, papyrus, temple run2

What happend to the Treasure Tag?

Yeah! And the "guru" thing? Really wanted to see those.

And nothing on the 929. Verizon, the ugly red headed step child of Nokia and Microsoft.

OMG NOKIA STORE CONFIRMS THAT IT IS COMING BY NEXT MONTH 25 CANT WAIT TO GET MY HANDS ON

.....is that AT&T is a douche canoe and will take a good product and find a way to make it junk.

The 1520 has SD card expansion, so not a big deal. What I'm really curious about is regarding the 1320. It has a 720p display, but has three columns of tiles. I haven't seen anyone writing on this yet. I'm really hoping somehow "Lumia Black" will allow existing Lumias to get this feature.

It is only a registry key.... They should add an "on - off" switch....
If they dont do I will be disapointed


Yes it's 720p, but it's also 6-inch unlike the rest of the 720p lumias

It has been written on before, but can't find it at the moment. The 3 columns is for any device 720p or 1080p, 5" or larger. So, no, current devices will not get it. (officially that is since Ativ S was hacked to do it)

Screens that are 768x1280 could be supported.

How do you know this? Is there a link where I can read up on this?

I didnt see any Dualcore option to replace my 920 :(

No such thing as "too big"

I like better 920 size.... It is perfect... I don't want to walk with a BRICK in my pocket

Dissapointed. My contract ends for Verizon soon and the rumors about the 929 verizon variant right about the 1520 model was leak gave up that finally Verizon was going to release a flagship phone almost near AT&T because I was so ready to jump ship and go to at&t for the better WP8 phones but I renewed my Verizon contract on false hope. Now I am stuck even longer with my first gen HTC throphy. :/


Official getting a Nokia 2520. I am not sure if I will be gettting the 1520 since it is a big ass phone.


IF YOU want thise features please vote under in the OFFICIAL website of WP !!! 1 background for HOME SCREEN http://windowsphone.uservoice.com/forums/101801-feature-suggestions/sugg... 2 LANDSCAPE view for HOME SCREEN http://windowsphone.uservoice.com/forums/101801-feature-suggestions/sugg...
Windows Central Newsletter
Thank you for signing up to Windows Central. You will receive a verification email shortly.
There was a problem. Please refresh the page and try again.