Best PC Games Available on Nintendo Switch in 2020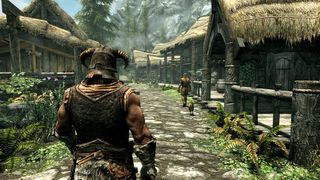 (Image credit: Bethesda)
The Nintendo Switch has a huge library of games available to purchase, and though you may not think so at first, many of these titles are games that are available on Windows PCs as well. If you're a PC gamer who loves any of the games that are on the list below, you'll be happy to know that you can get them for your Nintendo Switch and play them while you're out and about.
(opens in new tab)
★ Featured favorite

Hollow Knight blends incredible art direction and creative level design with a tough, yet fair level of difficulty, making it ideal for players looking for a strong, healthy challenge. You will fall in love with this game without a doubt.
Shovel Knight: Treasure Trove
Classic-style platformer

Shovel Knight: Treasure Trove is an incredibly charming and engaging platformer that's designed to feel similar to retro games like Mega Man and Ninja Gaiden, making it an amazing throwback title.
(opens in new tab)
The Elder Scrolls V: Skyrim
Fantasy RPG

Skyrim is one of the most popular games of all time, offering a huge world to explore and tons of different gameplay styles to enjoy. If you're looking for a replayable game for your Switch, it doesn't get better than Skyrim.
(opens in new tab)
Action-heavy FPS

2016's DOOM is one of the most action-packed first-person shooters out on the market right now, featuring gory combat with demonic entities. Adrenaline junkies should look no further than DOOM.
(opens in new tab)
Gorgeous-looking platformer

GRIS is a simple, accessible platformer that features gorgeous artwork and a moving story about a girl finding a way to move on from a painful experience in her life. This is the game for you if you want something easy on the eyes.
(opens in new tab)
A limitless sandbox

Minecraft's wide-open sandbox worlds and cooperative play options allow you and your friends to create anything you can think of in the game. If you like to build things, Minecraft is a must-own title.
Relaxing simulator

Stardew Valley is a charming farming simulator that allows you to create, maintain, and upgrade your own ranch. It's a great game to relax with, or if you simply want to waste some time.
(opens in new tab)
Character-driven RPG

Octopath Traveler is a fantasy RPG with eight different characters, each with a rich and nuanced story to experience. Also, the combat system is very enjoyable, and the world is full of interesting details.
(opens in new tab)
Mind-blowing narrative

Undertale is a retro-style RPG with a story that will blow your mind as you piece it together and figure out the game's themes. If you like great writing, then Undertale is a game you can't pass up on.
(opens in new tab)
Soccer with cars

Rocket League is a game that pits two teams of three players against each other in a soccer match... with gravity-defying cars! The unique gameplay concept and great mechanics make this game a blast.
(opens in new tab)
Turn-based strategy

Into The Breach is a science-fiction turn-based strategy game that involves using armed mechs to kill aliens threatening to destroy the world. It's got a charming style and strong gameplay, making it an excellent choice.
(opens in new tab)
Intense roguelike

Dead Cells is a colorful, difficult, and action-heavy roguelike game that's very fun and full of different types of challenges to face, meaning that the game never gets stale when you overcome each obstacle.
If we had to choose
Why you can trust Windows Central Our expert reviewers spend hours testing and comparing products and services so you can choose the best for you. Find out more about how we test.
Every game on this list is amazing, and you'll no doubt be able to find one that tickles your fancy no matter what you're looking for. However, I think the best title on this list is Shovel Knight: Treasure Trove (opens in new tab), as the gameplay is absolutely stellar and the visuals and mechanics both harken back to retro platformer games. It's an amazing title that blends classic design with modern polish, and you shouldn't pass it up. Hollow Knight (opens in new tab) is another fantastic platformer with equally amazing visuals and design, but trades the retro aesthetic for something more modern and stylized.
If you're looking for something on the more violent side with tons of action, then DOOM (opens in new tab) is right up your alley, as it's pretty much nothing but demon-slaying mayhem from the start of the game to the credits sequence. If something with an incredibly thoughtful story sounds like something you want, then Undertale (opens in new tab) is the game for you, as its narrative captivated the gaming world in 2015 and has remained a beloved title for many players ever since.