Best Replacement Ink Cartridges for Epson Printers in 2022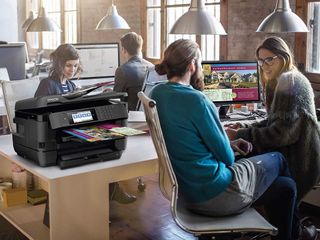 (Image credit: Epson)
Original equipment manufacturer (OEM) ink cartridges are costly and usually an unnecessary expense. However, there are cost-effective ways to get high-quality ink in your printer, like using ink replacement cartridges. I recommend these cartridges from ejet if you work with an Expression Home printer. You'll get the same top tier ink that Epson offers for a fraction of the cost. For a complete listing of our favorite ink replacement cartridges, read on.
Best Overall: ejet for Expression Series
Why you can trust Windows Central Our expert reviewers spend hours testing and comparing products and services so you can choose the best for you. Find out more about how we test.
ejet for Expression Series
As good as OEM
Reasons to buy
+
Bold colors
+
No streaking
+
Dries quickly
Reasons to avoid
-
Gloves needed during installation
The four-pack of ink from ejet impresses us as the perfect balance of price and quality. These are remanufactured ink cartridges. That means that ejet has taken used Epson cartridges and inspected, cleaned, restored, and refilled them. Since they're actual Epson cartridges, they slide right into place without issue.
Built-in chips in the ejet canisters are compatible with all Expression Home printers made by Epson. The black cartridge produces 500 pages of smear-free text, and the magenta, cyan, and yellow cartridges yield around 450 pages. We found the colors to be bold and bright, and almost impossible to distinguish between their OEM counterparts.
One word of caution: ejet recommends you wear gloves when installing these, and because the cartridges sometimes dribble a little when the protective seal is removed, we must agree. If you can deal with that, ejet cartridges are affordable and so high in quality you won't miss paying more for the Epson brand name.
Best Value: LD Products for Expression & XP Series
LD Products for Expression & XP Series
Unbeatable bargain
Reasons to buy
+
Smudge-free ink
+
Accurate colors
+
A true bargain
Reasons to avoid
-
Installation requires a few extra steps
When the price tag matters most, this set of five remanufactured cartridges from LD Products will save you a few bucks and fill your Epson printing system. This budget option comes with five cartridges, including two blacks, one cyan, one magenta, and one yellow.
Each black cartridge yields 500 printed pages, and the color varieties put out 450 pages each. We were pleasantly surprised with the radiant, true colors and deep blacks each canister produced. The ink dries quickly, and this set never clogged our printer's head or caused smudging on the paper.
The one issue we had with this set was during installation. All the cartridges fit nicely into both Expression and XP Series printers, but we learned that you must run a nozzle and printer head check after adding each canister to get the printer to recognize them. If you don't mind performing a few extra installation steps, ink quality is good and the price is cheap.
Best High Yield: Lemero for Workforce Pro
Lemero for Workforce Pro
Prints lots of pages
Reasons to buy
+
Beautiful colors
+
No bleed-through
+
Ink dries quickly
+
Print a ton of pages
Reasons to avoid
-
Cartridges occasionally clog
If your home or office printer is an Epson Workforce Pro model, you know exactly how pricey ink can be. This set of remanufactured cartridges from Lermero is an affordable option that prints lots of pages for a fraction of the cost of OEM alternatives.
This kit is a four-pack and comes with two black cartridges, one yellow, one magenta, and one cyan. The black sets kick out 900 pages each, and the color canisters print up to 1,900 pages. Wow! Text and lines are clear and easy to read, and printed pages never fade or smudge.
Our one complaint is that some cartridges, mainly blue, clog from time to time. Wiping the ends of the cartridges with a rag or cotton swab eventually cleared up the problem and put an end to sporadic ink output, but it was a problem that repeated itself a few times and cost us a chunk of time. Aside from that, these cartridges produce beautiful color, the ink dries quickly, and the page yield is unbelievable.
Best Everyday Ink: ValueToner for Epson Expressions Home
ValueToner for Epson Expressions Home
For basic printing
Reasons to buy
+
Bright, accurate colors
+
Ink dries quickly
+
Good page yield
Reasons to avoid
-
Black ink could be bolder
-
Not suitable for photo printing
This five-pack of ValueToner remanufactured ink fits all Epson Expressions Home printers. The set comes with two black cartridges, one cyan, one magenta, and one yellow. The colors are vivid and suitable for basic printing of documents and charts, but they struggle with reproducing true colors on photographs.
I had no trouble fitting these in any of my printers; they were consistently recognized and easy to set up. The black cartridges delivered around 500 pages before running dry, and the color units printed about 450 pages. Those numbers align with the original cartridges from the manufacturer.
Ink dries quickly and doesn't smudge. I found the black to be a bit light. I could still read words and graphs fine, but the ink never printed out super bold, even on title pages. For basic printing and schoolwork, you won't notice a difference between these and cartridges from Epson, but your wallet will.
Best Bundle: ejet 10-Pack for Epson Workforce
ejet 10-Pack for Epson Workforce
A bargain bundle
Reasons to buy
+
Accurate, vibrant colors
+
Deep blacks
+
Fast-drying
Reasons to avoid
-
Gloves required for installation
When you need a lot of ink, ejet's bundle of 10 is tough to beat. This kit includes four black cartridges, two cyan, two magenta, and two yellow. The cartridges are compatible with Epson Workforce printers.
Colors are spot on. They are bright and clear, and unless a magnifying glass is used, you'd be hardpressed to tell these apart from Epson's original inks. The black cartridges put out deep, bold blacks and are smudge-free. Everything from documents to graphs to photographs prints out beautifully.
You'll need gloves to install these. Like most ejet products, they tend to drip here and there during installation. That's not unusual, of course, but worth pointing out. For accurate, vibrant colors and a bundle that will last, you want to go with this set from ejet.
Bottom line
Years ago, the only way to save on the recurring expense of owning a printer was to buy little bottles of subpar, watered-down ink, and then try to squeeze it all into OEM cartridges. It was a smeary mess!
Thankfully, things have improved. Investing in remanufactured ink cartridges is a smart way to get high-quality ink for your Epson printer while saving money and the environment. Our favorites are from ejet. This four-pack of ink yields 450-500 pages per cartridge, colors look like they should, and the ink never smears.
You will need a pair of gloves when installing the cartridges. They tend to drip occasionally, which is pretty common with any ink canister, including those from printer manufacturers. That aside, ejet has nailed down perfectly compatible cartridges that produce outstanding results without costing you a fortune.
Get the Windows Central Newsletter
All the latest news, reviews, and guides for Windows and Xbox diehards.