Everything Microsoft announced at the Xbox E3 2018 conference
Microsoft shared details about Halo Infinite to new studios at this year's event.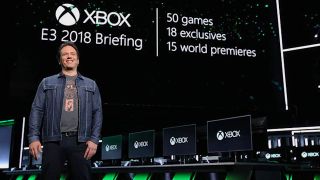 Today, Microsoft held its annual Xbox E3 conference in Los Angeles. A variety of new games were announced and we got an in-depth look at Gears 5 on Xbox One X alongside other titles. You can read about everything the publisher announced at the press event below. Spencer confirmed that fifty games, eighteen exclusives, and fifteen world premieres would take place today.
Halo Infinite
Today, Microsoft opened its E3 2018 briefing with a teaser for "Halo Infinite" which is powered by the new "Slipspace Engine". According to 343 Industries, the engine allows for emergent experiences for gamers of today and tomorrow.
Ori and the Will of the Wisps
Ori and the Will of the Wisps got a stunning new trailer. The game looks gorgeous on Xbox One X and should launch in 2019. The title was confirmed to run at "4K Ultra HD" and "HDR" on Microsoft's new console. You can also fly this time around with the help of an owl companion.
Sekiro: Shadows Die Twice
FromSoftware revealed a new game which features an ancient Japanese setting. They're working with Activision to bring the title to gamers around the world in early 2019.
Fallout 76
Fallout 76 is a massive game which is four times the size of Fallout 4. You can preorder the title on June 15, 2018. The new trailer showcased an expansive world with gorgeous visuals. Best of all, it's also 4K Ultra HD and HDR on Xbox One X.
The Awesome Adventures of Captain Spirit
The Awesome Adventures of Captain Spirit takes place in the Life Is Strange universe and tells a touching story between a father and son. According to Square Enix, the game will release "digitally and completely free on a permanent basis for everyone on June 26".
Crackdown 3
Crackdown 3 got a new trailer featuring the hilarious Terry Crews. There's a lot of destruction and other mayhem involved. The vehicles have to be the best part though.
Nier: Automata
Nier: Automata is coming to Xbox One this month. The title supports 4K Ultra HD and HDR on Xbox One X unlike PlayStation 4 Pro.
Metro Exodus
Metro Exodus is coming to Xbox One on February 22, 2019. That month is going to be packed with games like Crackdown 3 and others.
Kingdom Hearts III
Phil Spencer assured gamers that the company was working with developers to make their games run best on Xbox One. After that he revealed a new Kingdom Hearts III trailer which gives you a taste of its gorgeous visuals and characters like Hercules.
Sea of Thieves: Cursed Sails and Forsaken Shore
Future Sea of Thieves content was teased at E3 2018. The "Cursed Sails" and "Forsaken Shore" expansions are coming to the game soon.
Battlefield V
Battlefield V got a new trailer which shared one of the single-player scenarios. The mission seemed grounded due to the powerful acting and music.
Forza Horizon 4
Forza Horizon 4 takes place in a shared open-world Britain. The racing game also allows for different weather seasons unlike its predecessor. Lastly, the Xbox One X gets a 60 FPS mode. Previous Forza Horizon games have all been 30 FPS on consoles. The wait for Forza Horizon 4 won't be too long because it launches on October 2 this year.
Studios
Phil Spencer took to the stage again and discussed the recent Microsoft Studios acquisitions. The Initiative is led by Darrell Gallagher of Tomb Raider fame and is based in Santa Monica. Apart from that, great studios like Compulsion Games, Ninja Theory, Playground Games, and Undead Labs are joining the company.
We Happy Few
We Happy Few got a new trailer and it looks like an even bigger experience than before. The title will launch in August and supports 4K Ultra HD on Xbox One X.
PlayerUnknown's Battlegrounds
PlayerUnknown's Battlegrounds is getting a new "War Mode" this winter. It looks like a more intimate and intense experience than the traditional battle royale mode.
Tales of Vesperia: Definitive Edition
Tales of Vesperia: Definitive Edition is coming to Xbox One this winter and is being published by Bandai Namco.
The Division 2
The Division 2 takes place in Washington, DC and forces you to prevent a new American Civil War. The gameplay featured a gorgeous Smithsonian setting and ended with the March 15, 2019 release date being revealed.
FastStart
FastStart is a new technology being developed by the Xbox Team which allows for select games to load much faster than before. It will roll out to users later this month.
Xbox Game Pass
Microsoft officially confirmed that Halo: The Master Chief Collection was coming to the subscription service later this year. Aside from that, titles like Ashen and Warhammer: Vermintide 2 will also be available at launch. If you can't wait to play these experiences, you can always download The Division, The Elder Scrolls Online: Tamriel Unlimited, and Fallout 4 because they're coming to Xbox Game Pass today.
ID@Xbox
ID@Xbox has a significant presence at E3 2018. Games like Outer Wilds, Fringe Wars, Below, Conqueror's Blade, Waking, Super Meat Boy Forever, Planet Alpha, Sable, Children of Morta, The Wind Road, and Generation Zero made an appearance at the event.
Shadow of the Tomb Raider
Shadow of the Tomb Raider got a stunning new gameplay trailer. The title features 4K Ultra HD and HDR visuals on Xbox One X.
Session
While Skate 4 wasn't announced, we did get a similar skateboarding game called Session.
Black Desert Online
Black Desert Online is coming to Xbox One soon and the beta begins Fall 2018.
Devil May Cry 5
According to countless rumors, Devil May Cry 5 was going to be a PlayStation 4 exclusive. However, it turns out that it's coming to Xbox One in Spring 2019. Not only that, but it's going to feature 4K Ultra HD visuals on Microsoft's new console. This was by far one of the biggest surprises of the show.
Cuphead: The Delicious Last Course
Cuphead is a challenging platformer and it's about to get even more content. An expansion called "The Delicious Last Course" will launch in 2019 and feature a new character called Ms. Chalice. As expected, new enemies, levels and weapons will be part of the package.
Tunic
Do you love Nintendo's old-school Zelda games? Well, Tunic is similar but features modern visuals and a fox protagonist. What's most remarkable is that it's made by a single developer out of Canada.
Jump Force
Jump Force is a new game from Bandai Namco which combines numerous franchises. If you've ever wanted to experience Death Note and Dragon Ball Z in one game, the publisher has you covered. The mash-up is expected to launch in 2019 and seems like quite an adventure.
Dying Light 2
Dying Light 2 is in development for Xbox One. The game takes place during the "Modern Dark Ages" and everything in the world can change based on your decisions.
Battletoads
While we don't know much about Battletoads, we do know that the beloved Rare franchise will return in 2019 in glorious 4K Ultra HD.
Just Cause 4
Just Cause 4 suffered from numerous leaks ahead of its E3 2018 reveal, but the bombastic trailer still delights because it captures the essence of the franchise. The game will launch on December 4 so the wait won't be too long. It's definitely going to be a packed holiday season!
Gears 5
At the press event, Microsoft revealed Gears 5 which features Kate as the new protagonist. The title follows the young warrior on her journey to discover why she's related to the "Locust" monsters. The game is coming out in 2019 and features visceral melee combat for the first time in the series.
Gears Pop!
Gears Pop! is a mobile game which will launch on Android and iOS in 2019. It's cute and will supposedly give gamers a new way to experience the acclaimed franchise.
Gears Tactics
Gears Tactics is a PC game that resembles XCOM. The title is a prequel to the events of the third-person shooters and even features thrilling boss fights.
Next Xbox
Phil Spencer said that the next Xbox was in development and teased a shrouded image of a device with a very square but accented look. We'll probably learn more about the next Xbox at E3 2019 or beyond. Spencer reaffirmed his commitment to making the Xbox the best place to play by delivering the most powerful hardware.
Microsoft AI

Microsoft AI will enhance how enemies react in games and provide players with new challenges they haven't experienced before. 

Microsoft Game Streaming
Microsoft confirmed that the company was working on a game streaming service to bring console-quality visuals to all your devices like mobile phones. This project seems to be in its infancy so we'll probably hear more about it next year.
Cyberpunk 2077
Microsoft's event ended with a bang because CD Projekt RED "hacked" the stream and revealed the first footage of Cyberpunk 2077. The game looks absolutely mind-blowing and we can't wait to learn more about it in the coming months. Hopefully the wait won't be too long.
Those were all of the game announcements from the Xbox E3 2018 conference. A lot of great experiences are coming to Xbox One in the coming months from numerous publishers, and hopefully, you're as excited as we are for games like Battletoads and Gears 5.
Keep an eye on WindowsCentral.com/Gaming for all the latest in Xbox and Windows 10 gaming, accessories, news, and reviews!
Windows Central Newsletter
Get the best of Windows Central in in your inbox, every day!
Asher Madan handles gaming news for Windows Central. Before joining Windows Central in 2017, Asher worked for a number of different gaming outlets. He has a background in medical science and is passionate about all forms of entertainment, cooking, and antiquing.
As an owner of all four platforms Xbox was weak for me at least this year sadly.

Why was it weak for you this year?

Just my opinion though could've been good for others mate.

Whats ur argue? Please explain us

FH4 is an absolute given for me, and I'm going to enjoy the British landscape. Halo Infinity I'm sceptical about, sounds like an MMO, or a destiny/division kind of game. Cyberpunk, Ori, Metro, SotT are all must buys. And new From Software! Hell to the yes!

That new samurai game had me floored!

Reminds me of some games I played back on PS2 era. I gladly welcome these new titles.

Kingdom Hearts and Tales of Vesperia are something I didn't expect. Nier: Automata though late at least came to the platform. Gladly some Japanese/Asian titles are coming. Xbox needs to diversified its portfolio, just like what Xbox 360 used to be. Cyberpunk is something I've been waiting for. I have a feeling that Halo Infinity would be RPG-like FPS if not MMO. If Halo Infinity is actually the Halo 6, then it should be an FPS genre, maybe just added some new elements.

My only real complaint is that it seems like everything is coming next year, so it's gonna be another year of the platform being kept afloat almost exclusively by third parties. With that said, I am more confident with the future of the platform after their showing, and I have no complaints with the quality of what's to come. I'm just shocked that I guess the Xbox division was considerably worse off than I thought, that there were no real plans for first or second party support through 2017 or 2018. Maybe Phil Spencer was handed the wheel of a ship the old captain was content to let sink after all. Overall, I'm excited for the future of the platform, and it's gonna be an expensive day of preordering at the local game store after work tomorrow, and no, I'm not feeling the need to abandon ship. It's just gonna be another year of biding time and relying on third parties for content.

Forza Horizon 4 and many other experiences are launching this year. It looks amazing.

FH4 looks great, but then Forza is always great. Besides that and We Happy Few, all the exclusives said 2019 or no release date whatsoever, unless I missed some somewhere.

Does it need to be exclusive to be a great game? We already have things like Battlefield V, Red Dead 2, likely Assassin's Creed Odyssey launching before Christmas, not to mention Forza Horizon 4. OK, if those games aren't your bag, that's fine, but it's not "keeping the platform afloat" it's selling kick ass games. Microsoft just announced five new studios, and you can't just churn out a game in a week. Stuff takes time. There's an entire new studio geared to building new experiences. Getting kinda bored of this whole "there's no exclusives, Xbox sucks" argument. Great games are great games. Switch, PS4, Xbox, PC, mobile, doesn't matter.

Admittedly I have even had my dogs regarding Microsoft's commitment to exclusives. However, last night's conference clearly showed a intent to right the wrongs. Buying one studio is great, but starting a new one, and buying four others is a big deal. They almost doubled their studios. It's good, it's a great step in the right direction. Moreover though, it is finally a statement of intent from Microsoft. Alot of people needed that, especially after the complete hammering PlayStation has given Xbox this year so far, and last year. Mistakes have been made, sure. You have to give them credit for righting their wrongs. They know they screwed up aswell, they didn't have to announce the studios at E3.

This. The console has hundreds of games, many of which are great. I'll die before I get a chance play all the stuff I have in my catalog thanks to the Xbox Free With Gold benefit. Exclusive content is no where on my radar when Xbox keeps bringing great games with great gaming perks with a SUPERIOR UI, apps, and hardware.

It seems like this is just a start for their new portfolio and diversifying their contents. Yeah, many are coming around next year. Hopefully, they will get the full momentum it deserves by next year. The new Microsoft Studios seems to hold a promise and hopefully, they got a success from it and not repeat the issues they got before like the cancelled Scalebound. What I wish for Microsoft as a whole is to have a better announcement and release schedule more closely to each other, even better available as soon as it is announced. This applies to their products and services. There was a reason years ago with Apple taking advantage of the hype by making what they've announced available soon it was revealed. Anyways, I think they are getting there. It just takes time and maybe there is a logistical reason behind it.

FH4 should be this year based on their usual release schedule, maybe Gears as well will lick in an October/November release.

Gears is 2019. FH4 and We Happy Few are the only ones off the top of my head that are coming this year as exclusives.

Gears will be 2019 because Halo will launch the new Xbox.

That doesn't make sense. That would put Halo in 2020 since it is unlikely they'd release a new xbox the same year they reveal it. That would put Halo at a 5 year mark from the last one being released. It's already been longer than average so thats unlikely.

Forza is October. End of September for Ultimate Edition buyers.

Battletoads!!!!! I have waited years and years for this!

A bit disappointed at no mentions of Age of Empires, even if this is an Xbox event not a PC one.

Maybe that's the reason though, RTS is not much of a thing for consoles. Unless that Xbox One finally gets the full keyboard and mouse support.

I suppose that's true. It would have been cool if they announced keyboard and mouse support then smoothly transitioned to AoE though. I wonder when we'll hear about AoE again...

Crackdown 3 has had a visual upgrade! Looks good to me and that trailer is awesome

I remember the episode of WW, when Paul and Mary Jo had been asking Microsoft about Game Streaming which Microsoft had denied then. :) It was a month or so ago. Back then I thought that those two had hit the nail on the head most probably, hence the strong denial. :)

Really bummed about no mention of VR at all.

Great E3 showing for MS. Probably the best showing years for them. Good news all around!

To be honest I am excited about all the games both First and third party. What I will be spending my money on this year is a XBOX1X and gamepasses. I am a patient person especially since I don't have a lot of time to play. However when I do play I want beautiful games and these are def beautiful. I also love seeing the commitment to gaming.
Windows Central Newsletter
Thank you for signing up to Windows Central. You will receive a verification email shortly.
There was a problem. Please refresh the page and try again.