WD_Black's expansion card for Xbox is on sale — for $99.99 TODAY ONLY (update)
Western Digital's offering is my choice for the Xbox Series X, and this price is wild.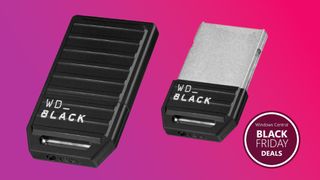 (Image credit: Future)
Brace yourselves; Black Friday is coming, but there are great deals to be had NOW and this one is a corker. At just $99.99 on Newegg, this 1TB powerhouse lets you save a cool $50, leaving you with extra funds for whatever your gaming heart desires.

The WD_BLACK C50 isn't your average storage expansion card — it's got a bold, chunky design that screams, "I'm here to slay demons and look good doing it." Ok perhaps I've been playing too much Diablo 4. At just $99.99, you can snag this bad boy at Newegg and save an excellent $50. So you can spend that extra cash on more games. There's a catch though, you'll need to 'join a queue' to get this insane price drop, and it's only available TODAY so go fast; the deal unlocks once enough people have registered to get this price.
Update Nov. 9 (11:22am EST)
Unfortunately this amazing WD Black deal has already expired, going out of stock in the space of two hours, and I'm not surprised. We are still hunting for the best deals and right now the next best price is still the Seagate 1TB SSD expansion card for Xbox Series S|X. This is pricier than the WD_Black offering, but it's still a good 32% off it's original price.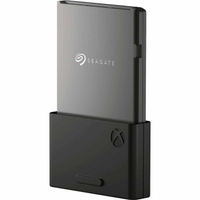 Seagate Xbox Series X|S Expansion Card 1TB | was $219.99 now $149.99 (32% off) at Amazon
The officially licensed products from Seagate and Xbox expand your Xbox Series X|S storage capacity by up to 2TB, with 32% savings on 1TB cards. With these, you can play native Xbox Series X|S games with no issues.

👍Price Check: $149.99 at Walmart
Original Article (Nov. 9 7:30am EST)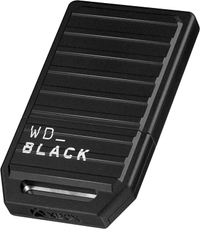 EXPIRED | WD_BLACK C50 1TB Expansion Card for Xbox | was $149.99 now $99.99 at Newegg
The most stylish way to upgrade the limited storage on your Xbox Series X|S, no need to delete and make room in your backlog, store all the games on this essential accessory. It's also discounted at Amazon.
💰Price check: $124.99 at Amazon
Black Friday 2023
• Handpicked: The best Black Friday deals overall
• Early graphics card Black Friday deals
• Gaming TV early Black Friday deals
• Early motherboard Black Friday deals
• 4K and Ultrawide monitor Black Friday deals
• Early Black Friday deals on power banks
• Xbox controller deals for November
You'll need to register with Newegg and 'join the queue' and await the email once the deal hits 100% interest, then go FAST because only those registered for the deal will be invited to purchase it and it's likely to fly out of stock at this crazy price. The 'Group Buy' deal ends if stock runs out or the group buy period ends, whichever comes first, and this is a one-day deal.

For those wondering what a WD_BLACK C50 1TB Expansion Card is, it's an add-on accessory designed to add roughly 1000GB of extra storage space to Xbox Series X and Xbox Series S consoles. It functions the same as Seagate's Xbox Storage card but features a different cosmetic design. All you have to do to install the device is plug it into the back of your Xbox console. With a whole terabyte of storage, you will no longer have to delete games and make room for your new downloads, simply plug the card in and expand your library.
The Seagate Storage Expansion Card might be sleek, but it's more expensive, and if I had to choose between that and this WD_Black card, I'm fickle. The WD_Black card just has a more visually appealing design to me. On the practical side of things, though, along with the ample storage space you're getting lightning-fast load times and a seamless integration with your Xbox, simply plug in and it's ready to use. Additionally, the card is portable. Making it easy to take your games with you wherever you go. Whether you're headed to a friend's house for a gaming night or simply want to switch between consoles, this card ensures you can access your gaming library without any hassle.

Go fast, as when I started writing the deal was only at 50% interest and it's already climbed to 67% so this is likely to go live in the next couple of hours.
Get the Windows Central Newsletter
All the latest news, reviews, and guides for Windows and Xbox diehards.
Jen is a News Writer for Windows Central, focused on all things gaming and Microsoft. Anything slaying monsters with magical weapons will get a thumbs up such as Dark Souls, Dragon Age, Diablo, and Monster Hunter. When not playing games, she'll be watching a horror or trash reality TV show, she hasn't decided which of those categories the Kardashians fit into. You can follow Jen on Twitter @Jenbox360 for more Diablo fangirling and general moaning about British weather.