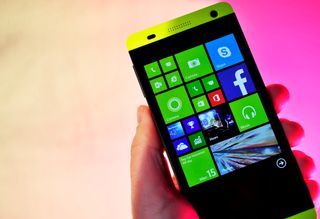 A lot can happen in a week. New apps join the Windows Phone Store or Windows Store. Your favorite apps can get a big update with a new look or new features. Device rumors come and go. Seven days might not seem like much, but it can be an eternity in the tech news cycle. Every week we're going to compile the biggest stories into one post, so you never fall behind – In Case You Missed It (ICYMI).
Windows Phone
Got a new Windows Phone for the holidays? Here's where to start! [Read]
Get the HTC One M8 for Windows contract-free for 20% off through January 2 [Read]
Boost Mobile and Virgin Mobile begin selling the Lumia 635 for $99.99 with no contract [Read]
Microsoft: 71 percent of Windows Phone apps are installed on low memory devices [Read]
Lumia Denim Camera gets detailed video tour of new features, 4K video and more [Read]
Microsoft pushing Lumia 535 software update to fix touchscreen issues in 'select markets' [Read]
Microsoft + Windows
Microsoft CEO Satya Nadella pays 'courtesy visit' to India PM, discusses Digital India initiative [Read]
LA school kids learned about getting healthy in Microsoft's latest #MakeItHappen event [Read]
RPX will buy 4,000 patents from Microsoft and other Rockstar Consortium members for $900 million [Read]
How to change the default search engine on Surface Pro 3 with Internet Explorer [Read]
Get your Windows 7 or 8.1 PC ready for the next Windows 10 preview with new tools [Read]
Skype comes to Office Online to help you collaborate on documents [Read]
Microsoft teams up with Google to oppose hotels blocking personal Wi-Fi hotspots [Read]
Digital artist reveals his creations using a Surface Pro 3, Lumia 930 in #MakeItHappen video [Read]
Microsoft Lumia's #MakeItHappen campaign helps bridge the language barrier [Read]
Apps
Games
Xbox
Microsoft's Countdown to 2015 continues with big discounts on music games [Read]
Microsoft UK cuts white Xbox One bundle price to £310 [Read]
Xbox Live goes down for Xbox One users on Christmas Day [Read]
Just unwrapped a new Xbox One? We're here to help! [Read]
Turn your Xbox One into a fireplace, snowy forest or beach front for the festive season [Read]
The Interview now available to watch on Xbox Video [Read]
Sunset Overdrive's Mystery of the Mooil Rig DLC arrives on Xbox One for $9.99 [Read]
Here is our list of the most anticipated Xbox One games in 2015 [Read]
New content update for Master Chief Collection adds Spartan Ops and improves matchmaking [Read]
D4, MX vs. ATV Alive, and The Witcher 2 are January's Games with Gold [Read]
Misc.
We bid farewell to our Managing Editor, Sam Sabri [Read, [Read Sam's Goodbye]
Checkout these awesome Microsoft Band wallpapers [Read]
T-Mobile's John Legere takes digs at competition in new holiday video [Read]
Qualcomm completes LTE Category 9 Carrier Aggregation testing with EE [Read]
Microsoft Band out of stock online until early 2015 [Read]
12 Days of Hidden Gems
Like our Hidden Gems? Then welcome these Microsoft employees to our forums! [Read]
Garmin VIRB Elite camera [Enter Day Six]
GoPro HERO4 camera [Enter Day Seven]
Fit Brains Trainer and Doodle Jump [Enter Day Eight]
ICYMI Mailing list
Subscribe to our newsletter to get the above content delivered to your inbox.
Share your thoughts on this past week of Windows Phone, Windows, Xbox and Microsoft news!
Get the Windows Central Newsletter
All the latest news, reviews, and guides for Windows and Xbox diehards.
alot can happen include apps disappearing from store

Still waiting for news on the game stream today.

So who'll be doin the weekly photo contests ?

I suggested to my friend who works at Microsoft to contact you. So if you hear from someone named Patrick that would be him. Good luck and best wishes

Now it will be Sam commenting 'Seems faster' first for Whatsapp/Fb updates :P

The other guy in the picture when you scroll down thats daniel.

You mean Satya and then Daniel XD

You should be happy for him :')

stay in touch with us here as a user.

I'm always with you in your heart

Tc bro!!! Best of luck for your future :). Keep in touch with WC

I agree.... Sam has a unique writing skill .... not to mention other things :) He will be missed by all of us

I really don't know why but I keep on searching "Sam Sabri" in the Windows central search box.

Is it just me....that i am unable to signup for the icymi email feature....

Sam, is that a Lumia 1020 in your shirt pocket? (header image)

yes it is :) I mean, it's obvious, right? :)