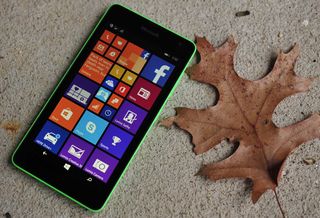 A lot can happen in a week. New apps join the Windows Phone Store or Windows Store. Your favorite apps can get a big update with a new look or new features. Device rumors come and go. Seven days might not seem like much, but it can be an eternity in the tech news cycle. Every week we're going to compile the biggest stories into one post, so you never fall behind – In Case You Missed It (ICYMI).
Windows Phone
Microsoft + Windows
Apps
Games
Xbox
Misc.
ICYMI Mailing list
Subscribe to my newsletter to get the above content and more delivered to your inbox. I'll share the above content with you, plus share a few extra links to cool stories and products from around the web. You can even submit links to your blog post or apps that you'd like to be shared with the community. Just send me a tweet (@samsabri) with the URL to your story or app and include the hashtag #ICYMI.
Share your thoughts on this past week of Windows Phone, Windows, Xbox and Microsoft news!
Windows Central Newsletter
Get the best of Windows Central in in your inbox, every day!
It was a pretty good week.

Not that bad week but the news of denim update brought me joy and on the other "eye" it brought me tears. :P

Mobile data is superb.. But we need Bluetooth received folder otherwise files is useless.. We want vlc and candy they are about to come we don't need any apps or games we need only Bluetooth received folder that completes the OS Microsoft is taking long time to update us

Vlc is already available.. If you signed up for the beta list...

Is it that hard to find the files you received through Bluetooth that you want a special folder for them? I honestly think the folder would be extremely useless.

After you receive files sent through bluetooth, you need to open it or somehow it will magically disappear. This thing needs to change.

is windows phone has an app that can manage ram? anybody knows?

Windows Phone doesn't need an app that manages ram... it's not like Android, Windows Phone manages that stuff on its own.


You do have something called temporary files in storage check & storage sense. . Clear it its somewhat similar to RAM manager

Developers r on full throttle

Great week for WP, will be an awesome year and lets all ask Santa for a Microsoft surface phone to stamp the ground for us.

What the fish WP 8.1... Add mp3 sharing and downloading to whatsapp, Add video calling to viber, Add audio calling, video and audio sharing to BBM Add audio calling FB messanger same as in ioS and Android. Why WP users are given second class treatment. app wise?

Why vlc isn't in this list

Because it wasn't for everyone I guess...
Windows Central Newsletter
Thank you for signing up to Windows Central. You will receive a verification email shortly.
There was a problem. Please refresh the page and try again.