ICYMI: Windows 10 opens ARMs, Microsoft keys in on Apple, and Netflix polices proxies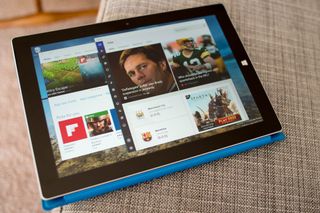 A lot can happen in a week. Seven days might not seem like much, but it can be an eternity in the tech news cycle.
Between Windows news, hardware and software developments and Microsoft's fast-paced movements throughout the technology landscape, it's never easy to keep your hand on the pulse of technology. Not to mention everything that's going on right here at Windows Central!
Every week we're going to compile the biggest stories into one post, so you never fall behind – In Case You Missed It (ICYMI).
Windows
This past week marks the end for some Microsoft old-timers. Windows 8 will no longer receive any support, so current users are being urged to upgrade to either Windows 8.1 or even better, Windows 10.
Similarly, Internet Explorer 8, 9 and 10 went the way of the dodo for Internet Explorer 11 and Microsoft's Edge browser. Moving to one of the newer browsers will not only improve your online experience, but it is especially important to keep your PC safe while cruising the internet.
Windows 10 build 10586.63, which went out to Insiders last week, is now available for non-Insiders. Meanwhile, Fast Ring members have begun getting Windows 10 PC Insider preview build 11099.
The Insider Program has been hugely successful, but there have been complaints that new builds aren't coming out fast enough for members. Microsoft is leveraging their developer tools behind the scenes to remedy that.
In an attempt to curb criticism about the number and quality of apps in the Store, Redmond is also trying to lure more iOS developers to submit their apps to Windows Bridge, the tool that ports apps from iOS to Windows 10.
Rumor had it that Microsoft may be working on an ARM-based version of Windows 10 for desktops. Sure enough, a recent job posting confirmed that the company is planning to support ARM64 devices as part of its 'Redstone wave'.
Other notable items:
Microsoft open sources ChakraCore components of its Edge browser engine
Microsoft makes upgrading to Windows 10 easier for small businesses
Learn how to make your own Windows 10 apps from the developer of SongArc
Microsoft
Microsoft is always working to improve the Bing search experience. Some people have reported seeing a speed test widget within their search results. Not everyone can reproduce it, but it appears the company has been kicking the idea around.
One thing we do know is that a new Bing logo is on the horizon. The color of the logo has been changed from yellow to green, and the "b" has been capitalized. There aren't any details on when the official reveal will come, but it should be fairly soon.
Microsoft has completed the rollout of Skype Translator. At this point, all Windows PC users should now have access to real-time voice and text translations.
First it was the mobile Office apps, and then it was Cortana. Now Microsoft is bringing its Word Flow keyboard to the iPhone. The keyboard, first found on Windows phones, lets you type quickly by recognizing words as you swipe your finger from letter to letter.
Dan Laycock, the Senior Communications Manager for Microsoft's Surface division, took a swipe of his own at Apple's iPad Pro. In a recent interview, the exec said that despite comparisons to the Surface Pro, the Apple's new device "is always going to be a companion device".
Other notable items:
Western Sydney University to provide 5,000 students with Surface 3's this year
Buy a Surface 3 and get a free Type Cover until Jan. 17
Microsoft Pulse will be used by CNN and MSNBC for real-time State of the Union polling
Microsoft teams with ESPN to bring Halo championship to X-Games Aspen
Miscellaneous
AT&T announced that they will be bringing back unlimited cellular data plans. The only catch is that you also have to be a subscriber of DirecTV or U-Verse. If so, you can expect to pay $100 per month for a single device, with an additional $40 for each one after that.
Mathematicians discovered a bug with Intel's 6th-generation Core "Skylake" processors that cause the chips to freeze when performing some complex calculations. Though few users will ever be affected by this bug, MSI released a BIOS update for some of their motherboards to resolve the issue.
Samsung has agreed to mass produce Qualcomm's Snapdragon 820 processors, which are slated to start appearing in mobile devices later this year. So far, neither company has released any details about the production deal.
And finally, now that Netflix has expanded their service to 130 more countries, the company says it will start cracking down on proxy users. The move is an attempt to abide by licensing agreements that prevent some content from being viewed in some parts of the world.
Other notable items:
Dell XPS 13 (9350) with InfinityDisplay grabs optimizing 1.1.9 BIOS update
The Cube i9 is a 12-inch Surface-like tablet headed for China
Share your thoughts on this past week of news! And we'll be back again next week to do it all over again.
Windows Central Newsletter
Get the best of Windows Central in your inbox, every day!
Microsoft is also buying Indian Start up InMobi for 2 billion dollars.

Ad platform to compete Yahoo and Google.

Non of these are really interesting like a new build, not saying they're not important. But I really wanted to see a new windows mobile build that is on par with windows phone 8.1. Cheers

current build of 10 is on par and much better than 8.1 on my 1520.3.

Only on high end devices. They have to get good on low end too.

theres a difference between "low end" and 3 year old "low end"

So hang on, does ARM support mean a W10 update for tablets running Windows RT? Posted via the Windows Central App for Android

No, the only update the winrt can get is a mobile sku

To buy a genuine product key, go to the site www.Microsoftkeystores.com . This is definitely not like some sites which will make you worry about the purchasing safety. The payment process is confidential and guaranteed. More importantly, the product is genuine and with attractive price.

Hey guy, you need to have the license to activate your Windows 8.1 activation key. As for the license, you can buy one from the site http://www.MicrosoftStoreinc.com . It won't cost much and you can have a genuine product key to activate your operating system. I also bought one from here and had my Windows 8.1 activation key activated efficiently. Just have a try and good luck!

I can sincerely recommend you the site http://www.MicrosoftStoreinc.com based on my personal wonderful purchasing experience on it. I also bought a product key for my Windows 8.1 activation key yesterday. The site provided more support and service than I expected.

To buy a genuine product key, go to the site http://www.Windows10KeySale.com . This is definitely not like some sites which will make you worry about the purchasing safety. The payment process is confidential and guaranteed. More importantly, the product is genuine and with attractive price.