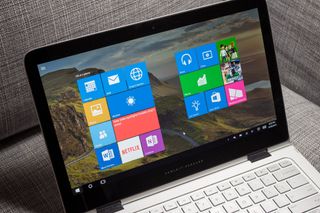 A lot can happen in a week. Seven days might not seem like much, but it can be an eternity in the tech news cycle.
Between Windows news, hardware and software developments and Microsoft's fast-paced movements throughout the technology landscape, it's never easy to keep your hand on the pulse of technology. Not to mention everything that's going on right here at Windows Central!
Every week we're going to compile the biggest stories into one post, so you never fall behind – In Case You Missed It (ICYMI).
Windows
Windows news this week was dominated by information about Windows 10's release and the upgrade process. Microsoft when they announced that Windows 10 is launching July 29. Windows 10 is a free upgrade that anyone with a Windows 7 or Windows 8 PC can reserve right now
When you do, Windows 10 will be pre-loaded on your PC ahead of its July 29 launch if you upgrade and be ready to install on the release date. You can find out which version of Windows 10 you will get when you upgrade here.
If you are planning on purchasing Windows 10, you can expect that Windows 10 Home will be $119 while Windows 10 Pro will run you $199. We ran a readers' poll and found that a whopping 80 percent of you are gearing up to upgrade to Windows 10 on July 29.
Not sure if your current PC can handle the upgrade? Check out the Windows 10 system requirements. And be sure you know what features and apps from Windows 7 and 8.1 will be affected.
For those of you who are not interested in taking Microsoft up on their offer, you can remove the 'Get Windows 10' App from your PC and cancel your upgrade reservation.
Other notable items:
Microsoft releases ISOs for Windows 10 build 10130, delays Slow ring push Windows 10 build 10136 screenshots posted by Windows Insider chief
Microsoft won't offer a new Windows 10 build today, release notes for build 10135 leaked
Windows 10 build 10134 gets leaked on the Internet
Windows 10 build 10134 may be next for Fast ring users, 10130 could go to Slow ring
New OS market share data for May hints that Windows 8.1 could take second place over XP in June
Windows 10 PC preview build 10130 updated to fix some Outlook Mail bugs
Windows 10 Store updated with UI improvements, automatic downloads, and Live Tile option
10-year old kids upgrade a PC to Windows 10 with ease in new Microsoft videos
Microsoft: 4 million Windows Insiders, 96 new Windows 10 devices in the pipeline
Don't worry, Windows 10 can be cleanly reinstalled if need be after free upgrade
Microsoft
On Monday, a report came out that Microsoft had bought 6Wunderkinder, maker or "to-do app" Wunderlist, for somewhere around $200 million. Sure enough, Microsoft confirmed it the next day.
In a blog post, Eran Megiddo. Microsoft's General Manager for OneNote, stated:
Microsoft also launched a new website for Microsoft WiFi, an upcoming re-branded version of Skype WiFi enabling consumers to connect to public hotspots around the world.
Skype made some waves when it was revealed that a simple eight-character message could cause it to crash. Thankfully, Microsoft quickly followed up with an update to fix the message crashing bug](/microsoft-has-updated-skype-fix-eight-character-message-crashing-bug).
They also rolled out some new features for Office 2016 public preview. They include:
Real Time Presence in Word
Simplified file sharing
Insights for Office
Version History improvements
Other notable items:
New book excerpt has more details on Microsoft's purchase of Mojang and Minecraft
Microsoft is rolling out a new look for Skype on Outlook.com
Microsoft is selling a customized Real Madrid Windows 8.1 tablet in Spain
Miscellaneous
We were live at Computex, the gigantic tech conference in Taipei. Our own Richard Devine [put together a list of our top picks, which includes the stunning new ASUS Zen AiO, the newly-overhauled Dell XPS 15 with Infinity Display, Acer's Predator X34 Ultrawide curved gaming monitor, and more.
We got a look at Intel's Skylake reference devices, which pack top-of-the-line technology into the miniscule form factors.
And if you have an extra $1000 burning a hole in your pocket and can hold out until July, you can bolster the storage on your mobile device with the Microdia Xtra Elite512GB microSD card.
Other notable items:
NVIDIA tackles framerate issues, brings G-SYNC to gaming notebooks
Vodafone's new PAYG bundles offer generous 4G allowances from just £20
Google brings automatic pausing for Flash content to Chrome desktop beta
Share your thoughts on this past week of news! And we'll be back again next week to do it all over again.
Windows Central Newsletter
Get the best of Windows Central in your inbox, every day!
NOOOOOOOO!!!!!! They fixed the Skype bug!!!!!

Yall should do an ICYMI for Xbox only

We do and have been on every Sunday.

Can't believe I missed that Daniel! Thanks for the reminder.

Is all pc are receive upgrades on windows 10 ,if it pirated windows OS.

Yes, but you'll still run unlicensed version and eventually need to buy the license.

MS says ,Windows must be genuine for free upgrade from Microsoft.

When windows 10 build 10134 or 10130 working in windows insiders phone.

Never. This has already been covered.

At what time the new updation of build 10134 and 10130 launches into the windows phone.tell me.sir....

Again, never. Those builds are not being released for phone.

What about Lumia 640s news. Another week gone by and nothing.

At&t site has listed them as coming soon for almost 3 months. Neither att or Microsoft will give any info other than we have no info. I bought a case and screen protectors a month ago, getting very frustrated. Was looking forward to the XL for summer to try out that 13 mp camera,for vacation

Great list on what Microsoft is planning and doing. I'm eager to get Windows 10 and to try some of the new things on the way.

Next 10 update for phone can't come soon enough. I can't show off my Win phone (Nokia 1320) to anyone. It's current crippled, hit-or-miss behavior overshadows any pluses.