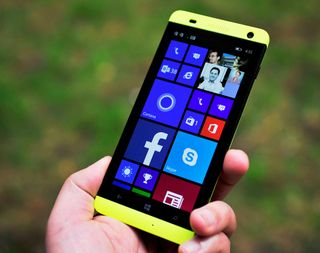 A lot can happen in a week. New apps join the Windows Phone Store or Windows Store. Your favorite apps can get a big update with a new look or new features. Device rumors come and go. Seven days might not seem like much, but it can be an eternity in the tech news cycle. Every week we're going to compile the biggest stories into one post, so you never fall behind – In Case You Missed It (ICYMI).
Windows Phone
Windows 10 Announcement
Microsoft
Apps
Games
Xbox
Misc.
ICYMI Mailing list
Subscribe to my newsletter to get the above content and more delivered to your inbox. I'll share the above content with you, plus share a few extra links to cool stories and products from around the web. You can even submit links to your blog post or apps that you'd like to be shared with the community. Just send me a tweet (@samsabri) with the URL to your story or app and include the hashtag #ICYMI.
Share your thoughts on this past week of Windows Phone, Windows, Xbox and Microsoft news!
Windows Central Newsletter
Get the best of Windows Central in your inbox, every day!
Well i was reading a huge article about windows 10 and the merging thingi. Wow i think the future of windows phone after windows 10 update will be awesome!

it will be. hope the novsmber developers conference will motivate developers to design more great apps.

So we are getting windows 10 on our 8.1 phones??

So we are getting Windows 10 on our 8.1 phones?

Yes, although no desktop. Universal apps, however, will make for a better experience across all win 10 devices (if that's your thing), and will probably improve the sheer volume of higher quality ones.

in case u missed it ( any article)

He sure enough did miss it Lol

In case you missed it : ICYMI

It's explained in the article...

sway is the app im looking foward

ppl mostly use PowerPoint for presentations. but this app might get back prezi back on Microsofts software

I think Cortana pics feature should be exclusive for Halo question only, other question aren't looking good (not metro -modern- design)

Disagreed its nice to make cortana let u know better if any question asked by showing u pics... It's impressive that way

Xbox one in India is now for 35990₹. without Kinect

I don't miss anything with my WPCentral app. No sir...

I have read every single one of those articles, lol. I check WPC every 10 minutes.

You are so free. I'm only check it every 15 minutes though. XD

Haha, glad to know I'm not the only one who checks it so often xD

More than my fb. It's better to be here instead of liking somebody's post.

Why there is no mention about the Lumia 730, 735 and 830 launch here in Brazil?

I think that was last week or Sam might have missed it or nobody missed it that's why its not included in ICYMI.

Any rumors for a Lumia 1520 refresh?

Just waiting for effing Verizon to come out with that Cyan update and that will be complete week/month or whatever...

No flipboard on my store. Is it came out on just certain region?

Why no mention of tmobile getting the 830, or One M8? Oh... That's why... Posted via the Windows Phone Central App for Android

Videocall netowrk implemented WP plz !!!!!!!!