ICYMI: September 26, 2015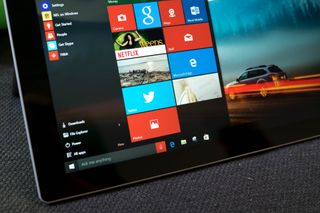 A lot can happen in a week. Seven days might not seem like much, but it can be an eternity in the tech news cycle.
Between Windows news, hardware and software developments and Microsoft's fast-paced movements throughout the technology landscape, it's never easy to keep your hand on the pulse of technology. Not to mention everything that's going on right here at Windows Central!
Every week we're going to compile the biggest stories into one post, so you never fall behind – In Case You Missed It (ICYMI).
Windows
It was a very quiet week for Windows. Microsoft rolled out an update for Mail and Calendar on Windows 10, but it wasn't a huge one. Mainly it added the ability to disable Conversation view in an email and made it so more options and settings get saved during app updates. Aside from that, it addressed many of the bigger bugs that were still floating around.
Microsoft also announced their Windows 10 IoT Core Starter Pack, an all-in-one beginner's guide to developing for the "Internet of Things."
Microsoft also paired their Starter Pack with a new version of Windows 10 IoT Core.
Among the updates that were pushed out to Windows 7, 8 and Vista was one that stop them from running games with SafeDisc or SecuROM. The update was a security measure that had been announced a while back.
Sure, it was a slow Windows news cycle, but fear not. Windows 10 build 10550 could be hitting the Fast ring very soon. Gabriel Aul said that the build is currently making its way around Microsoft's internal ring, so we expect it to debut once it is deemed stable enough for public consumption.
Other notable items:
Groove Music, Movies & TV get minor update with bug fixes
Microsoft
Skype users experienced an outage earlier in the week. Microsoft was on the case. They identified the root of the outage as a larger-then-normal configuration change that was rolled out, causing higher traffic that prevented users from logging in. The problem was resolved, and Microsoft offered up a mea culpa.
Ahead of what is expected to be the official announcement on October 6, renders of the Microsoft Band 2 were leaked, revealing a new curved design and metallic finish.
A couple of days later, an official support link briefly appeared on for the Microsoft Band 2 appeared on the "How to Connect your Microsoft Band" support page, with a link to "features and functions." The link was pulled shortly after.
The big official news out of Redmond was the release of Microsoft Office 2016. This latest iteration comes with a focus on collaboration, with real-time document co-authoring, integrated Skype for Business, and companion apps like Outlook for Groups, which bring people together.
Windows Central got cracking and showed you how to get started using some of Microsoft Office 2016's newest features.
If you're an Office 365 user looking to dive right in, it's easy to get Office 2016 right now.
Other notable items:
Microsoft launches season two of the Halo 5 fictional podcast 'HUNT the TRUTH'
The release date for Windows 10's Skype apps is still up in the air
Minecraft for Oculus Rift VR headset coming to Windows Store in spring 2016
Miscellaneous
PC gamers have reason to be excited after NVIDIA said that they are now able to offer their GeForce GTX 980 graphics processors to laptop makers. Thanks to newer, more efficient cooling systems, the full-powered GPU can be fit in a laptop chassis with little to no impact on performance. There have already been six laptops announced that will include the desktop-sized graphics chip.
Frequent flyers in Europe should be psyched as well. A joint venture between UK-based Inmarsat and German operator Deutsche Telekom seeks to bring high-speed Wi-Fi internet to European flights from a combination of LTE and satellite networks. German airline Lufthansa will be the first to test it out.
Facebook's Internet.org, an initiative to bring Internet connectivity and basic services for free to those who need it, has been rebranded as Free Basics. The service came under fire last year over concerns about net neutrality and unfair competition but has since been revamped to address those criticisms.
And finally, game streaming service Twitch has decided to do away with support for Flash, in favor of HTML5. At its first annual TwitchCon event, the company also announced that it will launch a video upload feature to compete with the likes of YouTube, plus new apps, the ability to create playlists, and more.
Other notable items:
HP plans to launch the Envy 8 Note, a Windows 10 tablet rocking LTE
US pre-orders for VAIO Z Canvas 2-in-1 with Windows 10 begin for $2,199
Sling TV revamps its Xbox One app with a new interface and more
Share your thoughts on this past week of news! And we'll be back again next week to do it all over again.
Get the Windows Central Newsletter
All the latest news, reviews, and guides for Windows and Xbox diehards.
The driest week in recent months...

Maybe we are too dying for microsoft new flagship. seriously, the new coming devices cannot consider flagship since almost end of 2015. the best way from view of point, let microsoft develop their best, only come back to lumia or surface phones after they secceed. i knew this is selfish but windows phone did not making out a attractive stuff. spending a spec which android declaired early of 2015, i don't think so. some more thick about many poor of 3rd party apps, i mean really useful 3rd party apps.

Learn and practice Chinese in a online class over Skype, Chinese language lessons provided over skype by Chinese teachers available on preply.com.... Very easy and a much effective for improving and learning the language from some very experienced tutors.... Also one can learn any international language from the tutors available on it as a Skype Chinese schools.... Must join this here to practice Chinese conversation on skype... http://preply.com/en/chinese-by-skype