Windows Mobile Weekly Digest: Plummeting sales, a Fenice refresh, and making it rain in a new way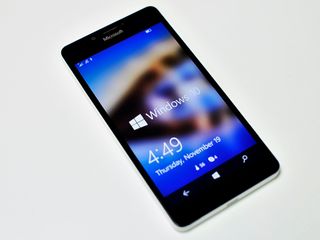 There's a lot going on in the world of Windows Phone. So much, in fact, that it is sometimes tough to catch every important story.
Device rumors come and go. New apps join the Windows Phone Store, and your favorite app can get a big update with a new look or new features.
Therefore, every week we will compile a list of the Windows Phone news that you just shouldn't miss. Welcome to the "Windows Phone Weekly Digest."
Windows Mobile
This week, users on individual mobile carriers began to notice that their Windows 10 Mobile phones started showing 'typing...' in their SMS conversations, the same way apps like WhatsApp do. The mobile OS now supports "SMS chat" on networks that offer the service. Not only will you be notified when the other party is typing, but also whether or not they have read your message.
Windows Insiders who have installed build .63 should be warned about a data-eating bug that could run up your usage. The issue resides in the Messaging app and can be prevented by disabling the "Sync messages between devices" setting on your phone.
As for the upcoming Windows 10 Mobile Insider "Redstone" builds, it looks like the first phones to receive them will be the Lumia 550 and the Lumia 950 series.
A new firmware update, bearing version number 15503.21007, was made available for the Lumia 550. It is similar to the ones that rolled out to the Lumia 950 and Lumia 950 XL, but this one cannot be installed over-the-air, so you must get it through the Windows Device Recovery Tool.
The Xiaomi Mi 4 also received a firmware update. This one fixes bugs on versions of the phone running Windows 10 Mobile.
Microsoft recently detailed their plans to enable firmware updates for Windows 10 Mobile Insiders in order to make it easier to get new phone software in addition to OS patches.
Microsoft released their Q2 earnings report of fiscal year 2016 and the phone part of the report wasn't good. Although it was no surprise that Windows Phone sales were low, sales in the US actually hit an all-time low.
The old and low-end Nokia Lumia 520 was the most widely used Windows Phone in 2016, indicating the Microsoft's lowly standing in the smartphone arena. But this is neither unexpected, nor the end of Windows-based phones.
Other notable items:
ProClip launches in-car phone mounts for the Lumia 950 XL
Tencent won't release a QQ Windows 10 Mobile app after all
Apps
The Store app for Windows 10 PC and Mobile was quietly updated without a changelog. However, one noticeable addition is a new music collections section that features selections curated by Groove Music editors.
The newest edition of the official Vine app boasts a new user interface that not only streamline's the design, but is also geared toward discovering other users to follow.
Following up on Microsoft's April announcement that Viber would be launching a universal app for Windows 10, Windows Central contacted the messaging service asking for an update. A PR rep for the company told us that they are "still working on the universal app for Windows 10, but were not able to give us a timeline for the release.
After making and appearance on Windows Blog Italia earlier in the week, Microsoft's new Ringtone Maker app was officially released in the Windows Store. The app is more or less a refreshed version of Nokia's ringtone maker, but it's good to see it back.
Fenice for Twitter, one of the best Twitter apps out there, was updated as well. Amongst the many bug fixes and new features, the app now supports Windows Hello authentication.
Other notable items:
Development of 6tag for Windows 10 is now underway
myTube adds YouTube video playback speed support with latest update
Media Markt's electronics store app hits Windows Phones
Tubecast fixes issues with moved YouTube servers and in-app purchases
Games
The insanely popular Candy Crush Saga picked up 15 new levels in the form of a new episode.
Game Troopers' cash-crazy game Make it Rain: The Love of Money got a refresh on Windows desktop and mobile. This latest iteration has a new user interface, new options, additional items, and more.
And if you ever wanted to be a crime boss, but didn't wish to do the jail time, you may want to check out Godfather OL for Windows Phone. This RPG has you starting off as a lowly thug and working your way up to the top of the ladder of lawlessness.
Other notable items:
Be sure to weigh in on this week's news in the comments section. See you next week!
Get the Windows Central Newsletter
All the latest news, reviews, and guides for Windows and Xbox diehards.