Windows Phone Summary of the Week: February 13 - 19 2012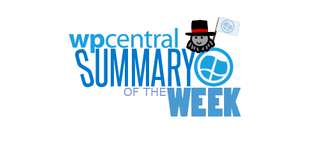 It's that time of the week folks! This is when we fill you in on your Windows Phone news and where you can catch up with any stories you might have missed through the week. We had a special guest on episode 137 of the WPCentral podcast, Jeff Wilcox from Microsoft. Should you want to enter some exciting contests, we've got you covered with both the Reinstaller app competition and a T-Mobile Lumia 710 giveaway.
Mobile Nations, the umbrella of related mobile websites, is running a survey to calculate which tablet our readers (from all sites/platforms) desire the most. Don't forget we're still running through the month of fitness! We're still not done with the positive stuff here guys as the WPCentral Store is offering a whopping 15% off on all Windows Phone accessories with the President's Day Sale. This offer ends tomorrow (February 20th). Over on our busy forums, we've got the weekly update on what topics are hot. Now we've got everything WPCentral related out the way, head on past the break for the weekly summary.
Kicking off our highlights is the news of Microsoft's Jeff Wilcox (who we had the pleasure of being joined by in our podcast) moving from the Windows Phone team to Azure. Microsoft France has teamed up with an agency to provide more effective training, as well as incentives, to staff at retail stores across the country. With the upcoming Mobile World Congress event, Nokia has taken steps to prepare themselves with launching a webpage dedicated to the mobile extravaganza.
We previously looked at Grooveshark's announcement of a HTML5 version of their music player, and now we can confirm it looks (and works) beautifully with Windows Phone. While some good is coming from outside the Marketplace boundaries, unfortunately more crap apps that serve no purpose are making their way to the Windows Phone store. Speaking of apps, a Microsoft job posting has provided further evidence that Mango apps will be compatible with the upcoming Apollo update.
Marketplacebrowser.com, a third-party Marketplace browser, allowed users to browse the catalogue of apps available on Windows Phone before Microsoft released the web version, but unfortunately the owner of Marketplacebrowser.com has decided to close up shop. Meanwhile Rafael Rivera is at it again, breaking stuff that is, by looking into an issue with the PC client of the cross-platform video calling service Tango. Cisco has challenged Microsoft's acquisition of Skype by calling for standards to be introduced for video calling.
Should you have an idea for a potential Windows Phone app, you can now submit your ideas (and vote on others) at AppDreamr. Gartner has released analytical data for Q4 of 2011. While the numbers show the platform still lagging behind slightly, the firm does note that they expect to see Windows Phone hit 8% marketshare by the end of 2012. Microsoft has reportedly been in talks with music companies regarding a potential new service from the software giant. Zune being replaced? We'll have to see.
Good news for those who use the SkyDrive service as Microsoft is looking to introduce tier upgrade plans that offer additional storage for a small fee. As well as the upcoming upgrades, we should look forward to see native clients for both PC and Mac.
This week's Xbox Live Deal of the Week is Gravity Guy, which is currently on sale for $1.99. Chickens can't fly has been in the news previously with WPCentral taking preview looks at the title, but now everyone can enjoy controlling a falling chicken as the game is now available on the Marketplace. The Xbox Live game Breeze received a romantic update that added a Valentine's Day theme.
We took a look at some apparent leaked shots of Windows Phone Tango, a version of the OS that will be specifically targeting the emerging market with low-end handsets. Plringo, an IM client and service, has hit beta in the Marketplace, while the official Facebook app receives a major UI overhaul. Should you wish to check out the Live section of YouTube, you can on Windows Phone with YouTube Live.
Texting is a breeze, but remembering how to use the countless emotions (emoji) can prove to be rather troublesome. Introducing Messaging Emotions, a free (ad-supported) app that provides convenient access to the selection of funny faces and miscellaneous icons. As well as Pringo, the cross-platform voice messenger service HeyTell enters the Marketplace. If you're more into your music than messaging contacts, then a third-party Google Music client may come in handy to access your cloud hosted music library.
The New Zealand Herald, a top newspaper in New Zealand, has released a Windows Phone app that will provide a more convenient way to keep up to date with the news, though it's not a fully featured mobile solution. Nokia has teamed up with the developers behind the Windows Phone web browser SurfCube 3D to offer a free version to Hungarian consumers. Carbon (the Twitter client that experienced trouble getting through submission approval) has got features lined up including more neat gesture commands.
The Lumia 800 in white is available in the UK exclusively at Phones4U with a variety of contracts to choose from. This has not stopped Clove UK jumping on board with throwing up a pre-order option. The mysterious Microsoft Store Lumia 800 bundle (that comes with accessories) going for $899 is now in the software giant's stores. Unfortunately, there's no word on availability outside the bundle. The Canadian carrier TELUS is looking to launch the Lumia 800 in early March.
While there has been no official announcement surrounding a white Lumia 900, it hasn't stopped Negri Electronics from putting up a product page for pre-orders to take place. Speaking of Nokia announcements, we're looking ahead to MWC with the possibility of the Finnish manufacturer unveiling the European Lumia 900 as well as the 610. The latter has just passed certification in Indonesia, which at least proves that the budget Windows Phone is a reality.
Would you love to get your hands on a Nokia Luna? Nope, you read correctly... Luna. It's a Bluetooth headset that the handset maker will be bringing out. which will match the colours of the Lumia family. DFT have released their HSPL RSPL tool version 3 for Windows Phone that enables support for two CDMA handsets: Verizon Trophy and Sprint Arrive.
The Lumia 710 on Canadian carrier Rogers has been featured in a full-page newspaper advertisement, while in Indonesia Nokia celebrates the launch of both the 710 and Lumia 800. Here in merry ol' London, Nokia UK has been offering free 'black cab' rides to the public. Keep an eye out for a Luma painted taxi when next in the big smoke. To really make Valentine's Day special, Nokia sent some love to AT&T.
There were a number of competitions running through V Day, including a Windows Phone and Nokia headphone giveaways. France, arguably one of the more romantic destinations in Europe, raised the romance bar with Nokia kicking off "The Amazing Everyday" with a twist. Microsoft was continuing the "humour streak" with sending out LG Panthers running Windows Phone 7.0 accompanied by the infamous Ballmer cry: "developers. Developers! DEVELOPERS!!"
David Bandey, the dude behind the Retro Video Game blog has released some vintage wallpapers some folk will appreciate. If heading back in time wasn't enough, how about some magic courtesy of Nokia? When they're not causing laughs, the Finnish handset maker is out smoking competitor devices. This time they take the #smokedbywindowsphone to Hong Kong.
RogueCode, developer of FFFFound, has gone into detail about how Windows Phone owners love free apps with making his app free for a week and looking at how much of a impact this alteration made. Closing off this week's summary is news of Nokia and Microsoft setting a developer coding record in Indonesia by getting more than 800 developers coding at once.
Highlights
Microsoft France training and providing incentives to sales staff
Have an idea for a Windows Phone app? Tell AppDreamr.
Cisco challenges Microsoft's acquisition of Skype - Calls for video call standards
Mobile Nations Fitness Month continues...
Microsoft in talks with record companies for new music service?
Gaming
Gravity Guy flips out as the Xbox Live Deal of the Week
Chickens Can't Fly for Xbox LIVE on Windows Phone now available
Free Xbox Live game Breeze gets a Valentine's Day update
Software
Leaked shots of Windows Phone Tango reveal improvements and limitations
Facebook official app v2.3 now live in the Marketplace [Images]
Hardware
TELUS launching Nokia Lumia 800 in early March
Introducing the Nokia Luna (nope, didn't misspell it)
Media
Win a Windows Phone for Valentine's Day
Nokia UK Valentine's Day Twitter Headphone giveaway
Smoked by Windows Phone goes to Hong Kong
Developers
Get the Windows Central Newsletter
All the latest news, reviews, and guides for Windows and Xbox diehards.
Rich Edmonds was formerly a Senior Editor of PC hardware at Windows Central, covering everything related to PC components and NAS. He's been involved in technology for more than a decade and knows a thing or two about the magic inside a PC chassis. You can follow him on Twitter at @RichEdmonds.