Windows Phone Summary of the Week: January 23 - 29 2012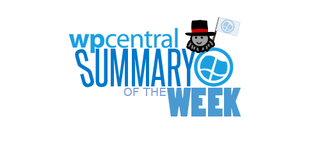 Because it's Sunday we have our weekly Windows Phone news recap. Everything that's worth knowing from our news stream, which you may have missed, will be included in this roundup for your convenience. Before we crack on with the summary, we simply must plug our own app. Jay Bennett has been hard at work bringing version 2.1 to the table, which is now available on the Marketplace. It's the best way to get Windows Phone news while on the go.
As well as our app being updated, we have the latest discussions taking place on our WPCentral forum. We have a section of the community completely dedicated to the general discussion of the operating system itself, which has proven to be pretty darn popular with not only members, but visiting guests too. Be sure to head on over and engage with other members of the Windows Phone community. Let us move on with the summary, join us after the break.
To kick our summary off to an eventful start, we have Channel 5 (broadcasting in the UK) and Nokia being found in breach of advertising guidelines by Ofcom. A fake Chrome web browser app has been spotted on the Marketplace, which obviously isn't Google's browser, and is scamming $1.99 those who purchase it. Microsoft was offering an office makeover for those who work from home in a Twitter competition, while handing out free Windows Phones to the public as well.
Nokia is believed to have shipped over 1 million Lumia handsets, according to a calculation by Bloomberg taking into account estimations published by a number of analysts. Should you be interested in purchasing a Windows Phone and reside in South Africa, then you'd be pleased to hear about a deal which may see you receiving a free Xbox. While MIX'11 was certainly a big event for the platform, Microsoft has stated that they'll not be hosting MIX'12. The event will instead be merged with another in the following year.
O2 was found to be providing mobile numbers to websites when browsing on the network in London by adding the information when sending HTTP headers from handsets. We will let them off as their official blog features the Lumia 800 as a "Dare to be different" smartphone option, and they also have Windows Phones in the header image. As for Nokia, the Finnish manufacturer is predicted (by Marios Karagiannis) to have a good year in 2012. This is promising since the handset maker reported quarterly loses that included a cash infusion from Microsoft.
We take a look at Google's apparent privacy concerns (with a policy alteration) with a humorous music clip from Tampa Bay's Q105 radio station. Should you be worried about your account and wish to switch to Windows Live, Microsoft has published three easy steps that'll allow you to move all your contacts, mail and more across. On a positive note, Google is now allowing multiple calendar synchronisation with Windows Phone. Our last highlight are the winners of the Microsoft Imagine Cup, who developed a Malaria detection software and hardware to help with tracking epidemics and whatnot. The app sends the data received from a test patient up to the cloud for analysis.
If you're looking forward to some more Xbox Live titles for your Windows Phone, look no further as we've come across some must have games for February. Konami's PES 2011 (Pro Evolution Soccer) has been pulled from the Marketplace, without warning, and joins the growing list of titles that have been retracted from availability. DoDonPachi Maximum is officially making its way to Windows Phone. Should you be a fan of DoDonPachi Resurrection then you'll be interested in this title. With these titles coming and going, we take a look at a rumour which threatens the existence of Microsoft Points. Could we really be losing this format in favour for local currency?
We take a look at the rumoured screenshot of Windows Phone 7.6 "Tango", which shows Skype and Google+ being added to the conversation 'switch to' menu. It's difficult to view this image as the real deal due to the clear possibility of Photoshop (or alternative image processing suite) being used. CarbonWP is still having issues getting through checks to be available on the Marketplace, we can only hope that Brandon and co. have been able to assist the developers.
HeyWire, a free cross-platform text app (available in over 40 countries), is now available for Windows Phone. Should you be wanting to use your handset while lying in bed, and don't particularly want to have the orientation swap around like a confused screen-of-madness, there's a Homebrew solution to that by disabling the pesky accelerometer. While you're out and about and you come across a colour you're interested in on a real life object (a flower for example), you can now use an augmented reality app to capture the photo and label the colours with their RGB and HTML codes. Ingenious.
The official Your Shape app for Windows Phone has received an update bringing a visual makeover, improving the UI. If you're an active "...I'm a WP7!" user, you'll love the extras app that will unlock many more advance features for a small fee. A number of updates have been rolled out this week. We've had GasBuddy bumped to use Bing Maps and receive some visual improvements. WhatsApp gets updated, but then subsequently breaks, and is then updated again to fix the issue. To cut the story short - WhatsApp has been updated. Lastly, Security Toolkit now sports WebCam viewer and audio recorder.
We're not done with fake rumours as we take a suspicious look at the purported Sony Xperia Arc S running Windows Phone. A Lumia 930 and a new LG handset show up on WPBench - interesting stuff, especially for LG. The Nokia Lumia 910, sporting a 12MP camera, shows up on a Dutch website, possibly confirming earlier rumours that us Europeans would be getting an updated 900. Speaking of the 900, the Nokia handset is set to be available worldwide by July. Meanwhile in the States, the 900 is looking at a March release for just $99.
Those who reside in Australia are to receive the Lumia 800 and Samsung Omnia W, which are currently available across Europe and beyond. The 710 is hitting UK shores on February 1st, but you're able to be in with a chance of winning one prior to release with 'Into Windows Phone'. Both Rogers and Orange France have revealed pricing details for the 710 and are competitive with contracts or PAYG.
While Ben Rudolph was rocking CES 2012 by smoking as many challengers as he could with his Windows Phone, Jimmy Lee (from Nokia) took it one step further and challenged a zip line. Yes, a zip line. Speaking of "being smoked by Windows Phone", it seems sales staff at carrier stores in the U.S. are also getting challenged to sway their minds on the platform. Swedish carrier Halebop has begun airing a colourful advertisement that shows off the recently launched Lumia 800. Should you be interested in seeing exactly how the 800 is processed, check out Nokia's dedicated Facebook album.
This week we've witnessed a number of launch parties. There has been one in South Africa, Korea and Denmark. A top T-Mobile salesman was treated by Nokia to a VIP experience at and trip to CES 2012, including a helicopter and Ferrari ride, not bad! Microsoft's rolling Cafe Mango shows up in California.
For developers Doug Rathbone, writer of Diary of a Ninja, has compiled a list of 8 must have tools when creating magic on Windows Phone. The "Your App Here" advertising campaign continues with more dates being added, perfect for developers who require that extra marketing reach. Starting January 31st, the 30 to Launch challenge will test platform developers by having contenders build apps within 30 days to be in with a chance of winning an awesome entertainment package. Finally, pubCenter expands to cover seven more countries. A massive step up from only supporting the U.S. last year.
Highlights
Gaming
Software
Hardware
Fun
Developers
Rich Edmonds is a word conjurer at Windows Central, covering everything related to Windows, gaming, and hardware. He's been involved in technology for more than a decade and knows a thing or two about the magic inside a device chassis. You can follow him over on Twitter at @RichEdmonds.
Windows Central Newsletter
Get the best of Windows Central in in your inbox, every day!
Thank you for signing up to Windows Central. You will receive a verification email shortly.
There was a problem. Please refresh the page and try again.