Windows Phone Summary of the Week: March 26 - April 1 2012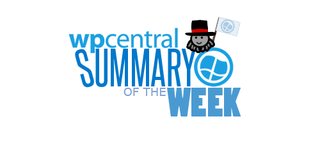 It's time for your weekly recap on the world of Windows Phone. Everything WPCentral has covered the past week in a digestible walkthrough (with a list of links for even faster browsing) with every news story that's worthy of your attention. Before we crack on with the summary, we've hosted a poll for readers to engage in that asks the question: Lumia 900 or TITAN II?
Episode 139 of the WPCentral Podcast is live, which covers everything to do with the Lumia 900 and AT&T. Should you be interested in the Lumia 900, you might want to check out our forums where hot threads have hosted some interesting discussion from members. We have interviewed Richard Castle of Igneous Solutions, who is the brains behind the BBC Radio apps and upcoming BBC Podcast Lounge. Be sure to head on past the break for the full summary.
The big news this week is the pre-orders for the Nokia Lumia 900 opening up, the Windows Phone that is set to shape the platforms future. Onto marketing, Ben Rudolph has been busy defending the Smoked by Windows Phone campaign which has come under fire recently by a number of challengers who claimed the competition is rigged. We also take a look at reports of the software giant literally giving handsets away in the challenge.
Microsoft has revealed intense plans to attract established developers and companies to the platform and boost the big-name app collection on the Marketplace. In China, after the official launch of Windows Phone, Nokia has released the Lumia 800c on China Telecom in attempt to recapture lost marketshare in the region.
Canadian carriers TELUS and Rogers have both revealed they're pleased with Lumia Windows Phone sales thus far, though it's not known whether these were low expectations or not. AT&T has announced they're planning to release a post-8107 OS update for Windows Phone and combine multiple versions instead of rolling out each and every update.
Half of all U.S. mobile subscribers now own a smartphone, while the other 50% still own feature phones now is a perfect time for Microsoft and Nokia to gain some traction. According to a report by Digitimes, Taiwanese manufacturers have suggested to Microsoft to allow them to customise the OS with apps and alterations to differentiate from competitors. We remain skeptical.
Puzzle Quest 2 has gone on sale (again) and is this week's Xbox Live Deal of the Week. Nokia has also confirmed on their Facebook that Angry Birds Space is on its way to Windows Phone, something that was up in the air previously. Finally, iStunt 2 pulls some moves and jumps onto the Marketplace.
Kasser Riaz has produced an interesting concept for the issue that many owners have with Windows Phone - notifications. His idea is to create a new screen to the left of the home screen that would list all the missed notifications. MetroTwit, popular Metro UI influenced Windows Twitter client, turned version 1.0 and we gave away 10 "plus" licenses to unlock all the premium features in celebration.
It would seem as though Windows Phone wasn't supposed to support LTE until Apollo, but AT&T pushed Microsoft to implement the functionality prior to the said update. Lock Widgets has been officially released to the homebrew community, which will allow those with rooted devices to have widgets on their lock screens in the form of mini-Live Tiles. Speaking of homebrew, Bazaar is a marketplace for said community that enables convenient access for users to download apps from the homebrew catalogue.
Good Technology, who focuses on enterprise and security has announced a partnership with Nokia to bring their "FIPS-certified 192 bit AES encryption and end-to-end mobile messaging" service to Lumia Windows Phones. Flud, a popular social RSS client on iOS, has been released for Windows Phone. As well as the collection they've published already, Nokia is set to launch Nokia TV in Finland that will bring streaming of TV programs to users on the platform.
We're all still eagerly awaiting Nokia's upcoming update for the Lumia family of handsets (namely the 710 and 800) which will enable Internet Sharing, and to keep hope present the option in settings has been leaked / spotted on a Lumia 800. As well as "Bi(n)g Maps", which we touched on earlier in this summary, there were a number of apps that were the result of the Developer Hackathon and we take a look at two more noteworthy projects. Finally, Pinsation for Windows Phone has been updated and is now available outside the U.S.
Acer Italy's Business Manager, Augusto Zumbo, has revealed that the manufacturer will continue to support Windows Phone as well as Google's Android. We take a look at the glossy white Lumia 900, but is the white for you? It has been quite frantic with the Lumia 900 news and pre-order locations popping up the past week, as well as multiple sources many who have already pre-ordered their 900 have received a notification that it's backordered. Fear not as WPCentral believes this is simply because the handset is not technically out yet, thus the system is reporting such information.
If you're still waiting to press that enticing green pre-order button, be sure to shop around for the best deal for you. AT&T is offering the handset for free, Walmart has the 900 listed for just $49, and Amazon Wireless is selling the product for just a penny. As well as on-contract prices, we've also got the data for just how much the Lumia 900 and TITAN II would set you back should you prefer unlocked handsets. $449 and $549 respectively. If you're looking for some cases for your Lumia 900, AT&T are selling both gel and bumper cases.
Over in the Philippines the Lumia 800 is available at Globe Telecom for pre-ordering and the carrier is also giving away a brand new 800 in a Twitter contest. O2 in the UK were giving away the 710 and 800 for free on contract all this week, a perfect snatch for any looking for a good deal.
Nokia has been granted patent for a new Windows Phone design, and funny enough this matches a 2011 leak. Dell has unfortunately pulled smartphone sales in the U.S., killing off the beloved Venue and Venue Pro Windows Phones. We hope the manufacturer returns to the table once Apollo arrives with better support.
Nokia has finally unveiled what is on the horizon for the U.S. in terms of marketing for Lumia Windows Phones. The Smartphone Beta Test provides an insight to the aggressiveness that'll be shown presumably along with the usual "Amazing Everyday" advertising. The BBC mobile site version is in beta and takes many design elements from Metro to create a simplistic view for those on tight data plans.
We took a look at "Bi(n)g Maps" by Rudy Huyn, which consisted of 28 Windows Phones being controlled by a single handset to produce one massive version of Bing Maps. Nokia has taken the "Lumia Challenge" to the streets, and it looks vaguely similar to something we've already seen before. Techark Solutions, the developers behind Windows Phone apps such as Mood Swings and Social Mint, are giving away free t-shirts and mugs on Facebook.
Microsoft and Nokia are set to launch an €18 Million Windows Phone app development program in Finland to help create more quality content for the Marketplace. Microsoft has released the Windows Phone SDK 7.1.1 update for 256MB RAM low-end handsets. Should you be interested in learning more about products offered by the software giant and are interested in the Microsoft Virtual Academy, you might be in with a chance of winning a Lumia 800 and a Ferrari for the weekend if you sign up. A Windows Phone developer challenge is being held in Greece, at the Department of Computer Science and Telecommunications of TEI of Larissa.
Highlights
Gaming
Software
Hardware
Media
Developers
Rich Edmonds is a word conjurer at Windows Central, covering everything related to Windows, gaming, and hardware. He's been involved in technology for more than a decade and knows a thing or two about the magic inside a device chassis. You can follow him over on Twitter at @RichEdmonds.
I got a question.... If the new WP8 devices have a higher screen resolution.. HD.. Then will we be able to see more tiles? Won't this affect the "Golden Ratio" http://pocketnow.com/windows-phone/divine-proportions-why-the-start-page..... I would like to be able to see more tiles, and I wouldn't mind if a settings button was right below the arrow button on the right.

How is MS planning on working this out?
Windows Central Newsletter
Get the best of Windows Central in in your inbox, every day!
Thank you for signing up to Windows Central. You will receive a verification email shortly.
There was a problem. Please refresh the page and try again.